Who invented the ice cream cone?
July 17, 2021 by Darcie
When I was a kid, one of my favorite frozen treats was a sundae cone. The combination of crisp waffle cone, cold ice cream, and a tiny chocolate nub at the bottom, was nirvana. To this day, if I am offered one I will not pass it up, despite knowing its calorie, fat, and sugar counts (yowza). The origin story for the ice cream cone goes back to the turn of the 20th century at the 1904 World's Fair in St. Louis, Missouri. Unlike countless other food origin stories, this one appears to be well-documented, according to the researchers at Serious Eats, who have compiled a complete history of the ice cream cone.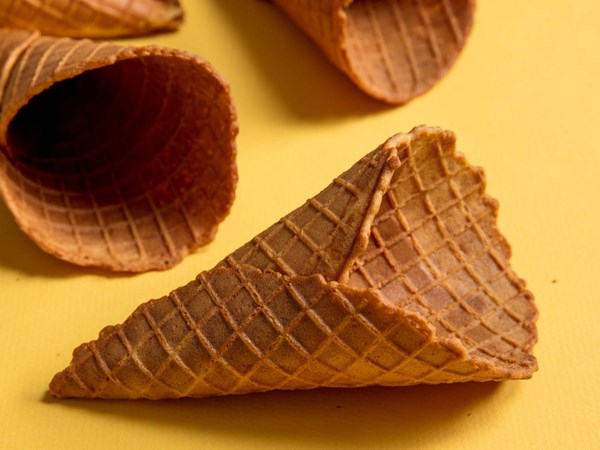 While eating ice cream out of an edible container happened prior to the 1904 Expo, the unique waffle cone shape appears to have emerged at that event. Some stories say it was a last minute invention made in desperation and that the cone was created out of actual waffles that were drafted for this alternative use. Photographs from the fair and other documents point to a different theory, however. It seems that the cone emerged as a way to counter the strict concession rules in place for the event.
Once you have traveled down the rabbit hole of this interesting, fact-filled article, you might want to grab a cone yourself. You can buy one at just about any supermarket or convenience store, but making both the cone and ice cream at home creates the ultimate DIY treat. There are several tried-and-true options for making the waffle cone: Jeni Britton Bauer's Buttercrisp waffle cones, Rose Levy Beranbaum's Vanilla waffle cones, and Stella Parks' Waffle cone (pictured above). Recipes for ice cream to fill the cone are nearly endless – there are over 4,200 online recipes in the EYB Library.