Raised in the Kitchen – Quick Bites and Cookbook Giveaway
July 5, 2021 by Jenny
Enter our US giveaway to win one of two copies of Raised in the Kitchen: Making Memories from Scratch One Recipe at a Time by Carrian Cheney.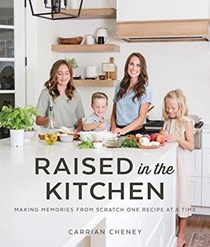 From the time her children were toddlers, family cooking blogger Carrian Cheney has placed them up on the counter with her while cooking, just as her mother did with her. She recognized that cooking together was the secret not only to raising children well prepared for adulthood but also to mixing ingredients beyond just the dough for cookies – love, unity, and combined hearts. Through her years being raised in the kitchen, Carrian developed far more than timeless recipes. She discovered that family and memories are made one recipe at a time.
From food prep to clean-up, this unique cookbook guides the way through every step, including meal lists and easy-to-follow recipes. It also features dollops of heartwarming family stories, insights, and kid-friendly food activities to keep everyone from the tired and overwhelmed mom to the littlest of picky eaters focused on deliciousness in the kitchen.
The book includes 75 recipes that begin with basics. As new cooking skills are learned, the recipes progress to guaranteed kid favorites. Recipes are joined with tips to help home cooks master the dance of the kitchen, from the basics of when to salt and why it's the most important condiment you can own, to how to properly hold a knife and cut anything with ease and confidence, and even how to coax a picky eater with a few tried-and-true secret tips from a recovering picky eater herself.
Below is her "killer" chocolate cake from the cookbook and which is also on her Oh Sweet Basil blog.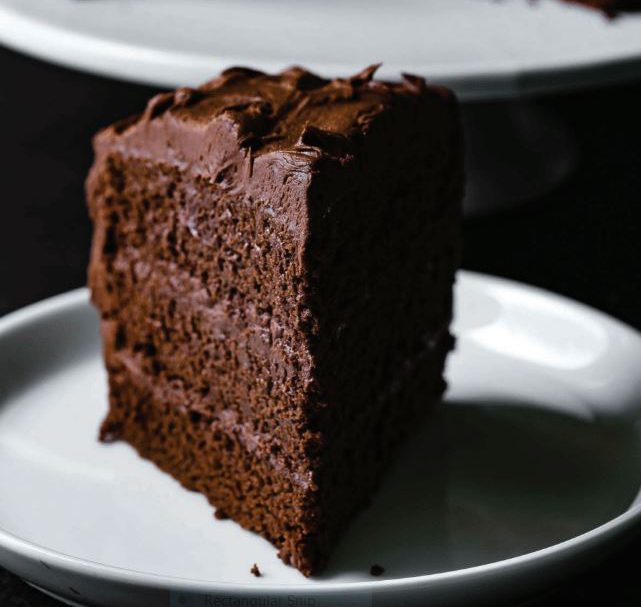 Chocolate cake and frosting
Add this recipe to your Bookshelf (click the blue +Bookshelf button)
3 cups all-purpose flour
3 cups granulated sugar
1 1/2 cups unsweetened cocoa powder
1 tablespoon baking soda
1 1/2 teaspoons baking powder
1 1/2 teaspoons salt
4 large eggs, at room temperature
1 1/2 cups buttermilk
1 1/2 cups warm water
1 teaspoon baking espresso powder
1/2 cup vegetable oil
1 tablespoon vanilla extract
Chocolate cream cheese frosting (recipe below)
Preheat oven to 350 degrees. Grease and flour three 9-inch round cake pans.
In a large bowl, whisk together flour, sugar, cocoa powder, baking soda, baking powder, and salt; set aside.
In the bowl of a stand mixer fitted with the paddle attachment, combine eggs, buttermilk, warm water, espresso powder, oil, and vanilla and mix on medium speed until combined. Add the dry ingredients and mix until smooth.
Divide batter evenly between the three prepared pans. Each pan will hold 3 heaping cups batter.
Bake 30 to 35 minutes, until a toothpick inserted in center comes out clean.
Cool in pans on wire racks 20 minutes, then turn out to cool completely. If one cake is more rounded, use a serrated knife to level it flat. Put the crumb side down when frosting. Separate the frosting into 3 parts, leaving the third part bigger than the others as you need it to cover the whole cake.
Place a cake layer on a stand and top with chocolate frosting, spreading with an offset spatula; do not worry about the sides yet. Add another layer and do the same. Add the final layer and the rest of the frosting and smooth it down the sides and over the top, making whatever design you prefer.
Prep: 20 min Cook: 35 min Cool: 2 hours Total: 2 hours 55 min – Yield: 16 slices
Notes: This recipe turns out best when all ingredients are the same temperature, hence the directions for eggs and buttermilk to be at room temperature. Ideally, set them out on the counter 30 to 40 minutes before prepping the recipe. If you forget, 10 minutes should be sufficient.
Espresso powder can be found in the baking aisle, but you can also use real espresso if you prefer.
Chocolate cream cheese frosting
1 cup unsalted butter, softened
12 ounces cream cheese, softened
Pinch salt
1 1/4 cups unsweetened cocoa powder
7 to 8 cups powdered sugar
2 teaspoons vanilla extract
1 to 2 tablespoons whole milk, plus more if needed
In the bowl of a stand mixer fitted with the paddle attachment (or in a large bowl with an electric hand mixer), beat butter and cream cheese until fluffy, 2 to 3 minutes. Add pinch of salt, cocoa powder, powdered sugar, and vanilla and mix on low until combined. Once combined, increase speed and beat until smooth, adding milk a tablespoon at a time until mixture is spreadable.
Yield: About 6 cups
---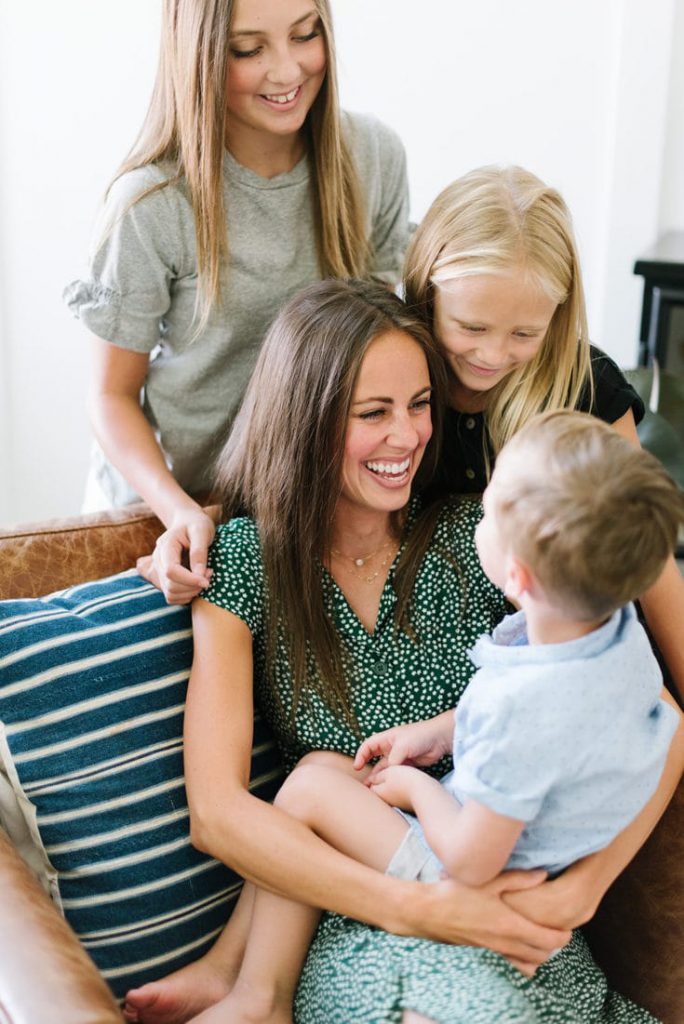 The author answered a few Quick Bite questions for us:
From the author: Carrian and Cade live atop a mountain with a stunning view in Utah with 2 side-kick daughters and ruler of the world and hearts little boy. Carrian spends her time eating up every ounce of those little people calling her, Mom or hiding in the closet to shovel in a snack (how do they always know?!) for just five minutes of peace! Because, balance, right? 😉 This little family spends their time in the kitchen creating new recipes for the millions of readers that visit their blog each month as well as just sitting down to enjoy delicious things because what's better than sharing in a good meal with those you love?
Q: What first triggered your interest in cooking? Your first cooking memory?
Do you know what's funny, I actually do have a very first memory cooking. I was sitting up on the counter in our very first house, so I couldn't have been more than 3 or 4 years old with my bare feet tapping the cupboards as Dad helped me make a batch of his famous oatmeal raisin chocolate chip cookies. The beater was whirling and whirling and then he slowed it all down, took the beater off and told me that the key to making cookies is to always try the dough. Now you could say, what kid doesn't love cookie dough?! Of course she dug in and remembered it! But I actually don't remember eating it at all. For some reason I have this vivid memory of Dad looking me in the eyes with pure joy coming through and straight at me. Love, I felt love that day. My heart has lived in the kitchen ever since.
Q: If you had to describe your cooking style, what would it be?
My style of cooking is family style. I'm not vegan or dairy free, I'm not quick and convenient or healthy with a side of indulgent, I'm just a little bit of everything. We make recipes that everyone can make from their home and families everywhere can enjoy. That means that some nights we enjoy a little cauliflower rice casserole while another night it's BBQ ribs with a big ol' side of potato salad.
Q: Are you a cookbook collector?
I love to read cookbooks but I've really slowed down collecting them as I've decided that all you need are a few essentials because creating recipes is really where the fun is at and anyone can do that if they start with a solid recipe.
Q: What is the best part of your job? Do you sometimes feel like working with food all day keeps you from wanting to get creative in the kitchen?
Oh my goodness, that's such a hard question!! Can I have two answers? Haha! The best part of my job is eating the food as well as having something that has brought my family together. There really is something quite incredible about sharing a meal with your loved ones. Is creating fun? Absolutely? And taking photos such a blast? Totally. But the real magic happens person to person.
Q: What is your go to for a quick dinner?
Easy, taco salad because the kids love to build their own.
Q: What projects are you working on besides promoting your new book?
We are currently making cooking videos totally done by the kids which is pretty hilarious and fun.
You can follow Carrian on Instagram, Facebook and Pinterest.
Special thanks to the publisher for providing two copies of this title in our promotion. Entry options include answering the following question in the comments section of this blog post.
Share a comment about your first cooking memory?
Please note that you must be logged into the Rafflecopter contest before posting or your entry won't be counted. For more information on this process, please see our step-by-step help post. Once you log in and enter your member name you will be directed to the next entry option – the blog comment. After that, there are additional options that you can complete for more entries. Be sure to check your spam filters to receive our email notifications. Prizes can take up to 6 weeks to arrive from the publishers. If you are not already a Member, you can join at no cost. The contest ends at midnight on September 19th, 2021.
a Rafflecopter giveaway