This week: How to make EYB work better for you, member indexing, recipes, cookbook EYBD previews and giveaways
June 18, 2021 by Jenny
This week's roundup will cover a few Eat Your Book topics. First we hope our members are enjoying the site and reaping delicious benefits from using your cookbooks more. Last year we published a post with some suggestions and recently I updated it with more links toward the bottom of the article.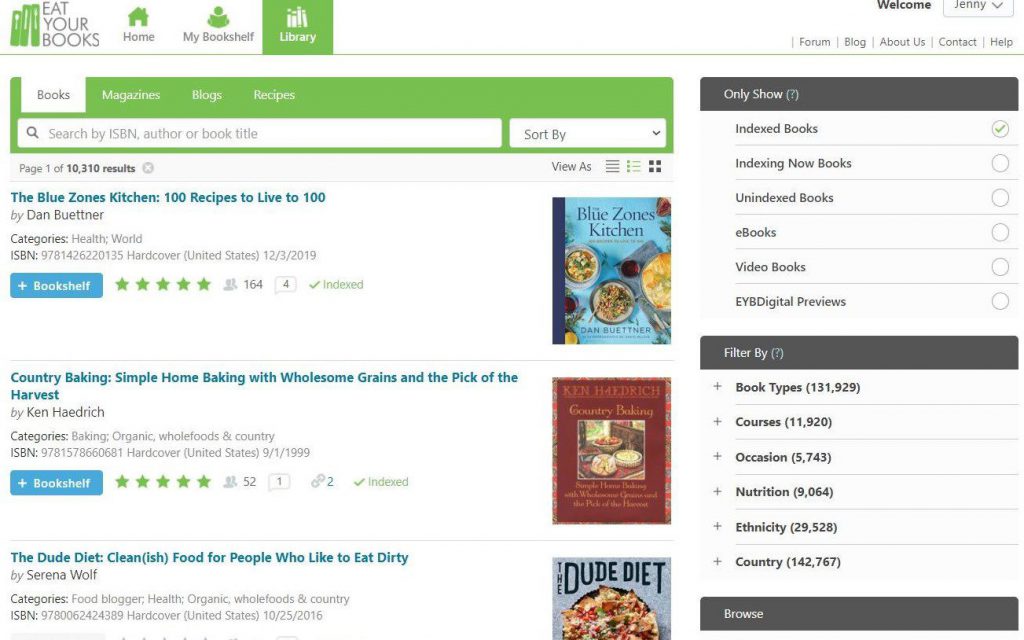 We have been super busy indexing books – both pro indexers and our member indexers – have been cranking out indexes on older and newer titles every day. It was not that long ago we announced our 10,000th indexed book and now we are at 10,310 titles indexed!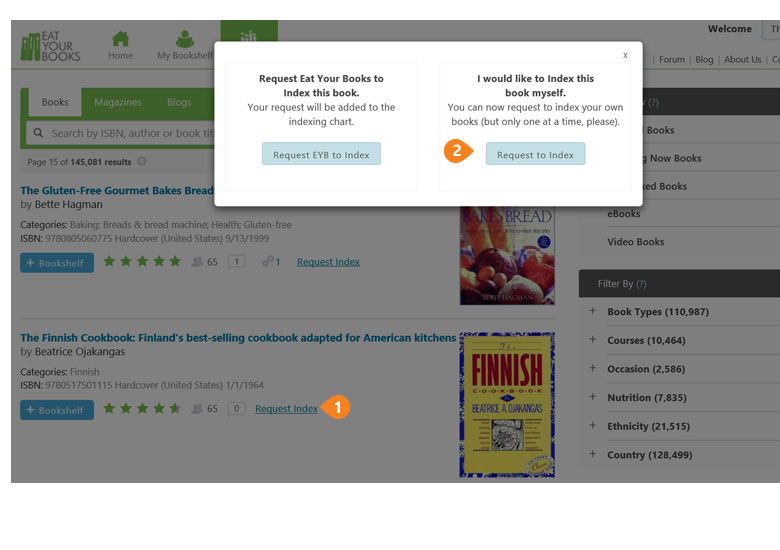 In that regard, there are some older (or expensive) books that are cost prohibitive to obtain. If there are members who would like to index one of the books on their shelves it is easy to request to do so. Pull up the book's EYB Library record, click "Request Index", then "Request to Index". The photo above shows the steps. These help section topics are available:
A few examples of books that are difficult to obtain are: The Basic Cookbook (Thermomix); The Classic Cuisine of the Italian Jews; Yum and Yummer; and Fresh & Easy: What to Cook & How to Cook It. If you would like to try your hand at indexing, take a look at your bookshelf and pick a book. I have indexed a few books myself and after the first book, I got the hang of it. I still make mistakes but Sydney, our Member Index Manager, will work with you to guide you along the way. I have to say that I enjoy indexing now and wish I had more time to tackle some books. I just finished a book and have started two more.
A reminder that Amazon Prime Day(s) begins next week. Look for my Kindle Deals Post which will highlight any must-have Prime Day sales. We will appreciate you thinking of EYB when doing your Amazon deals shopping. The commissions earned will help us to index more books and make more site improvements. Please remember to click here before shopping Amazon USA * Amazon Canada * Amazon UK anytime.
The last week on the blog
Since our last roundup, Darcie has written these articles:
Darcie's weekly food news antipasto is shared every Sunday and the tag #foodnews brings up these information-packed posts from the most current to the first one. Darcie can be followed on Instagram at darcie_bakes.
Since our last roundup, I have posted the following:
Please be sure to check our Calendar for author and bookstore events. As always I continue to update our Kindle deals post (and will add Prime Day deals to same) so check the blog for new sales – the ICYMI post explains the Kindle post in detail. I will have loads of giveaways for you over the next month so keep checking the blog and our social media feeds. My Instagram is thecookbookjunkies.
Jenny and the EYB Team
---
Recently Indexed Titles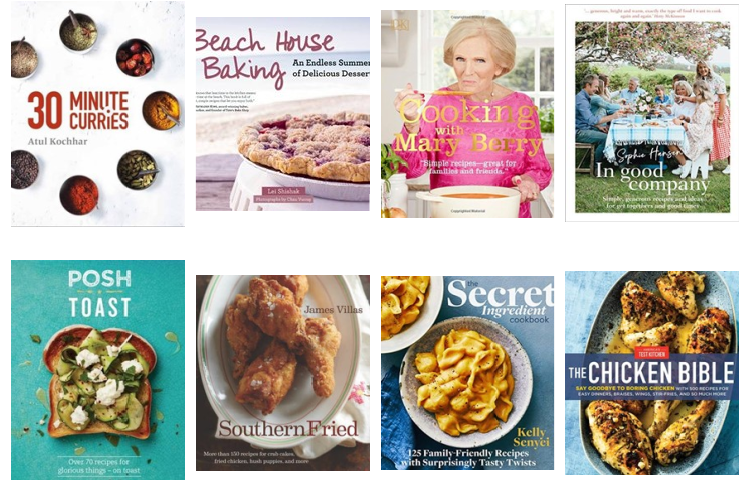 ---
Member Photo of the Week
Quick coconut dal with tomato sambol from East: 120 Vegetarian and Vegan Recipes from Bangalore to Beijing (page 212) by Meera Sodha submitted by member Melissa_427
Have you uploaded any of your own photos yet? Learn more! Please remember to update your profile with your Instagram name if you would like to be tagged in any photos that we share!
---
Featured Online Recipe
Peach iced tea pound cake trifles from The Kitchn
---
EYBDigital Previews
Recently we uploaded our 1,021st EYBDigital Preview where a selection of full sample pages is available for the following cookbooks.
Learn more about EYBDigital Previews.
Note: To learn why you cannot add all EYBDigital Preview recipes to your Bookshelf, please read this Help page.

---
Cookbook Giveaways
Click on the Bold Blue Link Below to Enter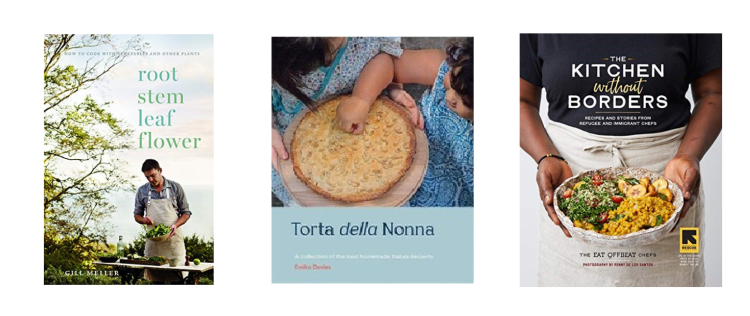 Enter our US/UK/AU/NZ giveaway to win one of three copies of Root Stem Leaf Flower: How to Cook with Vegetables and Other Plants by Gill Meller. Contest expires June 26th, 2021.
Enter our US/UK/AU/NZ giveaway to win one of three copies of Torta della Nonna: A Collection of the Best Homemade Italian Desserts by Emiko Davies. Contest expires June 30th, 2021.
Enter our US/CA giveaway to win one of two copies of The Kitchen Without Borders: Recipes and Stories from Refugee and Immigrant Chefs by Eat Offbeat Chefs. Contest expires June 30th, 2021.
The cookbook giveaway roundup shares all current giveaways.