Learn what Alice Waters eats in a week
June 6, 2021 by Darcie
Whenever I browse through a great cookbook, I wonder if the delicious dishes in its pages are what the author actually eats on a day-to-day basis. Try as I might to always make a delicious meal and to eat seasonally and locally, I often resort to pizza or something quick from the pantry that is less than stellar because I just don't have the time or energy to cook. I imagine that even great chefs must succumb to takeaway, if nothing else to make myself feel a little better while watching the Dominos Pizza Tracker to see where my pie is in the process.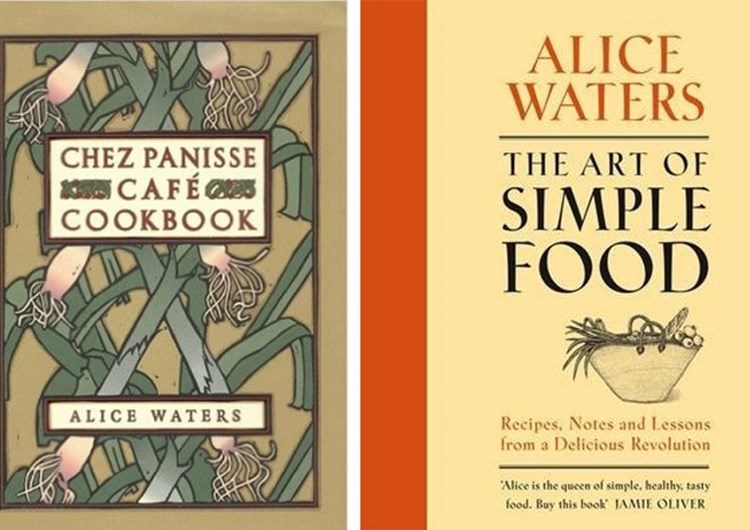 Then I read Alice Waters' Grub Street Diet, and I felt inadequate all over again. (If you aren't familiar with this series, Grub Street has special guests write a post of what they eat over the course of a week.) Of course, Waters has an advantage that I don't have: she can go to her restaurant, Chez Panisse, at any time and grab a meal.
You might remember the small amount of controversy that swirled around Waters' bespoke, $250 egg spoon in 2018. Yes, she used the spoon to make an egg for breakfast during her Grub Street Diet, and did not hesitate to put in a plug for her daughter who sells the handcrafted spoons, which now cost $310 USD. I think I will stick to my well-seasoned cast iron pan to make my breakfast eggs.
Even though her egg spoon might put her out of touch with the average home cook, Waters does remain faithful to her philosophy of seasonal, local eating. "What makes me eat what I eat?" she writes, saying that "It's always a question of what can I have that is absolutely seasonal and regenerative organic and ripe. Really ripe." Once the season for something passes, she won't eat that food again until the next year. That is dedication.
Update by Jenny: Released this month Waters' We Are What We Eat: A Slow Food Manifesto urges us to take up the mantle of slow food culture. With practices and customs cultivated over centuries, across the world, slow food culture calls for us to prioritize diversity, conscientious eating, and simplicity. As Darcie said, we all have good intentions but sometimes a fast food chicken sandwich or a pizza delivery is all we can muster. Life is hard some days call for Cheetos (eaten right out of the bag) and a Diet Pepsi – I am what I eat.