Toni Tipton-Martin wins Julia Child Award
June 2, 2021 by Darcie
Award-winning food writer and cookbook author Toni Tipton-Martin can add another feather to her cap, as the Julia Child Foundation announced that Tipton-Martin is the winner of its 7th annual Julia Child Award. She joins a star-studded roster of winners that includes Jacques Pépin, José Andrés, Susan Feniger, and Mary Sue Milliken.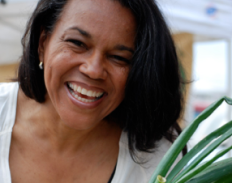 In 1991, Tipton-Martin became the first African American woman to hold the position of food editor at a major daily newspaper, the Cleveland Plain Dealer. Prior to that post, she was the nutrition writer for the Los Angeles Times and a contributing editor to Heart and Soul Magazine (a health and fitness book for African-American women). Two of Tipton-Martin's cookbooks received James Beard Awards: Jubilee (2019) and The Jemima Code (2015). Last September she was named as editor of Cook's Country.
Tipton-Martin has been a guest instructor at Whole Foods Culinary Center, and has appeared on the Cooking Channel's Foodography and the PBS feature Juneteenth Jamboree. She has been a featured speaker at numerous universities and food industry events. She has shared her passion for cooks and the community as a freelance writer for Epicurious, the Local Palate, UNC Wilmington's Ecotone Journal, the Austin Chronicle, Edible Austin Magazine, Texas Co-op Magazine, Gastronomica The Journal of Food and Culture, and Cooking Light Magazine.
In 2008, after 30 years teaching cooking in the media and demonstrations, Tipton-Martin founded The SANDE Youth Project as a grassroots outreach to improve the lives of vulnerable families. The 501(c)(3) not-for-profit is dedicated to combating childhood hunger, obesity and disease by promoting the connection between cultural heritage, cooking, and wellness.
Seen anything interesting?
Let us know
& we'll share it!