Learn about the world of art cookbooks
May 15, 2021 by Darcie
When people see my bookshelves during Zoom meetings only a few notice that they are filled with cookbooks. Most of the books are ones that I use or consult with some regularity, although I keep several books for sentimental reasons or because they are just so gorgeous I can't part with them. I view the latter as works of art, although they are not part of the genre known as 'art cookbooks.' I never took a deep dive into that category of books, but that is about to change due to art historian Andrea Gyorody's guide to art cookbooks.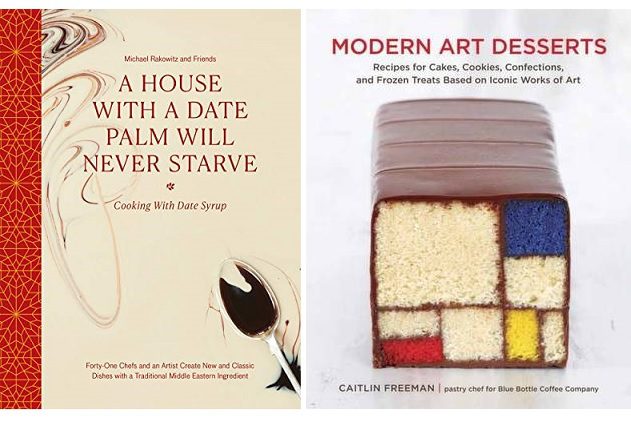 Gyorody divides the genre into categories such as The Monographic Cookbook (books that are by or about particular artists like Jackson Pollock and Claude Monet) and The Compilation Cookbook (featuring recipes from a multitude of artists, such as The Museum of Modern Art Artists' Cookbook: 155 Recipes: Conversations with Thirty Contemporary Painters and Sculptors).
One of my favorite categories is the The Cookbook that Takes Art(ists) As Inspiration, which as the name suggests, includes recipes that are inspired by artists. One recent work in this vein is Caitlin Freeman's Modern Art Desserts: Recipes for Cakes, Cookies, Confections, and Frozen Treats Based on Iconic Works of Art. The Mondrian-inspired Battenberg cake on the cover is utterly fantastic.
After describing dozens of different cookbooks in various styles, Gyorody shares her all-time favorite: Michael Rakowitz's A House with a Date Palm Will Never Starve: Cooking with Date Syrup: Forty-One Chefs and an Artist Create New and Classic Dishes with a Traditional Middle Eastern Ingredient. Rakowitz got the idea for the cookbook after making a sculpture out of 10,000 flattened cans of date syrup. I am now convinced that cookbooks inspired by art and artists are some of the most adventurous and intriguing ones to read.