When it's okay to be in hot water
April 19, 2021 by Darcie
The phrase "you're in hot water" usually implies a negative circumstance, but there are occasions when hot water is just the ticket. We are not talking spas and hot tubs, either: water just off the boil comes in handy in many cooking and baking applications, as The NYT's Rachel Wharton explains.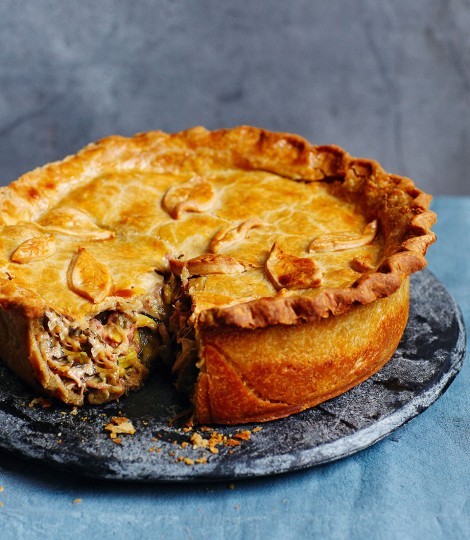 Topping the list is hot water pastry, essential for building a proper raised pie, like the Ham hock, sausage and cider raised pie from Delicious Magazine (UK) pictured above. The advantages of using this type of pie crust are that the dough is very easy to work with, it holds its shape, and as a bonus it doesn't require any fancy equipment or ingredients. If you've ever watched the GBBO, you have probably seen this pastry in action. It isn't as popular here in the States as it is in the UK or Australia, which is a shame.
Of course raised pie is not the only food that benefits from an application of hot water. Pâte à choux, tortillas, milk bread, and more also take advantage of how hot liquids affect the starches in flour. In a process called gelatinization, hot water works to quickly swell starch granules and form them into a "meshlike network that traps water in the dough even as it cooks," according to Daniel Souza of Cook's Illustrated/America's Test Kitchen. Trapping the water in the dough limits gluten formation, allowing breads to rise higher and making dough easier to work with, he says.