Nigella on privacy, performance, and cooking for one
April 15, 2021 by Darcie
The list of food celebrities who are commonly referred to by a single name is relatively short: think Ottolenghi, Ina, Jamie, and Nigella. All of these are beloved authors as their numbers in the EYB Library can attest. Recently The New Yorker's Helen Rosner sat down with perhaps the most widely-known of these cookbook authors, Nigella Lawson. In a wide-ranging and entertaining interview, she talks with Rosner about intimacy in food writing, her latest cookbook Cook, Eat, Repeat, and living under the public eye.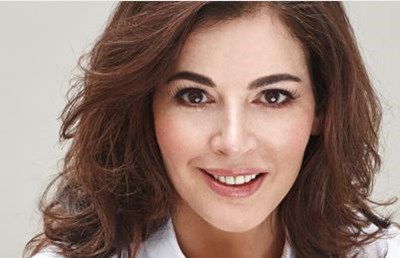 Reading an interview with Nigella is always a pleasure, because she approaches the conversation with honesty, forthrightness, and wit. One line in this article that resonated with me had to do with meal planning, a task that I abhor. I felt like Nigella was on my side when she said "I think cooking is so much a matter of temperament. Even though I might plan what fish I'm having, because I have to get it, I don't plan how I cook it till pretty much the last minute. I find I'm someone who feels confined by plans." Right on, sister.
If you follow her on social media, you know that Nigella frequently responds to questions from readers and often retweets people who tag her in their posts. Not all food celebrities are so generous with their time, and some seem to respond more out of duty than delight. Not so Nigella: "I also feel that people are so generous to cook your food and tell you about it, so it seems to me remarkably graceless not to answer. I mean, obviously you can't answer everyone, but also it's a genuine pleasure," she says.
I came to Nigella's books rather late in my culinary journey, but they quickly became indispensable, desert-island tomes. There are more technical cookbooks, and flashier cookbooks, but Nigella ranks among that small sliver of authors whose prose is as delightful as their recipes are delicious.