Fruit Cake – Cookbook Giveaway & Quick Bites
March 7, 2021 by Jenny
Enter our US giveaway to win one of two copies of Fruit Cake: Recipes for the Curious Baker by Jason Schreiber.
Fruit Cake: Recipes for the Curious Baker was released last November and I swooned over its glorious contents. Recently, I connected with Jason on Instagram and I mentioned how much I'd love to do a feature on his title. At the time of publication, I believe there were issues with promotional copies due to COVID. The timing worked out for us as now is the perfect time to remind everyone how amazing this cookbook is especially with spring right around the corner and all the great fruit that will be available soon and throughout the summer.
Each recipe in Fruit Cake showcases one of thirty-eight fruit, whose natural sweetness and juice make desserts that are perfectly moist and sweet without being overpowering or cloying from refined sugar.
The recipes are divided into the following categories:
Constant Cravings – cakes like Raspberry tea cake and Polenta pound cake with spiced mandarins will satisfy our cravings at any hour of day.
Out of Hand – includes finger-focused treats perfect for on-the-go snacking, such as Mango coconut cashew bites and Blueberry ginger studmuffins
Showstoppers – these are cakes that are ready for their close up and are dressed to impress. These cakes include Passionfruit lime pavlova and Horchata and roasted plum sorbet cake
All Rise – the next best thing to eating sumptuous creations like the Blood orange bee sting cake or Bourbon peach kugelhopf, and other sumptuous creations is smelling the just-risen yeasted dough
Soaked – try one slice of these decadent cakes that marinate in booze for days. Try the Pomegranate molasses cake or the Fig, port, and chocolate cake for a tipsy treat.
Jason is a food stylist so you know these cakes are as beautiful as they are delicious. The publisher is sharing the following recipe for our members to try now:
Chocolate orange babka
Add this recipe to your Bookshelf (click the blue +Bookshelf button).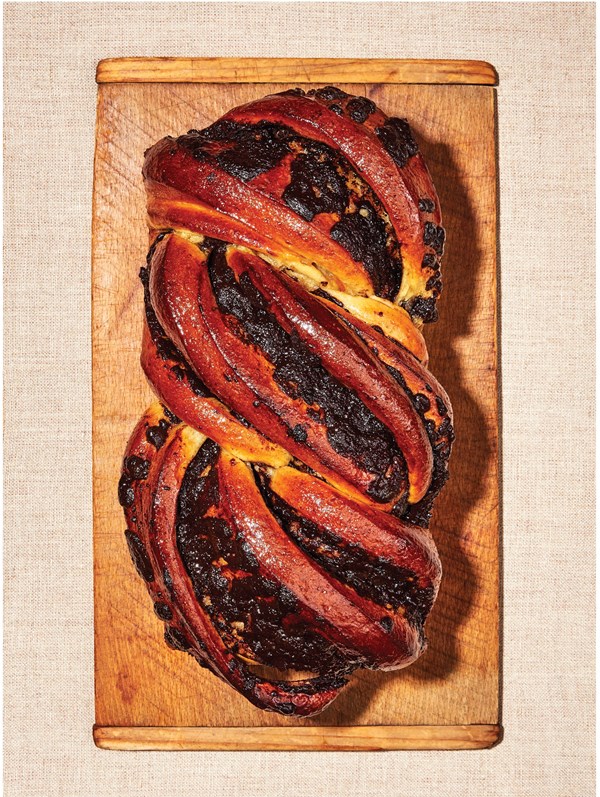 Makes about 8 Servings – Advanced – Overnight

The number of babkas I made while working on this recipe is second only to the number of babkas I ate. It was worth the struggle; this one is my idea of perfect. It's soft and sticky, but not too sticky. Sweet, but not too sweet, and loaded with chocolate without being difficult to handle. I've called for a sweeter percentage of chocolate to balance the bitterness of the marmalade. For those who simply can't stand the orange stuff, feel free to swap in another flavor of jam at your discretion. Refrigerating the dough overnight makes the dough easier to shape and the babka more flavorful.
For the dough:

• 1/2 cup 125 milliliters whole milk, warmed to about 110°F (43°C)
• 4 1/2 teaspoons (two 1/4-ounce envelopes) 14 grams instant yeast (see page 10)
• 1 whole, plus 1 yolk large eggs
• 1/3 cup 71 grams granulated sugar
• 2 teaspoons 10 milliliters pure vanilla extract
• 1 teaspoon 2 grams finely grated orange zest (from 1 orange)
• 2 1/2 cups 355 grams all-purpose flour, plus additional for dusting
• 1 teaspoon 2 grams freshly ground cardamom
• 1 teaspoon 3 grams coarse salt
• 4 tablespoons (1/2 stick) 57 grams unsalted butter, softened, plus additional for greasing the bowl
For the filling:

• 1 3/4 ounces 50 grams best-quality dark chocolate, preferably around 55% cacao, finely chopped
• 3 tablespoons 42 grams unsalted butter
• 3 tablespoons 21 grams confectioners' sugar
• 2 tablespoons 10 grams unsweetened cocoa powder, preferably Dutch-processed
• 1 pinch coarse salt
• 3 tablespoons 45 grams orange marmalade
For the syrup:

• 1/2 cup 120 grams orange marmalade
• 2 tablespoons 30 milliliters orange liqueur, such as Triple Sec
In a small bowl, combine the milk and yeast and let stand until the yeast softens, about 5 minutes.
In the bowl of an electric mixer, whisk together the egg, yolk, granulated sugar, vanilla, and orange zest. Whisk the milk and yeast into the egg mixture, then stir in the flour and cardamom until a dry, shaggy dough forms. Cover the bowl with beeswax wrap or plastic film and let the dough sit for 15 minutes to hydrate.
Add the salt to the bowl. Using the electric mixer fitted with the dough hook attachment, knead the dough on low speed for about 3 minutes, until it is sticky, smooth, and cleans the sides of the bowl. Begin adding the butter, about 1 tablespoon at a time, waiting until each piece has been incorporated before adding the next. Continue kneading on low speed, stopping to scrape down the sides of the bowl occasionally, until the dough is soft and elastic, just a bit tacky to the touch, and once again cleans the sides (but probably not the bottom) of the bowl, 6 to 8 minutes.
Using a bowl scraper or a rubber spatula, scrape the dough into a buttered bowl and, with buttered hands and quick movements, shape into a tight ball. Cover the bowl with beeswax wrap or plastic film and set in a warm spot to rise until doubled in volume, about 1 1/2 hours.
Flip the dough out of the bowl onto a floured surface and press into a square about 10 inches across. Fold the top half down to meet the bottom and the left half over to meet the right. Press the dough out into a square once more; it will be stiffer now and may stretch to only about 8 or 9 inches. Fold in quarters again. Tuck the edges of the dough under and shape into a ball.
Return the dough to the buttered bowl (with the seams on the bottom), cover, and refrigerate for 8 to 12 hours. Sleep well.
In the morning, make the babka filling before you take the dough out of the refrigerator. Combine the chocolate and butter in a small heatproof bowl. Set over a pan of gently simmering water and heat, stirring occasionally, until melted, about 2 minutes. Remove from the heat and stir in the confectioners' sugar, cocoa powder, and salt. Set aside to cool slightly.
Brush a standard 8 1/2 x 4 1/2-inch loaf pan with butter and line the bottom and two long sides with a sheet of parchment paper, leaving about 2 inches overhanging the sides.
Flip the dough out of the bowl onto a well-floured surface. Lightly dust the top of the dough with flour and roll into a rectangle that's about 12 x 14 inches, with a short side facing you. Use a small offset spatula to spread the chocolate filling over the dough, leaving about a 1/2-inch border around the edges. Drop tablespoons of marmalade on top of the chocolate filling and spread to form a thin, even layer. Beginning at the side closest to you, roll the dough around the filling, forming a tightly spiraled log. Transfer the dough to a rimmed baking sheet and freeze for about 15 minutes, until firm enough to slice.
Return the log to the work surface with a short end facing you. Use a sharp knife to slice the log in half lengthwise and open like a book, exposing all the layers of dough and filling. Carefully lift the left strand of dough and cross it over the right, forming an X in the center. Starting in the center and working toward the ends, twist the two strands over and under each other, always keeping the cut sides face up, forming a spiral known as a Russian braid.
Gingerly scoop the shaped loaf off the work surface and lower it into the prepared pan, tucking the ends of the dough under as you do. Set the pan in a warm spot to rise until the dough is light and full of air and crests about 1 inch above the top of the pan, about 1 1/2 hours.
At least 30 minutes before baking, preheat the oven to 325°F (170°C) with a rack in the center position. When the dough is ready to bake, set the loaf pan on a rimmed baking sheet to catch any drips.
Bake the babka until it's golden brown and firm to the touch and an instant-read thermometer inserted into the center reads 185°F (85°C), about 1 hour, tenting with foil if the top darkens too quickly.
Remove the pan from the oven and make the syrup: In a small saucepan, whisk the marmalade, orange liqueur, and 2 tablespoons water. Stir over medium heat until the mixture is loose enough to pour easily, about 45 seconds. Strain the syrup through a coarse-mesh sieve and slowly pour over the cooling babka, letting it work its way down through all the crevasses.
Allow the babka to cool completely in the loaf pan, then use the overhanging parchment paper as handles to lift it out.
STORAGE: The babka will keep for a few days in an airtight container at room temperature.
Recipe from FRUIT CAKE by Jason Schreiber. © 2020 by Jason Schreiber. Used with permission by William Morrow, and imprint of HarperCollins Publishers. All rights reserved.
---
Jason took some time to answer a few questions for our members.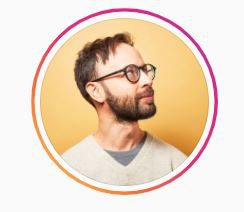 Jason Schreiber is a New York City-based food stylist who honed his craft at the French Culinary Institute in New York City, but his education began years earlier in the kitchen of his childhood home in suburban New Jersey, where he churned out baked goods of all shapes and sizes. After completing his studies, Jason worked alongside celebrity cake maker Ron Ben-Israel, who taught him the importance of precision and the value of camaraderie in a professional kitchen. After five years of creating jaw-dropping cakes with Ron and his team, Jason took the plunge into the cutthroat world of New York City freelance food styling and recipe development. Within a week, his work was featured on the cover of Martha Stewart Weddings, and with that his new career was born. He continues to contribute regularly to Martha's magazines, books, and television shows and has expanded his clientele to others such as Food & Wine, Real Simple, and Delish (to name a few), as well as many nationally available household brands and products. Jason lives in Brooklyn, New York. Be sure to follow Jason on Instagram.
Q: What first triggered your interest in cooking? Do you remember your first cooking memory?
My Grandma Bim was an enthusiastic baker. Growing up, there was never an occasion that she didn't have something coming out of the oven (or at least the freezer). There were "Grandma Cookies" for everyday visits, honey cakes and macaroons for the Jewish holidays, Mary's Birthday Cake (named for a neighbor I never met) and a recipe box full of cards with names like "New Improved Fruit Tart" (Improved from what?). Her Yeast Cake, which I've adapted for Fruit Cake, is still one of my favorite recipes. I couldn't begin to tell you what the first thing I baked was (probably some take on a one-bowl brownie), but I do remember making crepes to order when I was barely old enough to reach the stove. That probably paints a decent picture.
Q: If you had to describe your cooking/baking style, what would it be?
Rustic precision. The years I spent making wedding cakes with Ron Ben-Israel and working at Martha Stewart bestowed on me an exactitude that I have diligently worked to overcome. I'm prone to a certain amount of perfectionism, but I also like to use what I have and experiment. Even now that I've penned a full volume of recipes, it's hard for me to make something the exact same way twice.
It's also deeply important to me to consider the environmental impacts of my kitchen. Like many of us, there are more products going into and coming out of my kitchen than any other room in my house. I'm by no means perfect, but I try to reduce the amount of waste I generate by shopping locally, avoiding single-use items, and composting in our community garden.
Q: Tell us about your cookbook collection number of books, favorite genre, favorite author? What you look for in a cookbook?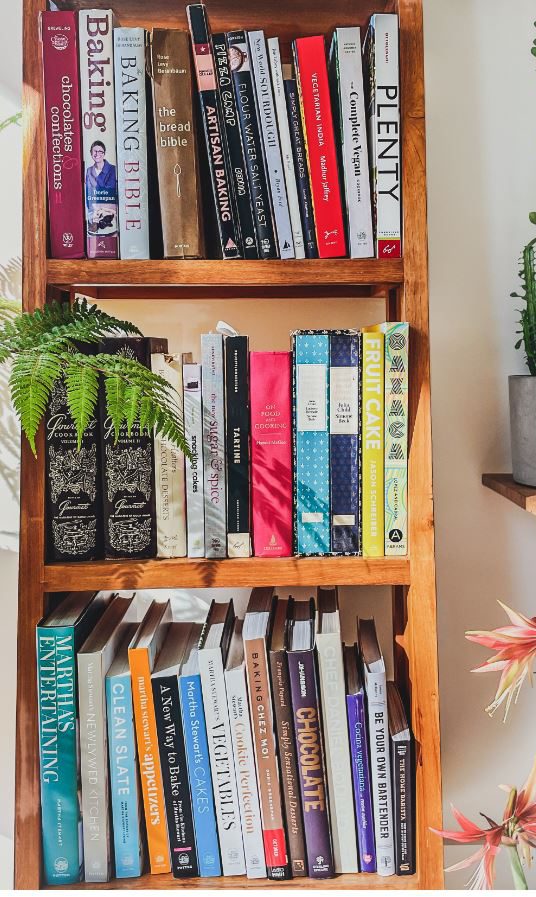 My collection has grown completely organically over the years. I live in a small apartment and don't have a ton of space, so the books that end up on my shelves are the ones that I've turned to time and time again. The pages in my favorites are egg-stained and dog-eared with notes scribbled in the margins.
Unsurprisingly, I have a lot of baking books, including a small army of bread books. I picked up a copy of Rose Levy Beranbaum's The Bread Bible when I was in college (baking in a campus apartment, no less) and it has travelled with me for nearly two decades. Maggie Glezer's Artisan Baking and Dorie Greenspan's Baking from My Home to Yours are similarly well-pedigreed. But two of the oldest books on my shelves came from my grandma's kitchen: Maida Heatter's Book of Great Chocolate Desserts and (of course) Julia Child's Mastering the Art of French Cooking.
Q: What is the best part of your job? Do you sometimes feel like working with food all day keeps you from wanting to get creative in the kitchen?
My job is so multifaceted that it's hard to even say what the best part is, because there are so many things that make it great. I love working with my hands, being able to think creatively and problem solve, and work with a team to complete a project. These days when I'm working from home, I've been honing new skills and become a bit of a one-man band. I miss the comradery, but it's always fun to learn new things.
Working with food can be exhausting. Years ago I would get home from a long day on set and eat a scrap of toast with sardines for dinner. Now I'm lucky that my boyfriend, Eddie, also really enjoys cooking, so on the bad days the burden doesn't have to fall on me (but he doesn't like sardines).
You didn't ask, but I'll just tell you: the worst part of my job is the dishes.
Q: What is your go to for a quick dinner or dessert?
Quesadillas with roasted poblanos, Oaxacan cheese, and Eddie's homemade hot sauce. It's rare that there isn't some baked good kicking around our kitchen, but, on days like that, that's why fruit exists.
Q: Tell us about Fruit Cake and some of your favorite recipes.
Fruit Cake is an exploration of fruit and cake, with recipes that run the gamut from traditional holiday fare to yeasted cakes, breakfast treats, and snacks for a midday afternoon. True to my love of experimentation and reluctance to throw anything away, the recipes began as a way to challenge myself to use all the leftovers I'd bring home from photo shoots – a pint of berries, a dozen mangoes, three partially peeled pineapples – before they were exiled to the compost bin. The chapters are divided more or less by mood: Constant Cravings (the treats I can't refuse any time of day), Out of Hand (for when you need a palm-sized or on-the-go snack), Showstoppers (for when parties resume), All Rise (a yeasted extravaganza), and Soaked (the most traditional fruitcakes in the book which are doused in booze).
Some of my favorite recipes are also the simplest in the book: the Blackberry Breton; Peanut Butter and Jelly Cake; and Chocolate, Cherry, and Orange Cake are all difficult for me to put down.
---
Thank you Jason for taking the time to share a bit of yourself with our members.
Cookbook lovers, if you haven't picked up a copy of Fruit Cake do so immediately! With Easter and Mother's Day coming around it would make an ideal gift!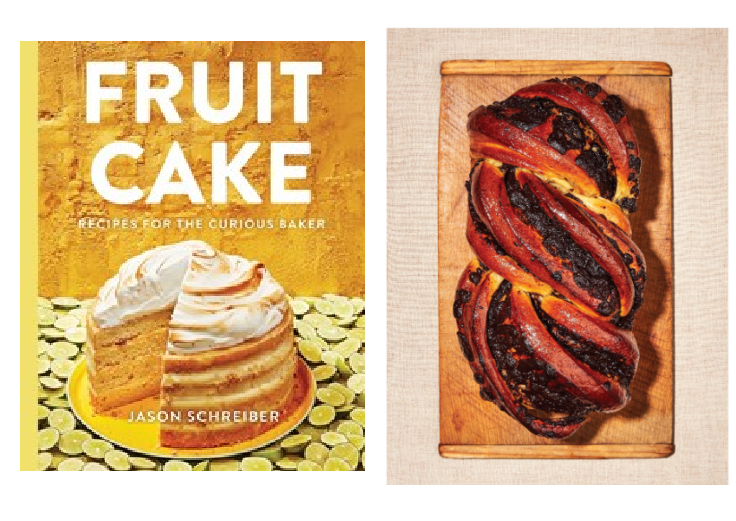 Special thanks to the publisher for offering two copies of Fruit Cake in our giveaway. Entry options include answering the following question in the comments section of this blog post.
Which recipe in the index would you try first?
Please note that you must be logged into the Rafflecopter contest before posting or your entry won't be counted. For more information on this process, please see our step-by-step help post and this forum post. Once you log in and enter your member name you will be directed to the next entry option – the blog comment. After that, there are additional options that you can complete for more entries. Be sure to check your spam filters to receive our email notifications. Prizes can take up to 6 weeks to arrive from the publishers. If you are not already a Member, you can join at no cost. The contest ends at midnight on June 7th, 2021.
a Rafflecopter giveaway