Why a recipe is more than a collection of ingredients
January 25, 2021 by Darcie
Several food magazines, websites, and authors have landed in hot water in recent years due to charges of cultural appropriation. Sometimes the recipe developers or writers will push back on the criticism, but others use the gaffe as a learning experience. That seems to be what Food & Wine Magazine is doing following a styling miscue in their January issue.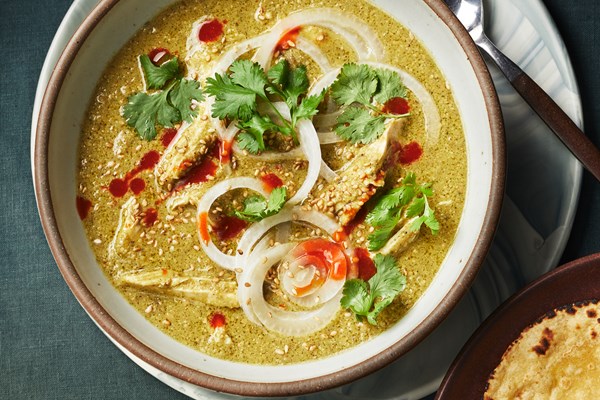 The magazine issued a correction stating that "In the January issue of Food & Wine, we published a story and recipe for Mole Verde from Norma Listman and Saqib Keval, the chefs and owners of Masala y Maíz in Mexico City. And we made a mistake." The problem is not with the recipe or its attribution, but instead with the photograph that accompanies the recipe (shown above). The photo in the magazine shows hot sauce and limes as garnishes for the dish – garnishes that were not suggested by the recipe's authors.
Rather than just swap out the photo on the website, the editors at Food & Wine said "We want to do right by [the authors] and our readers, own and fix our mistakes when they happen, and take measures to do better in the future." They shared the discussion they had with Listman and Keval, and why being accurate in the depiction of the recipes is so important.
Listman notes the problem with showing the inaccurate garnishes, which go beyond mere aesthetics. "Adding hot sauce to it devalues the essence of mole on the one hand, but in another hand, it moves it to a different category of food—more similar to Tex-Mex. It also conveys the incorrect idea that all Mexican food should have hot sauce added to it," she notes. Keval also notes the historical aspects of such an addition, and how recipes at the best tell stories of the people and places they are from. When someone changes portions of a dish without explanation, it can affect the story that is being shared.
The article does not state how the inaccurate garnishes were brought to their attention, but it seems likely the recipe authors reached out to the magazine. Kudos to Food & Wine for posting this correction along with an explanation.