It's not too late to celebrate National Pie Day!
January 23, 2021 by Darcie
Once again, National Pie Day has snuck up on me. This 'official' national food holiday allows me to celebrate Pie Day twice each year, because I will always believe the logical choice for the day is 3.14. Although the day is touted as a 'national' event in the US, I have noticed that people from around the world have joined in the celebration of all things pie.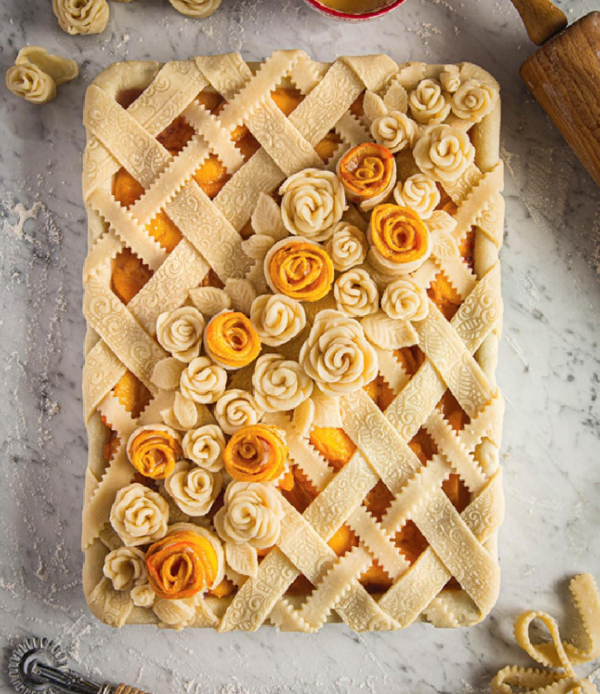 The great thing about pie is that there is so much variety: fillings can be savory or sweet, creamy or chunky, filled with custard or fruit or vegetables or meat. No matter your dietary preferences or restrictions, everyone can enjoy a slice of pie. Every meal can feature pie, from breakfast to dinner and beyond (I may have eaten a piece or two as a midnight snack). Pie is the perfect choice to celebrate a joyous occasion or to soothe your soul following a disappointing event.
A dizzying number of pie cookbooks were released in 2020, with something for every taste and skill level. Beginners can follow the excellent advice in The Book on Pie: Everything You Need to Know to Bake Perfect Pies by Erin Jeanne McDowell; The Pie Academy: Master the Perfect Crust and 255 Amazing Fillings, with Fruits, Nuts, Creams, Custards, Ice Cream, and More by Ken Haedrich; The Pie Room by Calum Franklin; and Kate McDermott's Pie Camp: The Skills You Need to Make Any Pie You Want.
Bakers wanting to elevate the looks of their pies should consider Pieometry: Modern Tart Art and Pie Design for the Eye and the Palate by Lauren Ko; Pie Style: Stunning Designs and Flavorful Fillings You Can Make at Home by Helen Nugent; and The Pastry School: Master Sweet and Savoury Pies, Tarts and Pastries at Home by Julie Jones.
If you are looking for intriguing flavor combinations, you'll find it in Pies That Inspire: 50 Recipes for Creative and Modern Flavor Combinations by Saura Kline; You Wanna Piece of Me?: More than 100 Seriously Tasty Recipes for Sweet and Savory Pies by Jenell Parsons; and Pie for Everyone: Recipes and Stories from Petee's Pie, New York's Best Pie Shop by Petra Paredez.
Let's not forget about other recent favorites and classic pie books that have stood the test of time: The Pie and Pastry Bible by Rose Levy Beranbaum; Sister Pie by Lisa Ludwinski; The Four & Twenty Blackbirds Pie Book by Emily Elsen and Melissa Elsen; Art of the Pie by Kate McDermott; Pastry: Savory & Sweet by the late Michel Roux; Pie Squared by Cathy Barrow; Paul Hollywood's Pies and Puds by Paul Hollywood; and The Hairy Bikers' Perfect Pies by Si King and Dave Myers and Hairy Bikers.
Many general baking books have great pie sections as well, and it looks like 2021 will be another banner year for baking cookbooks (see Jenny's recent post on the subject), including books dedicated to pie. Grab some butter, fire up the oven, and celebrate with your favorite!