January 2021 New Cookbook Review
January 21, 2021 by Jenny
Welcome to the first month of this new year that we all have hopes will be a great one. There certainly are a number of impressive cookbooks slated for 2021. My 2021 preview post breaks down the releases by month and is continually updated.
If you would like to order any of these titles, using our affiliate links below or the BUY BOOK button on the book details page, will help to support EYB and our indexing efforts (as well as help us to include worldwide options in some promotions). Please remember to click here before any online shopping Amazon USA * Amazon Canada * Amazon UK * Book Depository. Please remember your local bookstores during this trying time as well.
If there is an

available for a cookbook, look for the orange icon in the blurb. Clicking on that icon will take you directly to the preview.
To jump to a particular country's listing, please click on the links below.
United States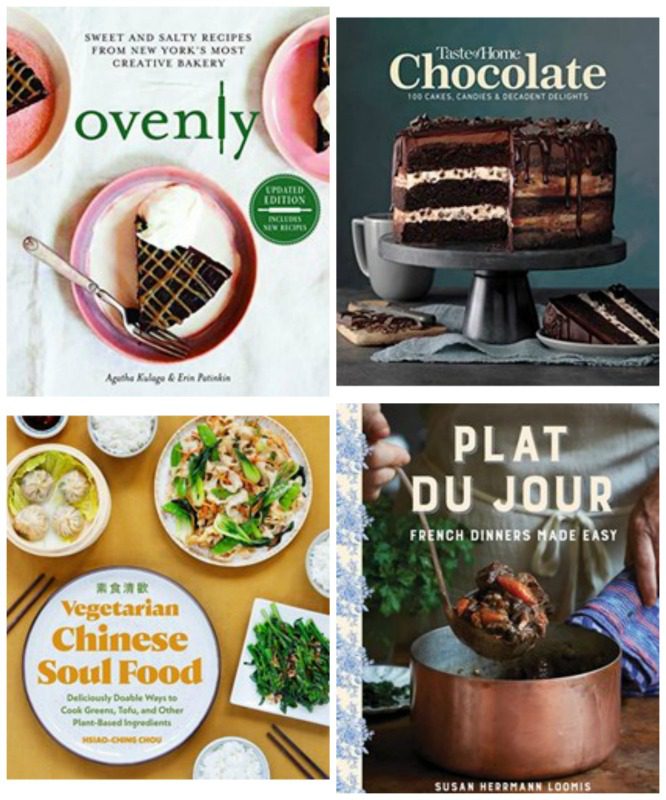 Vegetarian Chinese Soul Food: Deliciously Doable Ways to Cook Greens, Tofu, and Other Plant-Based Ingredients by Hsiao-Ching Chou: This is the vegetarian follow-up to the very popular Chinese Soul Food cookbook – it includes 75 plant-based comfort food recipes you can make at home.

Ovenly: Sweet and Salty Recipes from New York's Most Creative Bakery by Agatha Kulaga and Erin Patinkin is an updated edition of the 2014 edition. For more information on this title please see our giveaway post.
Taste of Home Chocolate: 100 Cakes, Candies and Decadent Delights: From succulent cakes and velvety truffles to frosty milkshakes and blended coffee drinks, chocolate turns any moment into a special occasion. Turn to this all-new collection when you want to savor every chocolatey delight your heart desires. Impressive cheesecakes, family-favorite brownies, adorable cupcakes, holiday dessert staples, happy-hour martinis and more.
Plat du Jour: French Dinners Made Easy by Susan Herrmann Loomis: This is a long-awaited collection of classic recipes by Loomis, an American-born cooking teacher and author who resides in Paris. She has perfected these iconic dishes and shares what she's discovered while living in France, cooking for family, friends, and students. In addition to the recipes, the cookbook includes helpful tips and intriguing details about French culinary history. It's a must-have for any aspiring home cook with a craving for simple French cooking.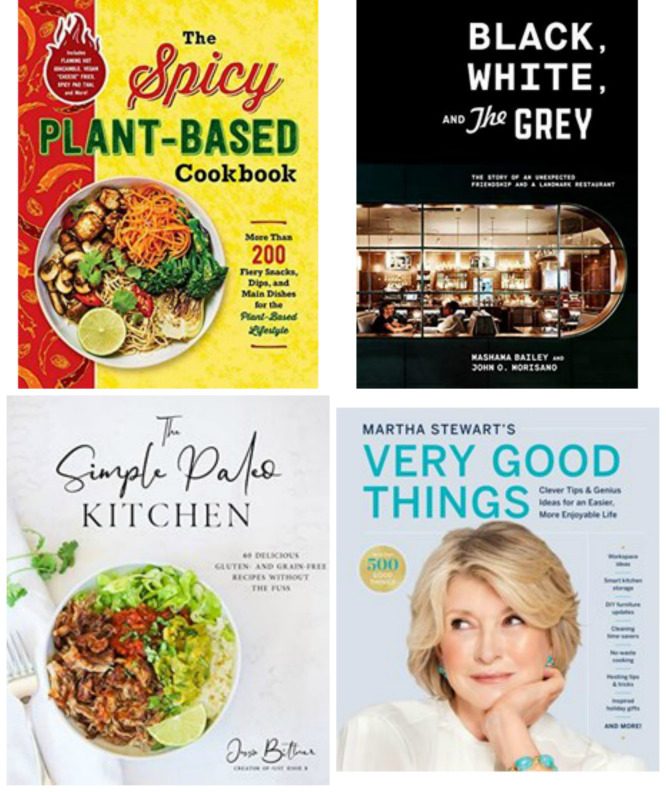 The Spicy Plant-Based Cookbook: More Than 200 Fiery Snacks, Dips, and Main Dishes for the Plant-Based Lifestyle by Adams Media has 200 delicious, mouth-watering recipes that pack a punch with every bite and help to keep you feeling healthy and strong. From breakfast to dinner, to desserts and drinks, you'll find the perfect plant-based recipes that you'll love to make over and over again. With recipes like Jalapeno hash browns to a Mango chili sorbet, these spicy dishes are sure to make every spice-enthusiast satisfied.
Black, White, and The Grey: The Story of an Unexpected Friendship and a Landmark Restaurant by John O. Morisano and Mashama Bailey: In this dual memoir, Mashama Bailey and John O. Morisano take turns telling how they went from tentative business partners to dear friends while turning a dilapidated formerly segregated Greyhound bus station into The Grey, now one of the most celebrated restaurants in the country. Recounting the trying process of building their restaurant business, they examine their most painful and joyous times, revealing how they came to understand their differences, recognize their biases, and continuously challenge themselves and each other to be better. There are a sprinkling of interesting recipes throughout including Chicken schnitzel with white barbecue sauce, Carrots in harissa for Marcus Kenney, and Crystal beer parlor-inspired Greek wings.
Martha Stewart's Very Good Things: Simple Tips and Genius Ideas for an Easier and More Beautiful Life by Martha Stewart: Hundreds of clever tips, solutions, and easy ways to elevate every day, from America's most trusted lifestyle authority, in one must-have handbook.
The Simple Paleo Kitchen: 60 Delicious Gluten- and Grain-Free Recipes Without the Fuss by Jessie Bittner is your one-stop shop for scrumptious meals that are not only gluten- and grain-free, but hassle-free as well. With this cookbook, the author has curated a mouthwatering collection of recipes which can all be tackled in just five steps or fewer to help save you time in the kitchen without skimping on flavor.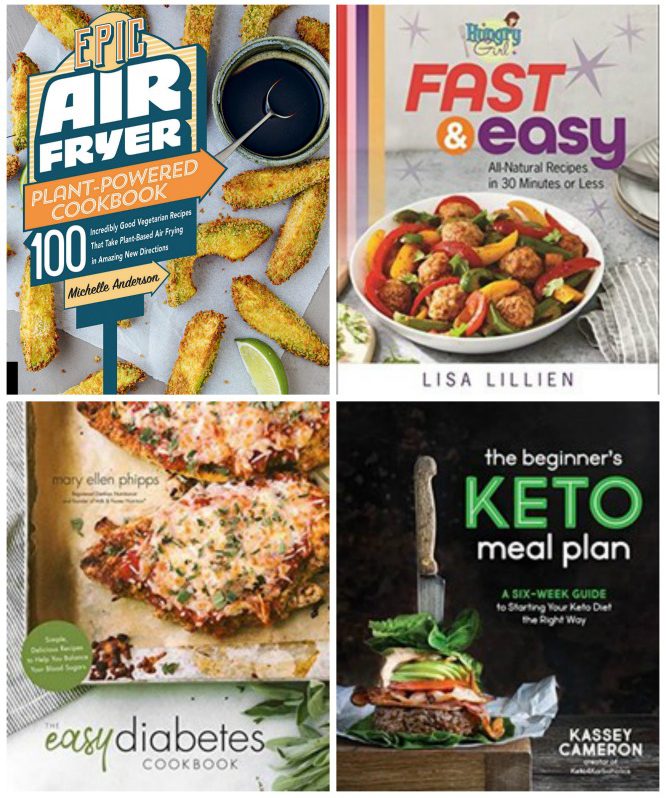 The Easy Diabetes Cookbook: Simple, Delicious Recipes to Help You Balance Your Blood Sugars by Mary Ellen Phipps: With this collection of recipes from registered dietitian nutritionist and Milk & Honey Nutrition® founder Phipps, you can still make the quick, easy, and tasty foods you love while balancing your blood sugars and managing your diabetes. Diagnosed with type I diabetes when she was five, Mary Ellen uses both her professional and personal experience to create meals that will bring the joy and ease of cooking back to your kitchen, while still following a blood sugar–friendly diet.

Epic Air Fryer Plant-Powered Cookbook: 100 Incredibly Good Vegetarian Recipes That Take Plant-Based Air Frying in Amazing New Directions by Michelle Anderson: The air fryer is not just for carnivores. Best-selling author and serious air-frying expert Emily Paster shows you how to make amazing vegetarian dinners, and loads of plant-based sides, snacks, desserts, and more, in this inspiring volume of more than 100 thoroughly delicious, tested-to-perfection recipes.
Hungry Girl Fast & Easy: All Natural Recipes in 30 Minutes or Less by Lisa Lillien: Lisa is back with her fastest and easiest recipes ever – each one is ready in 30 minutes or less! With full-color photos of every recipe, this new book consists of quick and simple meals & snacks made with everyday ingredients.
The Beginner's Keto Meal Plan: A Six-Week Guide to Starting Your Keto Diet the Right Way by Kassey Cameron: Transitioning to a Keto diet can feel overwhelming and confusing. But luckily for you, Kassey Cameron is a seasoned Keto pro and is here to share her know-how including a 6-week meal plan to help you kick off your Keto journey with ease.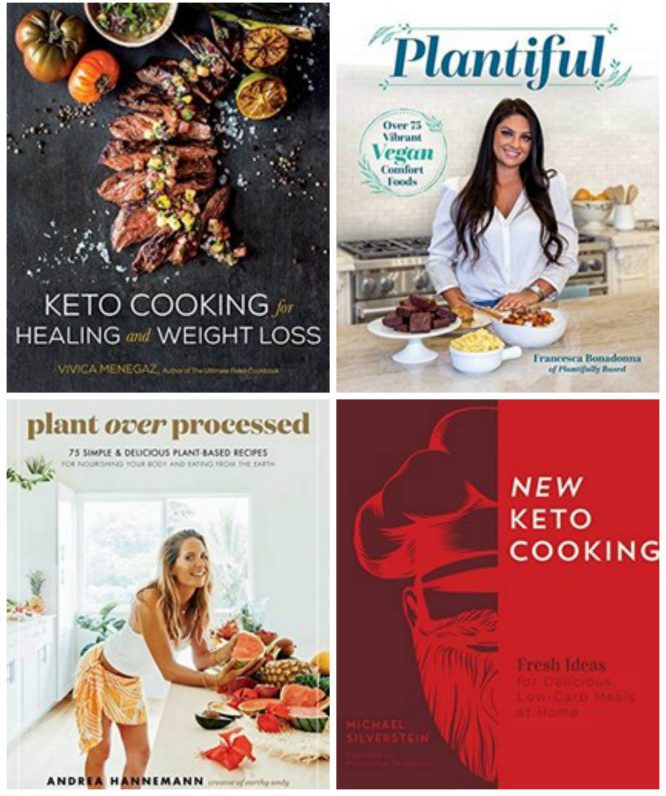 Plant Over Processed: 75 Simple & Delicious Plant-Based Recipes for Nourishing Your Body and Eating From the Earth by Andrea Hannemann invites readers to join the author's "30-Day Plant Over Processed Challenge" that will detox the body, followed by a long-term plan for going plant-based without giving up your favorite dishes. Packed with gorgeous photography and mouth-watering recipes-from smoothies and bliss bowls to plant-based comfort and decadent desserts-this life-changing guide takes you to the North Shore of Hawaii and back, showing you how easy it is to eat plant-based, wherever you are.
Keto Cooking for Healing and Weight Loss: 80 Delicious Low-Carb, Grain- and Dairy-Free Recipes by Vivica Menegaz: Easy and made with whole foods, Vivica's 80 mouthwatering recipes teach readers how to adjust their nutritional ratios to keep carbs, fat and protein within certain limits, all while avoiding allergens and processed ingredients.

New Keto Cooking: Fresh Ideas for Delicious Low-Carb Meals at Home by Michael Silverstein brings the author's culinary know-how into your home with this collection of fresh, flavorful recipes that reimagine Keto cuisine. Instead of falling back on the typical "diet" substitutions, the unique dishes in this book have been carefully developed to feature big, bold flavors and smarter cooking methods that set them apart from other Keto recipes.

Plantiful: Over 75 Vibrant Vegan Comfort Foods by Francesca Bonadonna: Plantiful teaches you how to easily transform plant-based foods into hearty and nourishing meals. With an array of creamy, saucy, and crispy creations, Francesca dispels any misconceptions that vegan food lacks the pleasing flavors and textures of its non-vegan counterparts. Each recipe is made from high-quality but easily accessible ingredients, with a simple format that makes cooking both easy and fun.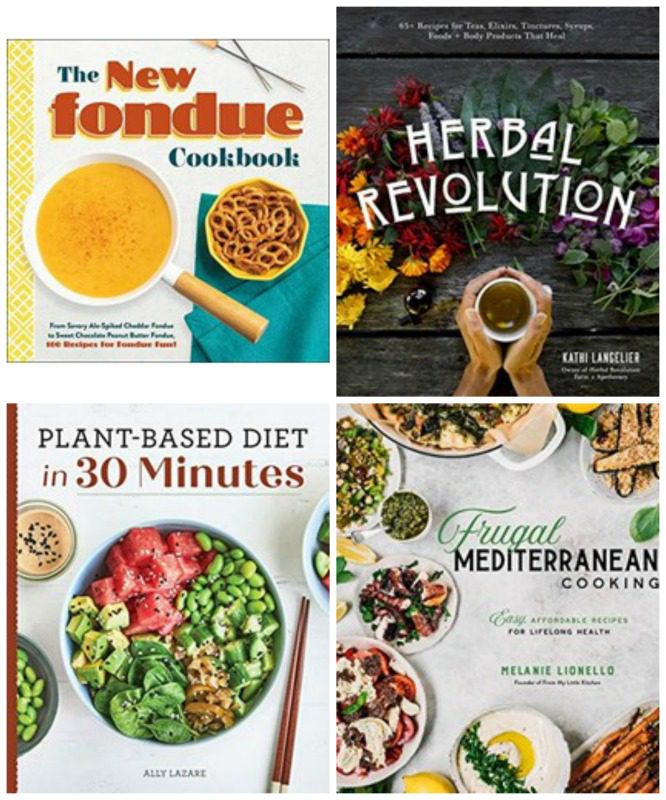 Frugal Mediterranean Cooking: Easy, Affordable Recipes for Lifelong Health by Melanie Lionello provides wholesome recipes focus on staples of the Mediterranean diet such as fresh fruits and vegetables, plant-based proteins like legumes, grains and pulses in everyday meals, as well as plenty of good-for-you fats like olive oil, nuts and seeds. These amazingly simple meals are made up of only a few flavorful ingredients, so you'll keep your grocery store visits and budget to a minimum.

Herbal Revolution: 65+ Recipes for Teas, Elixirs, Tinctures, Syrups, Foods + Body Products That Heal by Kathi Langelier: In this beautiful and inspiring collection, the author shares her most popular and effective formulas to support your daily health and wellness. Renew each system of the body with uniquely crafted teas, tinctures, syrups, foods, body products and everything in between.

Plant Based Diet in 30 Minutes: 100 Fast & Easy Recipes for Busy People by Ally Lazare: After a busy day, it may seem easier to reach for a takeout menu instead of planning for and cooking a healthy meal from scratch. This plant based diet cookbook will show you how simple it can be to prepare delicious, balanced, plant based recipes made with fresh, whole foods – all in 30 minutes or less.
The New Fondue Cookbook: From Savory Ale-Spiked Cheddar Fondue to Sweet Chocolate Peanut Butter Fondue, 100 Recipes for Fondue Fun! by Adams Media offers 100 simple and delicious recipes for fondue favorites! Here you'll find classic favorites as well as new, unique ideas that all your guests will love. You can finally make the most out of your fondue set with these truly tasty, ooey-gooey, melted cheeses and chocolates!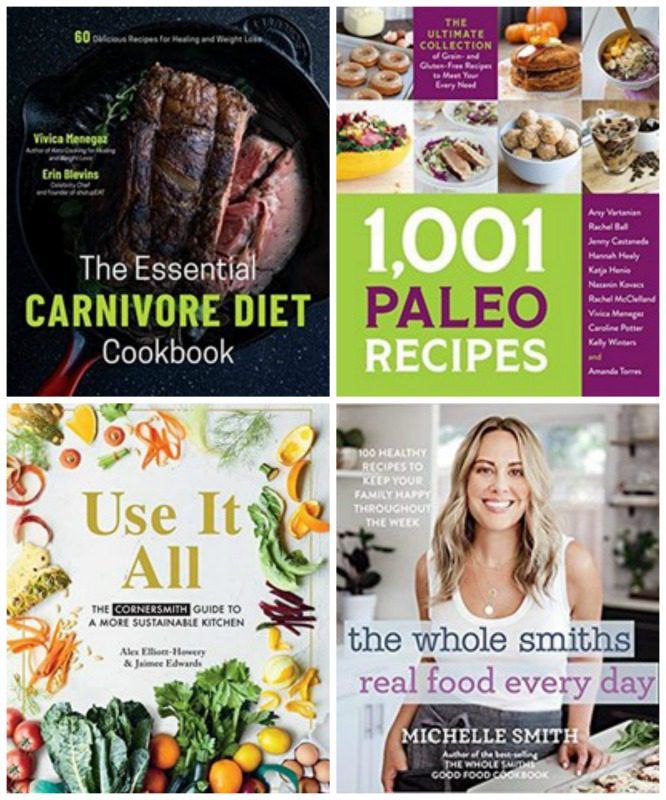 1,001 Paleo Recipes: The Ultimate Collection of Grain- and Gluten-Free Recipes to Meet Your Every Need by Various Authors: In this revised edition of The Ultimate Paleo Cookbook, ten popular Paleo bloggers have come together to bring you over 1,001 recipes in this ultimate, extensive collection to help you stay gluten- and grain-free. With over 100 additional recipes, this is the largest compilation of Paleo recipes in print, and it satisfies every craving in one convenient volume. Each of the authors selected 50 to 80 of their favorite recipes from their blogs and created 10 to 20 original recipes, all assembled in this one amazing Paleo resource.

The Essential Carnivore Diet Cookbook: 60 Delicious Recipes for Healing and Weight Loss by Vivica Menegaz and Erin Blevins offers a guide with the most up-to-date information on the carnivore diet, the different approaches you can take and the science behind each method so you can pick what works best for you.

The Whole Smiths Real Food Every Day: 100 Healthy Recipes to Keep Your Family Happy Throughout the Week by Michelle Smith solves the problem of what's for dinner during a hectic week. With simple, accessible recipes that are designed to be made ahead, used for leftovers, or thrown into a slow cooker, families will be able to easily prepare healthy meals on a regular basis.
Use It All: The Cornersmith Guide to Your Sustainable Home Kitchen by Alex Elliott and Jaimee Edwards was previously published in September of 2020 in Australia and is being published in the UK and US this month. (See UK section for more information).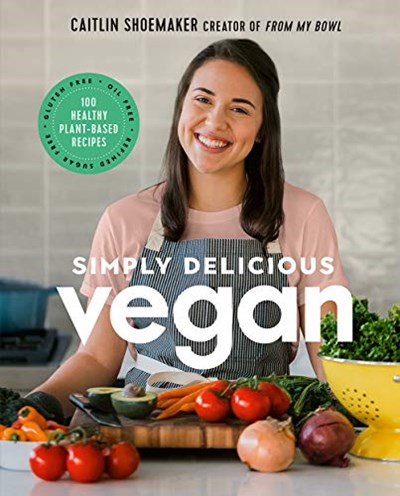 Simply Delicious Vegan: 100 Healthy Plant-Based Recipes by Caitlin Shoemaker, vegan and health-world influencer and creator of the blog From My Bowl, shares the laid-back kitchen magic of her simple, flavorful recipes. Complete with personal tips for creating a glowingly healthy and happier life, this book offers 100 recipes that check every box and fit easily into real life. (Published in December but was just received).
Other titles of interest:
---
Canada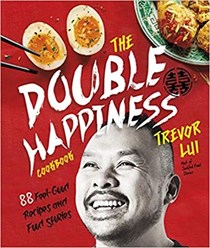 The Double Happiness Cookbook: 88 Feel-Good Recipes and Food Stories by Trevor Lui is a riveting exploration of the chef's tireless culinary journey that began in the kitchen of a family restaurant with sweet and sour chicken balls and chow mein and eventually drew inspiration from the streets of Toronto, LA, New York, and Taiwan. Featuring feel-good, Asian-inspired recipes with big-city attitude think BBQ pork on rice, Bulgogi beef tostadas, Sweet chili cauliflower wings, and Ramen with L.A. Kalbi – this heartening cookbook is an authentic celebration of heritage, community, street culture, and food philosophy. It is eighty-eight recipes, eight compelling stories, and one man's dream.

---
United Kingdom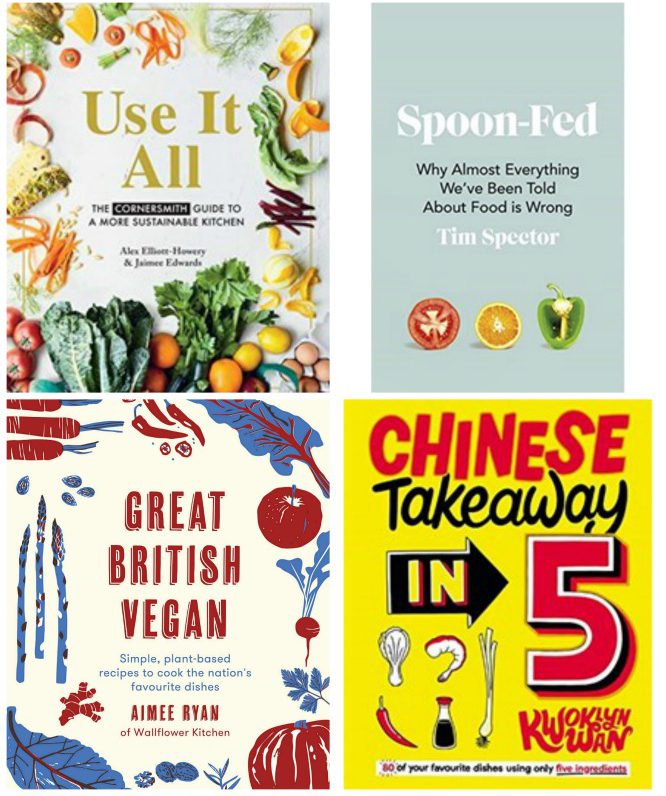 Spoon-Fed: Why Almost Everything We've Been Told About Food is Wrong by Tim Spector: We are all bombarded with advice about what we should and shouldn't eat, and new scientific discoveries are announced every day. Yet the more we are told about nutrition, the less we seem to understand. Through his pioneering scientific research, Spector has been shocked to discover how little good evidence there is for many of our most deep-rooted ideas about food. In a series of short, myth-busting chapters, this book reveals why almost everything we've been told about food is wrong. The author explores the scandalous lack of good science behind many medical and government food recommendations, and how the food industry holds sway over these policies and our choices.
Chinese Takeaway in 5: 80 of Your Favourite Dishes Using Only Five Ingredients by Kwoklyn Wan: The author of the Chinese Takeaway Cookbook and The Veggie Chinese Takeaway Cookbook is back with 70 classic Chinese dishes that use only five ingredients. Alongside a basic store cupboard of five essentials – salt, pepper, soy sauce, sugar and oil – you can make a feast of easy dishes using the bare minimum.
The Great British Vegan: Simple, Plant-based Recipes to Cook the Nation's Favourite Dishes by Aimee Ryan: Whether you're vegan, flexitarian or merely interested in cutting down on your meat consumption, there's no reason you can't still indulge in all your favourite British classics, using ingredients that are easy to find. With great-tasting, easy to make home-style recipes that will comfort as well as nourish, this book makes sure you never miss out on Sunday roasts, full English breakfasts or afternoon teas again.
Use It All: The Cornersmith Guide to Your Sustainable Home Kitchen by Alex Elliott and Jaimee Edwards was previously published in September of 2020 in Australia and is being published in the UK and US this month. Most cookbooks present recipe after recipe, sending us to the shops for an enormous list of ingredients, much of which gets wasted. This title is a kitchen skills handbook for real people with busy lives who are looking to make better choices in their kitchens. Structured around sample weekly shopping baskets and packed with over 160 recipes that form a foundation for seasonal eating, it offers advice on how to make the most of each ingredient, plus dozens of alternative flavour combinations to adapt according to what you have on hand. This collection of recipes will teach you how to reduce your meat eating, make the most of what you have bought and give you ideas for how to rescue the tired and wrinkly fruit and vegetables from the fridge and fruit bowl. You'll learn to cook more creatively, buy less, waste less and make more with what you've got.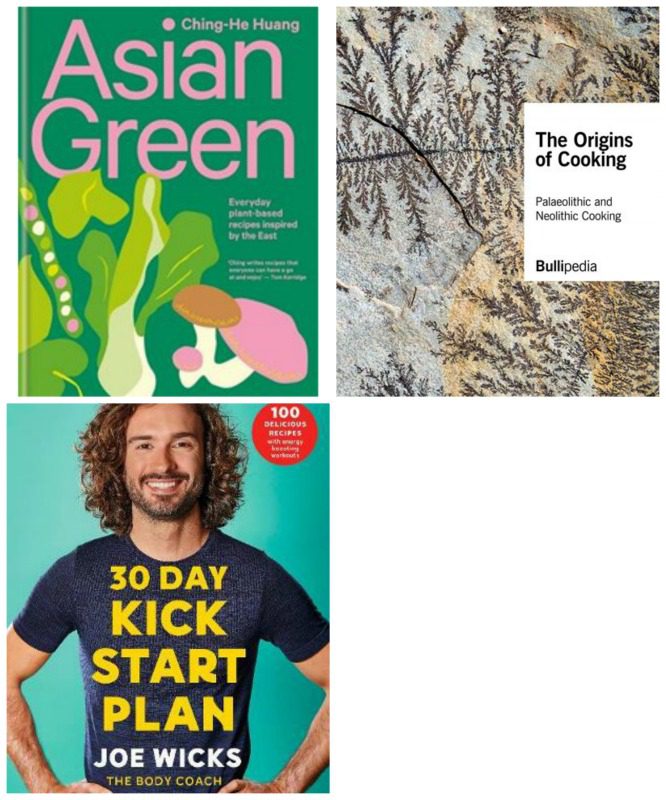 Asian Green: Everyday Plant Based Recipes Inspired by the East by Ching-He Huang: Asian food has always included a variety of meat- and dairy-free recipes. Focusing entirely on these plant-based dishes, Ching draws inspiration from across Asia to create simple, everyday, healthy home cooking that features protein-rich ingredients such as tofu, seitan, pulses, beans and grains.
The Origins of Cooking: Palaeolithic and Neolithic Cooking by Ferran Adrià is being published in the UK this month and in North America in February. It is an exploration of the birth of cooking, as charted by leading authority Ferran Adria's elBullifoundation. This essential volume examines the foundations of cuisine, starting with its earliest sources. Tracing every element of the produce, implements, and skills involved in food preparation, it asks such timely questions as: is the choice of raw food an act of cooking, or does cooking begin when specific tools are used to adapt it? Can food be considered 'cooked' when eaten in its raw state? Packed with intriguing text and illuminating elBullifoundation diagrams and images, it's a must-have for every cook's library.
30 Day Kick Start Plan: 100 Delicious Recipes with Energy Boosting Workouts by Joe Wicks: The fitness guru is back with a 30-Day Kick Start Plan to make it easier than ever before to motivate your weight-loss journey and get more active. Inside are one hundred delicious, sustaining recipes and ten brand new HIIT workouts to help you get in shape. Combined with weekly plans that can help you prep like a boss, this approach is easy to personalize according to your own day-to-day habits and will help everyone kick start a healthier lifestyle without looking back.
---
Australia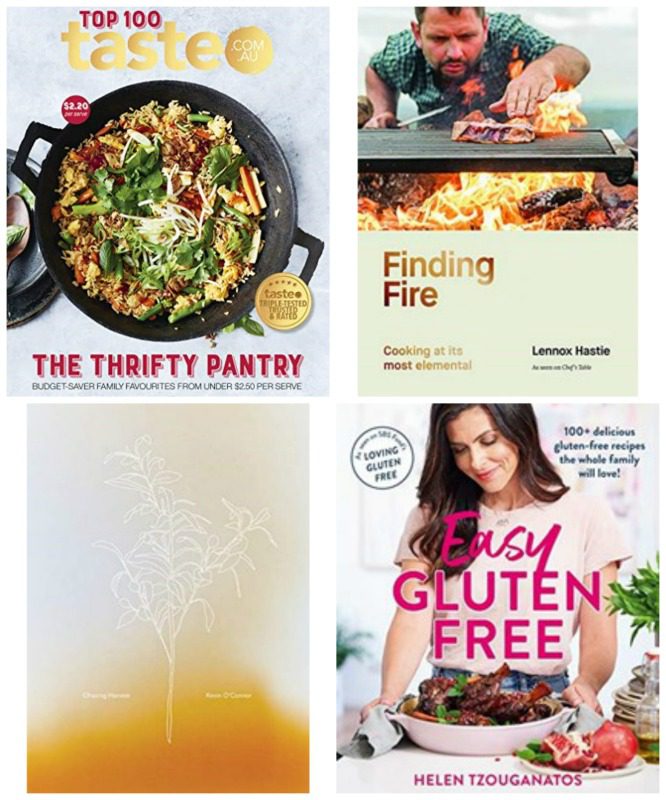 Chasing Harvest by Kevin O'Connor charts the chef's remarkable journey from Californian hometown teen prodigy to globe-trotting Chef-at-Large for international olive oil producer Cobram Estate. Anchored around the company's olive harvests in both Northern and Southern Hemispheres, it reveals the trials and tribulations that led to this anointment, and the incredible produce, places and passions that continue to stoke the fires of his love for food. Part memoir and journal, part cookbook – it is a captivating and visually sumptuous meditation on oil and flame as well as a searingly honest, gloriously unrefined account of a chef's search for meaning, one plate of food at a time. (Update 1/28/21 – Publication date moved to 2/16/2021).
Easy Gluten Free: 100+ Delicious Gluten-Free Recipes the Whole Family Will Love by Helen Tzouganatos makes cooking for the family simple with more than 100 delicious recipes: enjoy favourites such as pizza, pasta and breads as well as soups, salads, hearty mains and desserts you won't believe are gluten free! Inside you'll also find tips on what to keep in your pantry, on the different gluten-free flours and how to use them, as well as a guide to cooking different grains and seeds.
Finding Fire: Cooking at its Most Elemental by Lennox Hastie is a reprint of the 2017 book, a book about cooking with fire. Now with a new cover, it tells the story of how the UK-trained chef Lennox Hastie learnt the language of fire and the art of harnessing it. The book presents more than 80 recipes that celebrate the instinctive, focused cooking of ingredients at their simple best using one of the oldest, most fundamental cooking tools.
The Thrifty Pantry: The Top 100 Budget-Saving Recipes from Australia's #1 Food Site by Taste.com.au: The new cookbook from Australia's number one food website is all about making your pantry work harder. With 100 recipes using cupboard and freezer staples and each recipe costed, this will be your go-to cookbook for cooking on a budget. Chapters are organised into cost per serve, starting from just $2, plus there's a handy recipe key for gluten free, vegetarian and freeze-ahead meals. Festive recipes get a budget overhaul as well, with recipes for Christmas on a shoestring. They also list their top 50 healthy pantry foods and include insider tips on how to organise your pantry. Triple tested, easy and delicious, this is budget family cooking at its best.
---
New Zealand
Destitute Gourmet: Over 80 Affordable and Tasty New Recipes Plus Fan Favourites by Sophie Gray: It has been a tough year, and many households have found themselves on reduced incomes. But just because you are on a new and tighter budget, doesn't mean you have to live off two-minute noodles. Sophie Gray has developed a huge collection of lower-cost recipes and shopping techniques to help you make good choices – buying ingredients for food you will enjoy, and which will be good for you too. Packed with tips and tricks, this new book from Sophie includes 20 fan favourites from her earlier books, voted for by her loyal followers, plus over 80 new recipes. One-pan dinners, vegetarian recipes, meaty meals, salads and snacks plus baking and desserts – there's something for everyone. Stick within your budget, but eat well and enjoy!