What's your favorite spice?
January 20, 2021 by Darcie
Normal people do not have two drawers chock full of herbs and spices – at least that is what my friends tell me. In this respect, if not several others, I am happily abnormal. Baking and cooking are my main hobbies and passions, things I do when I have time and think about doing when I don't have time. This means that I enjoy exploring the wide array of spices from cuisines and cultures around the world. Along the way I have picked up some favorites that I turn to time and again. There is one in particular that seems to find its way into an increasing number of dishes that I make. Although I am fond of many spices, coriander is the one I would never want to do without.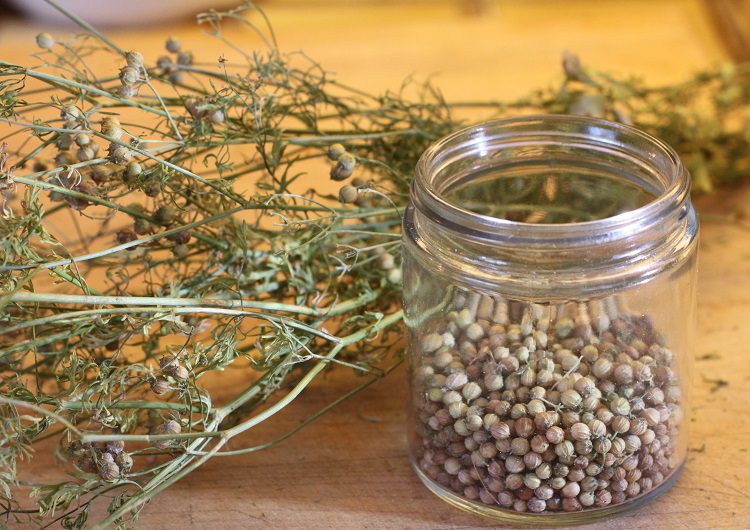 There are certainly bolder and more assertive spices such as ginger, cloves, cardamom, and different types of pepper. Coriander seed doesn't brashly announce its presence as these do. Instead, it operates as a team player, boosting the flavor compounds in other spices. Coriander seed provides floral and citrus undertones that complement spicy, savory, and sweet dishes. I add a small amount of coriander to any citrus-flavored cake, cookie, or pie that I make, and it amplifies the flavors provided by the zest and juice.
The leaves of coriander (cilantro) are perhaps the most divisive item in cooking. One upon a time I strongly disliked cilantro, until I encountered a dish where it was sparingly used and I found to my surprise that I enjoyed the flavor in a small dose. After that I ended up using increasing amounts and now I could happily munch the leaves all by themselves. I particularly enjoy cilantro when it is part of an herb medley. One of my favorites is the Falafel with sumac onion from Falastin, where cilantro joins parsley and mint in a refreshing combination.
I suspect that many of you also have a favorite herb or spice, one that gets pulled off the shelf or out of the drawer more frequently than others. Unlike naming a favorite pet or child, there are no feelings to be hurt by proclaiming your affection for one spice over another, so please let me know which one you wouldn't want to cook without.