Two women, 8000 cookbooks
January 2, 2021 by Darcie
Cookbooks continue to buck the trend of faltering sales in the publishing industry. Last year, London's fastest selling nonfiction book since records began was a cookbook. For cookbook lovers, few things bring us as much joy as cracking open a new volume to explore the world within its pages, or thumbing through a well-worn copy of a favorite book. That is how it is with Diana Henry and Cindy Pawlcyn, both of whom are avid cookbook collectors. The BBC's Emily Thomas recently interviewed both of them about their large cookbook collections.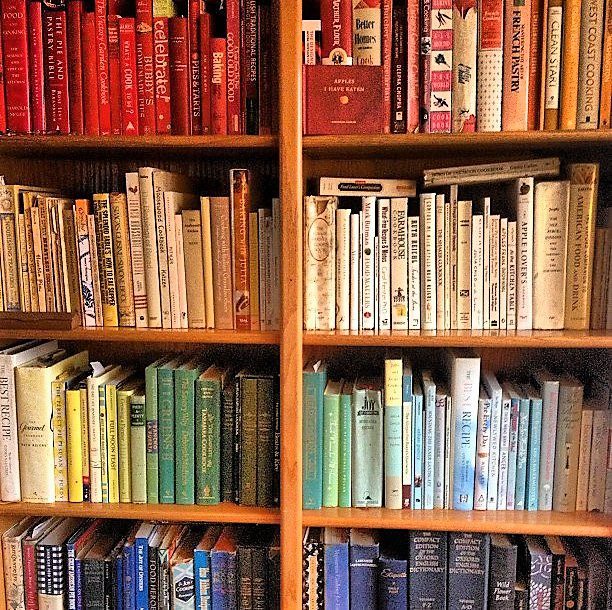 Cookbooks have been "one of the central joys of my life," says Diana. She began her love affair with cookbooks as a young girl growing up in Northern Ireland by reading authors like Jane Grigson, who is her favorite food writer. The cookbooks that she loves best are those that are personal, ones that put food in context. Diana has over 4,000 cookbooks, although she admits that she has slowed down the pace of collecting because she is running out of room to put them.
Cindy Pawlcyn described her massive cookbook collection, which as you may remember was destroyed by a wildfire earlier this year. The chef had built a separate structure to house her collection that was waterproof and air conditioned. She said her books were like an addiction, saying "I mean you don't have that many of anything unless you're kind of goofy about them, don't you think?"
Cindy immediately purchased several replacement cookbooks after the fire, including tomes by Richard Olney, Jane Grigson, Fuchsia Dunlop, and Dorie Greenspan. Even though she knows many of the recipes by heart, she is comforted by having the book in hand. The chef is slowly rebuilding her collection, although she does not believe she will ever have as many as she had before.