December 2020 New Cookbook Review
December 18, 2020 by Jenny
Welcome to the last month of 2020. The number of releases is even smaller than usual for December as there were about a dozen books moved to 2021. To check out what is coming next year, my 2021 preview post is continually being updated.
Some reminders before we discuss this month's titles. Last month, I published my gift guides for the baker and the cook/cookbook lover (includes a giveaway). My personal best books of Spring and Fall 2020 are great places to find gift-giving inspiration. For cookie/baking inspiration see this post and Darcie offers tips for shipping food over the holidays. Finally, don't forget the EYB Gift certificate if looking for the perfect gift for the cookbook lover.
We just published our EYB Cookbook Club Summary as well as the Great Big Cookbook Club Roundup so be sure to check those out. We also have loads of cookbook and product giveaways for you to enter! And our Kindle cookbook deals post is being continually updated.
If you would like to order any of these titles, using our affiliate links below or the BUY BOOK button on the book details page, will help to support EYB and our indexing efforts (as well as help us to include worldwide options in some promotions). Please remember to click here before any online shopping Amazon USA * Amazon Canada * Amazon UK * Book Depository. Please remember your local bookstores during this trying time as well.
If there is an

available for a cookbook, look for the orange icon in the blurb. Clicking on that icon will take you directly to the preview.
To jump to a particular country's listing, please click on the links below.
United States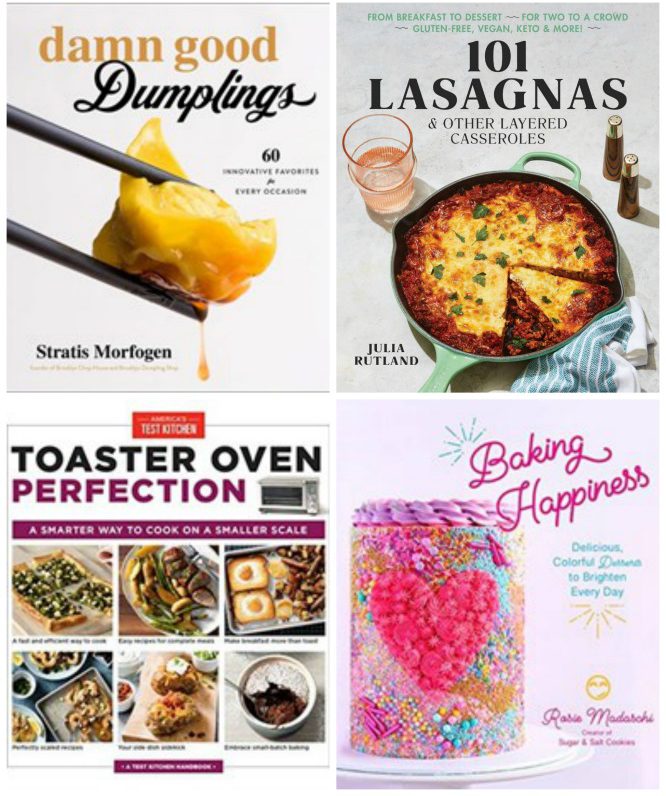 101 Lasagnas & Other Layered Casseroles by Julia Rutland features 100 new creative takes on the traditional favorite, such as Skillet beef and sausage lasagna, Asian short ribs with wonton noodles, Green chile chicken with tortilla "noodles," Veggie lasagna pockets, and Apple pie lasagna, as well as basics on different sized pans and the variety of available noodles, including gluten-free. Or skip the pasta altogether and use fresh veggies instead. If it has layers, we're considering it a lasagna – so pull out your casserole pans, roll up your sleeves, and get ready to give dinnertime some extra interest!
Damn Good Dumplings: 60 Innovative Favorites for Every Occasion by Stratis Morfogen: Here the successful restaurateur shows us just how easy it is to merge American flavors with the classic dim sum favorite. This book is great for beginner home cooks because the dumplings are easy to make and prepare. Kids love dumpling flavors like Grilled ginger chicken, Funky chunky vegetable, and Short rib stacked because they're encased in dough and fun to eat. Whip them up for a weekday dinner that the whole family will love, or wow all your friends at your next dinner party without having to spend all day in the kitchen.

Baking Happiness: Delicious, Colorful Desserts to Brighten Every Day by Rosie Madaschi: The author found happiness by baking colorful, elaborate cakes and baked goods, and sharing them through her business Sugar & Salt Cookies. Now she's spreading the joy, showing readers how to make beautiful baked creations in their own kitchens. These recipes make baking stylized, professional-quality desserts approachable and enjoyable for the novice baker. Baking experts can take their desserts to the next level with impressive decorating techniques. Step-by-step tutorials on layering cakes, piping buttercream, and decorating with ganache, make it easy to create an over-the-top result that's sure to wow kids and adults alike.

Toaster Oven Perfection: A Smarter Way to Cook on a Smaller Scale by America's Test Kitchen: Take your toaster oven from sidekick to superhero with 100+ streamlined recipes that save time and energy and make your cooking life easier. A toaster oven can do much more than make toast! Essentially a countertop oven, it can bake, roast, and broil (some have convection and air fryer features) – plus it heats up faster than a regular oven, uses less energy, and takes up less space, making it an efficient way to cook and bake in small batches. In this new book, the America's Test Kitchen experts show the many ways to put this workhorse to work, from baking mini meatloaves, pizza, and chicken parts to roasting vegetables, and offer recipes tested across a range of models to be sure it will work in yours.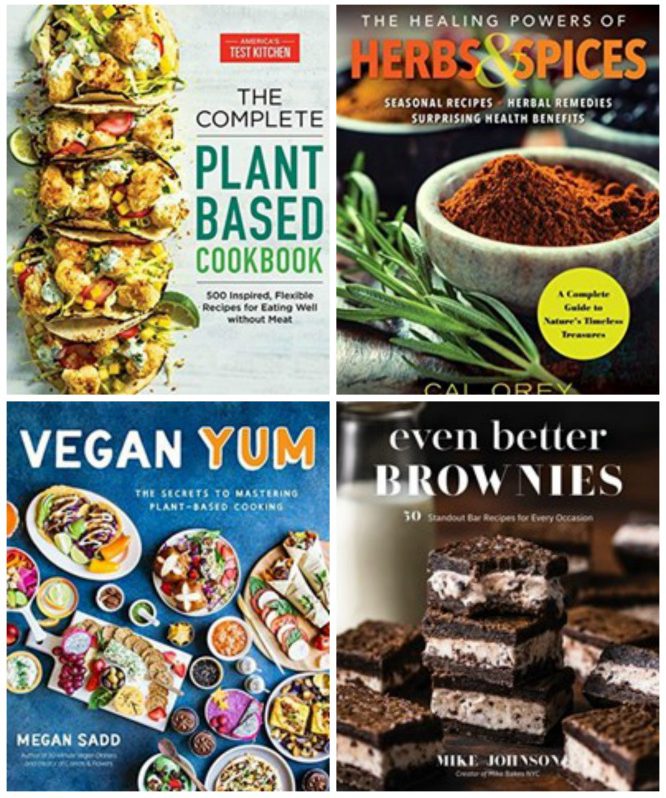 The Healing Powers of Herbs and Spices: A Complete Guide to Natures Timeless Treasures by Cal Orey: The mega-popular Healing Powers series from bestselling nutrition writer Cal Orey continues with its 9th installment exploring the many ways fresh herbs in your fridge and dried spices in your kitchen cupboard can provide medicinal powers, home cures, weight loss benefits, beauty treatments, and adventurous flavors and textures to enhance plant-based dishes.
The Complete Plant-Based Cookbook: 500 Inspired, Flexible Recipes for Eating Well without Meat by America's Test Kitchen: ATK's plant-based eating strategy is easy, satisfying, and budget-friendly. And it's global, utilizing cuisines around the world that are chock-full of boldly flavored, naturally vegan dishes. Taking their inspiration from them, their recipes showcase vegetables, fruits, beans and grains, and vegan (and vegetarian) protein sources – including plant-based beef. The 400 recipes are vegan but flexible, so the Rancheros with avocado are equally flavorful made with tofu or eggs, the Farro salad with cucumber, yogurt, and mint is delicious whether made with plant-based or dairy yogurt, and the Cranberry-apple crisp is irresistible whether you use coconut oil or butter. There's also room at this table for both vegan and vegetarian renditions of classics, so Almost hands-free fennel risotto (made creamy with miso instead of cheese) can share space with a version that is enriched with Parmesan.

Even Better Brownies: 50 Standout Bar Recipes for Every Occasion by Mike Johnson: Ditch boxed brownie mixes and other uninspired recipes in favor of Mike's amazingly decadent and rich homemade brownies and bars, from traditional brownies that will blow your mind to ones featuring inventive flavor combinations. Mike also includes other must-try recipes, like one-of-a-kind blondies, no-fuss cheesecake bars, fruity pie-inspired bars and so many more.

Vegan YUM: The Secrets to Mastering Plant-Based Cooking by Megan Sadd: The author has spent nearly her entire life studying plant-based cuisine to discover the best, most satisfying, and delicious ways of cooking vegan food. In this cookbook, she shares all of her secrets. We've got comfort food – Crispy Southern chickpea sandwiches and Meat lover's BBQ pulled jackfruit with avocado slaw. We've got masterpieces, like Spring linguine with king oyster scallops. And best of all, a whole chapter is dedicated to Megan's signature cheeses and meals stuffed with ooey-gooey cheesy goodness. Just wait till you try her Smoky gouda melt, Pesto mac 'n' cheese or Roasted vegetable romanesco lasagna!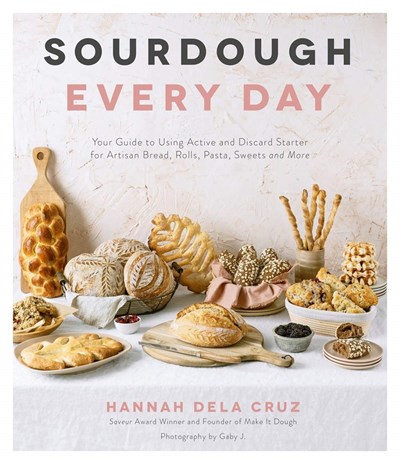 Sourdough Every Day: Your Guide to Using Active and Discard Starter for Artisan Bread, Rolls, Pasta, Sweets and More by Hannah Dela Cruz: Self-taught baker Hannah shares rustic loaf recipes perfected in her home kitchen, including classic All-Purpose Sourdough and zesty, flavorful Roasted Garlic Rosemary Oil Sourdough. Then, instead of throwing the leftover sourdough discard away, she shows readers how to craft the leftover sourdough discard into extra treats like Flaky Sourdough Biscuits, Sourdough Apple Cinnamon Rolls, and Sourdough Brownies.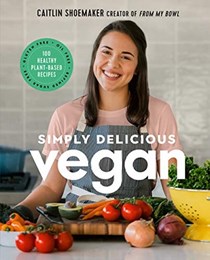 Simply Delicious Vegan: 100 Healthy Plant-Based Recipes by Caitlin Shoemaker, vegan and health-world influencer and creator of the blog From My Bowl, shares the laid-back kitchen magic of her simple, flavorful recipes. This title proves that unprocessed, plant-based food doesn't have to be expensive, complicated, or boring—and even better, it can make you feel (and look) your absolute best. Complete with personal tips for creating a glowingly healthy and happier life, this book offers 100 recipes that check every box and fit easily into real life. Gluten-free, oil-free, and refined sugar–free, Simply Delicious Vegan will help you feel energized and centered.
United Kingdom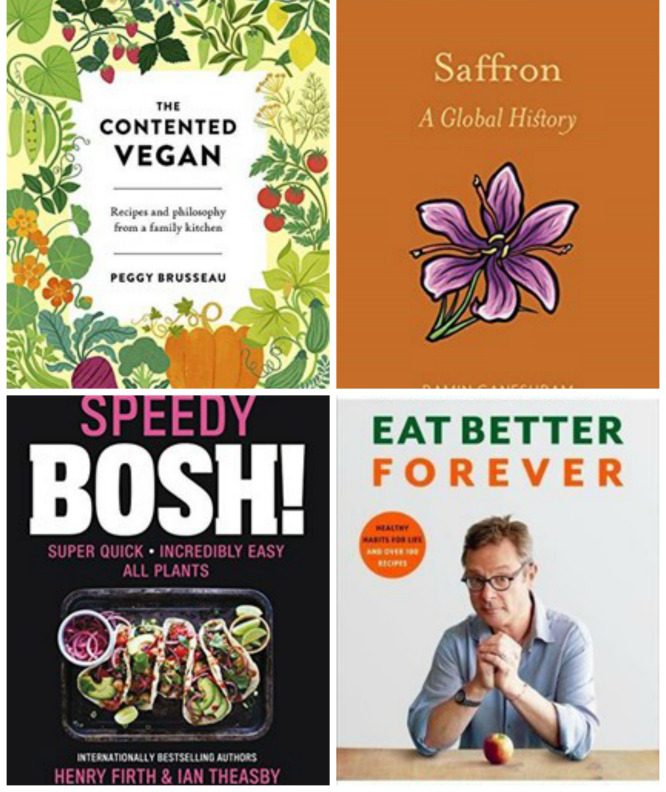 The Contented Vegan: Recipes and Philosophy from a Family Kitchen by Peggy Brusseau is your essential guide to transitioning to a vegan lifestyle, combining delicious recipes with practical, inspirational, and reassuring advice on making the switch. Food writer Peggy Brusseau has been a vegan for over thirty years and is often asked for guidance by people considering changing their diet. How do I get enough protein? How can I eat a plant-based diet when my partner doesn't want to? Is it safe for kids? In this book, she answers all these questions and more, as well as providing over 100 simple, tasty recipes to inspire you in the kitchen, from breakfasts and snacks, through to easy midweek suppers and celebration feasts.
Eat Better Forever: 7 Simple Ways to Transform Your Diet by Hugh Fearnley-Whittingstall gives you all the tools to improve your eating habits, and therefore your life – permanently. And to help it all happen, he's added his 100 healthiest recipes yet. In this ground-breaking book, instead of promising a gimmicky single-fix solution to the challenge of healthy eating, Hugh extracts the knowledge, advice, and healthy habits, from cutting edge research into the obesity crisis, to produce 7 simple strategies that will transform your diet and your health.
Speedy BOSH!: Super Quick. Incredibly Easy. All Plants. by Ian Theasby and Henry David Firth: The creative minds behind BOSH!, are back with dozens of delicious new plant-based recipes for devoted vegans, the vegan-curious, and, meat-eaters looking for some good food with lots of vegetables. BOSH! recipes have always been crowd-pleasing and simple to make, but Speedy BOSH! is even more reader-friendly with stews, wraps, one-pot meals, pasta dishes, and frying-pan dinners – all of which can be made in the time it takes to order takeout and set the table!
Saffron: A Global History (Edible) by Ramin Ganeshram takes you on an exploration of the dramatic history of the world's most expensive spice. Literally worth their weight in gold, sunset-red saffron threads are prized internationally. Saffron can be found in cave art in Mesopotamia, in the frescoes of ancient Santorini, in the dyed wrappings of Egyptian mummies, in the saffron-hued robes of Buddhist monks, and in unmistakable dishes around the world. It has been the catalyst for trade wars as well as smuggling schemes and used in medicine and cosmetics. Complete with delicious recipes and surprising anecdotes, this book traces the many paths taken by saffron, revealing the allure of a spice sought globally by merchants, chefs, artists, scientists, clerics, traders, warriors, and black-market smugglers.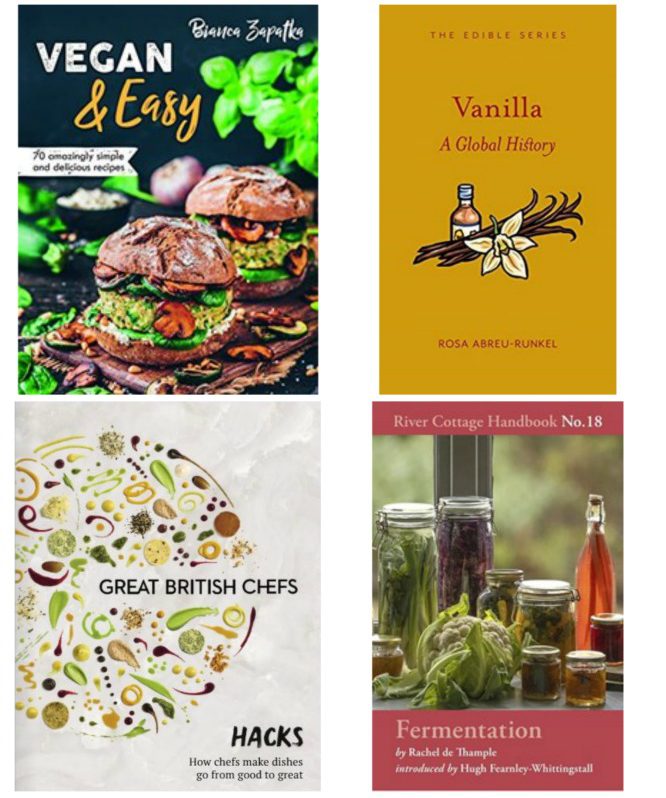 Vanilla: A Global History (Edible) by Rosa Abreu-Runkel: Intoxicating and evocative, vanilla is so much more than a spice rack staple. It is a flavor that has defined the entire world and its roots reach deep into the past. With its earliest origins dating back seventy million years, the history of vanilla begins in ancient Mesoamerica and continues to define and enhance today's traditions and customs. It has been used by nearly every culture as a spice, a perfume, and even a potent aphrodisiac, while renowned figures from Louis XIV to Casanova and Thomas Jefferson have been captivated by its aroma and taste. Featuring recipes, facts, and fables, this book unravels the delightfully rich history, mystery, and essence of a flavor that reconnects us to our own heritage.
Great British Chefs: Hacks: How Chefs Make Dishes Go from Good to Great by Great British Chefs: How do chefs make their dishes look and taste so incredible? In the Great British Chefs' latest cookbook, you'll find out. Learn how to harness the powers of purées, oils, marinades, and more with 48 'micro' recipes that'll take your home cooking to the next level, before taking a look at 25 full dish recipes that showcase these culinary hacks – straight from the minds of some of the best chefs cooking in the UK today.
Vegan & Easy: 70 Amazingly Simple and Delicious Recipes by Bianca Zapatka: In her new recipe book the food blogger and Instagram star shows us quick and easy ways to make fantastic vegan dishes that taste amazing and look great too. Bianca shows just how diverse vegan food can be, with a range of speedy makes and bakes that anyone can do. Plenty of step-by-step images and helpful tips make the recipes simple to follow at home.
Fermentation : River Cottage Handbook No.18 by Rachel de Thample shines a light on one of the oldest methods of preserving food, which is just as relevant today, and shows you how to produce delicious and health-boosting ferments in your own kitchen. There are more than 80 simple recipes to make everything from sauerkraut and sourdough, kimchee and kombucha, to pickles and preserves, accompanied by thorough explanations of how the fermenting process works. With little more than yeast and bacteria, salt and time, a whole realm of culinary possibilities opens up.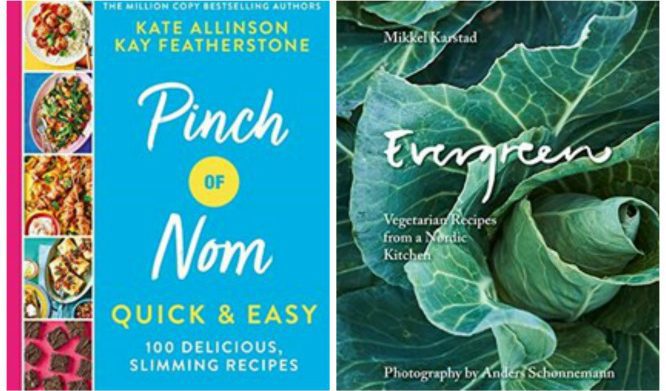 Evergreen: Vegetarian Recipes from a Nordic Kitchen by Mikkel Karstad symbolizes something that will last for years and never goes out of fashion. More and more people are focusing on eating green in their daily lives and Mikkel introduces vegetable recipes to inspire. What makes vegetables exciting is that they really change character and taste according to the seasons. In summer a carrot should be pulled from the ground, lightly rinsed, and eaten as it is – completely spicy, tender, crisp, and juicy. While in late Autumn, when it has been in the ground for a long while enduring weather and wind and has become big, coarse but sweet in taste, it should be used in a delicious soup, purée, or baked to enhance the wonderful sweetness it has developed.
Pinch of Nom Quick & Easy: 100 Delicious, Slimming Recipes by Kate Allinson and Kay Featherstone: Minimum fuss. Maximum flavour. More than 100 quick, simple and slimming recipes from Kate Allinson and Kay Featherstone, authors of Pinch of Nom, the bestselling cookbook of 2019. From all-in-one family favourites to batch-cook basics and speedy sweet treats, Pinch of Nom Quick & Easy is packed with dishes so delicious you won't even notice they're slimming. With tasty, satisfying meals such as Veggie Satay Noodles, Creamy Cajun Chicken Pasta and Apple and Apricot Oaty Crumble, you definitely won't feel like you're missing out. Featuring Pinch of Nom's trademark big flavours, these recipes use easy-to-find ingredients to create meals that everyone will love – whether they're watching their waistline or not.
Australia
Cooking with the Wiggles: Easy Recipes Kids Will Love!: This book includes easy-to-make breakfasts, lunches and dinners, and healthy treats and sweets recipes too, all of which have the stamp of approval from kids. Watch your little wiggle devour their food with pride – because they know they made it. Sure, the kitchen might get a bit messy, but just put on a Wiggles track and sing and dance the mess away!