Why you should set your desserts on fire
December 16, 2020 by Darcie
Let's face it, 2020 has been a calamity for almost everyone across the globe. I recently saw a commemorative candle that sums up what a lot of people feel about the year: a dumpster fire. Since the world is literally and figuratively on fire this year, why not keep the flames going through your cooking? Kidding aside, adding fire to your meals – specifically to your desserts – is a wonderful way to add flair to your dining, as Eater's Carina Finn explains.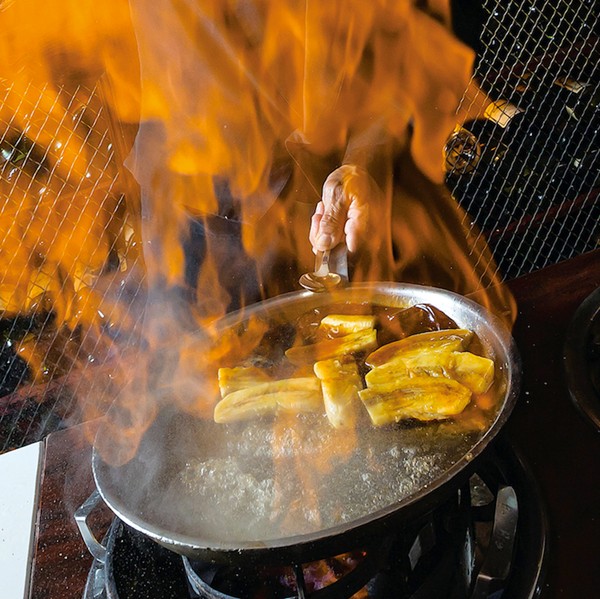 Flambéed desserts enjoyed immense popularity in the 1960s when tableside delights such as crepes Suzette, cherries jubilee, and bananas foster were all the rage. Unlike some desserts where you must slave in the kitchen for hours to create an impressive display, flambéing is incredibly easy for the results achieved. All you need is alcohol of some sort and a match. While a brûlée torch merely kisses a dessert with flame, flambéing is more dramatic, briefly consuming the whole dish with a flickering glow.
Of course you must practice safety while flambéing, as a steak Diane incident proved to me, my bangs, and my eyebrows many years ago. Finn provides some tips on how to achieve the best results when attempting to flambé. First, make sure that all of the items you are using, including the alcohol, are "heated to their flash point, the temperature at which they will ignite. Rum, for example, has a flash point of around 71 degrees Fahrenheit, while brandy will ignite at around 78 degrees." Second, make sure you are using the correct spirit. Wine and beer do not contain enough alcohol to catch fire, while 180 proof grain alcohol contains too much to use safely.
After my bangs grew back in following the steak Diane debacle (it was delicious, by the way, and my husband and I got a good laugh out of it), I continued to flambé dishes both savory and sweet. One of my favorites is bananas Foster, because I almost always have the ingredients on hand, and how can you not like the combination of rum and tropical fruit? During this, the darkest time of year where I live, adding a little fire to dessert can certainly brighten the mood. We need all the extra light we can get right now.
Photo of Brennan's bananas Foster from Saveur Magazine