All in the (allium) family
November 23, 2020 by Darcie
Popping out to the grocery store to pick up a single item you needed for a recipe seems like such a luxury these days. Most of us make do with what we have, even if it means finding another dish to make instead. Thankfully there are substitutes for many ingredients, and when it comes to onions, shallots, and leeks, you can often use them interchangeably, says Onions Etcetera author Kate Winslow.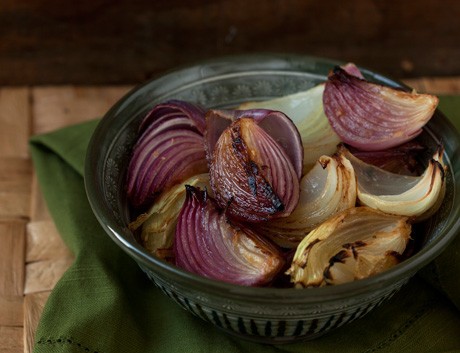 While there are differences between yellow, red, and white onions, Winslow says you can usually use whichever you have on hand for a recipe. Be forewarned that cooked red onions can sometimes turn the color of a dish brown or even blueish-green, especially if it is alkaline, says Winslow. Adding a touch of acid such as vinegar can counteract this phenomenon.
Shallots can be substituted for red onions in cooked or raw applications, says Winslow, although you might have to spend more time chopping shallots, which are generally much smaller than onions, to get the same volume. Leeks can likewise be swapped for onions that will be cooked.  "I think we can revamp our thinking and remind ourselves that leeks are just an elongated bulb," Winslow says. She also provides advice on using green onions and scallions as onion substitutes.
Photo of Lan Pham's herbed-roasted onions from One Big Table by Molly O'Neill