November 2020 New Cookbook Review
November 20, 2020 by Jenny
Welcome to the last unofficial month of the totally unofficial Cookbooktober. November has some exciting titles but far less in number than October. It seems as though I was just finishing up October's epic review yesterday and here we are nearing the end of the year.
Some reminders before we dive into the cookbooks. Recently, I've published my gift guides for the baker and the cook/cookbook lover (includes a giveaway). My personal best books of Spring and Fall 2020 are great places to find gift-giving inspiration. For cookie/baking inspiration see this post and Darcie offers tips for shipping food over the holidays. Finally, don't forget the EYB Gift certificate if looking for the perfect gift for the cookbook lover.
If you would like to order any of these titles, using our affiliate links below or the BUY BOOK button on the book details page, will help to support EYB and our indexing efforts (as well as help us to include worldwide options in some promotions). Please remember to click here before any online shopping Amazon USA * Amazon Canada * Amazon UK * Book Depository. Please remember your local bookstores during this trying time as well.
If there is an

available for a cookbook, look for the orange icon in the blurb. Clicking on that icon will take you directly to the preview.
To jump to a particular country's listing, please click on the links below.
---
United States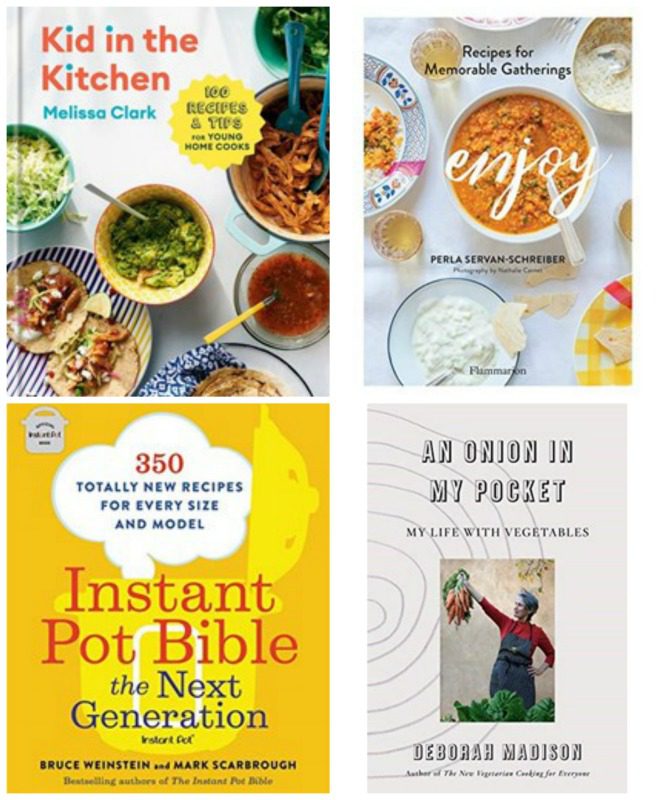 Kid in the Kitchen: 100 Recipes and Tips for Young Home Cooks by Melissa Clark: The New York Times Food columnist and beloved home cooking authority spins 100 all-new recipes for a robust new audience of home chefs: kids ages 8-14! The perfect gift for the young cook this season!
Instant Pot Bible: The Next Generation: 350 Totally New Recipes for Every Size and Model by Bruce Weinstein and Mark Scarbrough shares more than 350 brand-new recipes for family favorites and weeknight suppers for every model and size of Instant Pot, from the bestselling authors of The Instant Pot Bible and From Freezer to Instant Pot.
Enjoy: Recipes for Memorable Gatherings by Perla Servan-Schreiber: Perla founded the magazine Psychologies with her husband Jean-Louis. The magazine is a women's monthly dedicated to personal development and well-being. Perla cooks, a lot, often, and for everyone. Drawing from her Mediterranean roots, culinary influences gathered while traveling, and tips gleaned from great chefs like Yotam Ottolenghi and Alain Ducasse she has created ninety simple, flexitarian recipes for gatherings big or small. Her seasonal recipes cover every occasion, from casual summer picnics to formal holiday parties, and from tea-time treats to sprawling buffets.
An Onion in My Pocket: My Life with Vegetables by Deborah Madison: From the author of Vegetarian Cooking for Everyone comes a warm, bracingly honest memoir that also gives us an insider's look at the vegetarian movement. Deborah, though not a vegetarian herself, has long been revered as this country's leading authority on vegetables and has changed the way Americans think of cooking with vegetables.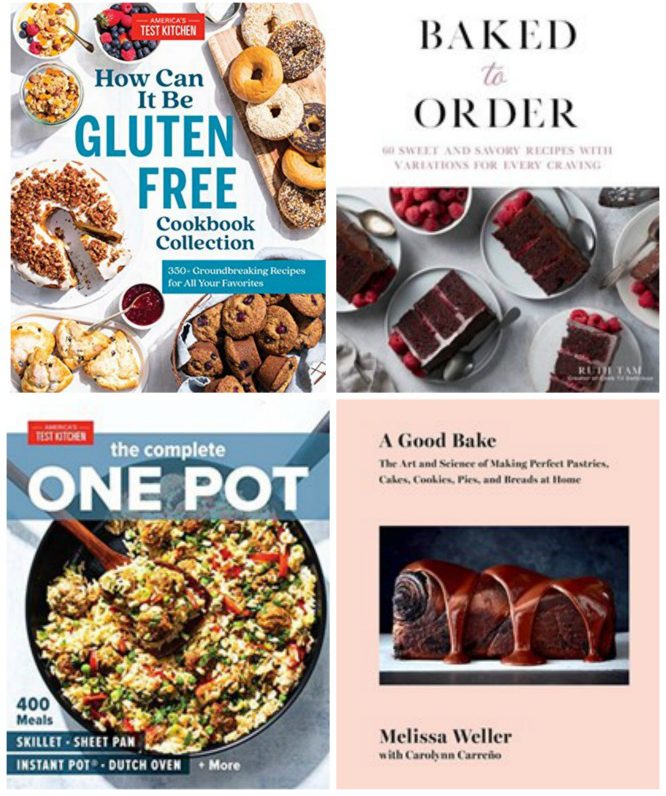 The How Can It Be Gluten-Free Cookbook Collection: 350+ Groundbreaking Recipes for All Your Favorite Foods by America's Test Kitchen: This title combines the recipes from The How Can It Be Gluten-Free Cookbook and The How Can It Be Gluten-Free Cookbook, Volume 2.
A Good Bake: The Art and Science of Making Perfect Pastries, Cakes, Cookies, Pies, and Breads at Home: A Cookbook by Melissa Weller and Carolynn Carreño is a spectacular offering in a sea of baking greatness. This stunningly photographed guide covers everything from savory bread to cookies and bars with each aspect covered with preciseness and skill. Only someone who loves baking and teaching others to bake could create such a book. The author is a French Culinary Institute graduate and trained at Babbo and Sullivan Street Bakery in New York City. She was chef-partner at High Street on Hudson; head baker at Per Se, Bouchon Bakery, and Roberta's; an owner and founder of Sadelle's; and the head baker at Walnut Street Café in Philadelphia. She knows her stuff.
Baked to Order: 60 Sweet and Savory Recipes with Variations for Every Craving by Ruth Tam: The author is the blogger behind Cook Til Delicious and an editor at the feedfeed. This book is her debut title and is filled with sweet and savory recipes with Ruth's special twists. Not your grandmother's banana bread is filled with ingredients that make it more healthful without taking away the yum factor, the Cranberry and pistachio crisps are what we all need on our holiday appetizer boards this season and her Lime cheesecake éclairs would look at home behind a Paris pastry shop window.

The Complete One Pot Cookbook: 400 Complete Meals for Your Skillet, Dutch Oven, Sheet Pan, Roasting Pan, Instant Pot®, Slow Cooker, and More by America's Test Kitchen: From sheet-pan suppers to one-pot pasta, millions of home cooks want the ease of hands-off meals made using a single vessel. These flavorful recipes represent years of the test kitchen's best strategies for successful one-pot cooking, from staggering cooking times so everything finishes at once to developing an arsenal of no-cook sauces and sides. Most of the recipes here can be completed in 45 minutes or less!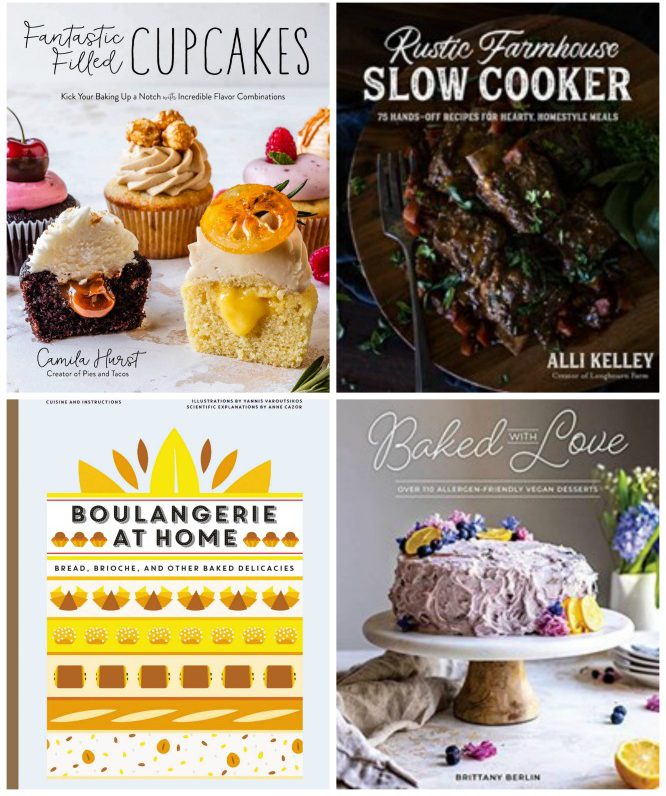 Fantastic Filled Cupcakes: Kick Your Baking Up a Notch with Incredible Flavor Combinations by Camila Hurst: Filling your cupcakes is the best way to take your treats to a whole new level, and every filling in this cookbook is perfectly paired with each cupcake (and frosting!) to bring you astonishingly delicious flavor.

Baked with Love: Over 110 Allergen-Friendly Vegan Desserts by Brittany Berlin dishes up a yummy batch of simple and fun vegan twists on classic treats, a feat that has consistently surprised and delighted her readers. Brittany flawlessly brings together the healthiest and most delicious aspects of many popular dietary choices. Baked with Love features only the highest-quality ingredients and offers many gluten-free, grain-free, nut-free, and allergy-friendly options. All of the recipes are vegan, which means that they are free of dairy and eggs.
Rustic Farmhouse Slow Cooker: 75 Hands-Off Recipes for Hearty, Homestyle Meals by Alli Kelley: The author lives on a family farm, and her down-to-earth country lifestyle is evident in the farmhouse food she likes to make for her family: humble, traditional meals bursting with flavor that will please a crowd. Made with fresh, whole-food ingredients, this flavorful collection of slow cooker recipes is one you'll revisit again and again for mouthwatering, farmhouse-style meals.

Boulangerie at Home: Bread, Brioche, and Other Baked Delicacies by Rodolphe Landemaine: A French pastry chef provides the tools and instruction needed to master the art of classic French bread and dough-based baked goods with this stunning cookbook featuring 100 recipes, infographics, 500 handy step-by-step photos, and an illustrated glossary. The author begins with the building blocks covering each ingredient, detailing each step of the process, and then begins the recipe. The recipes are broken down further with "understanding" and then "learning".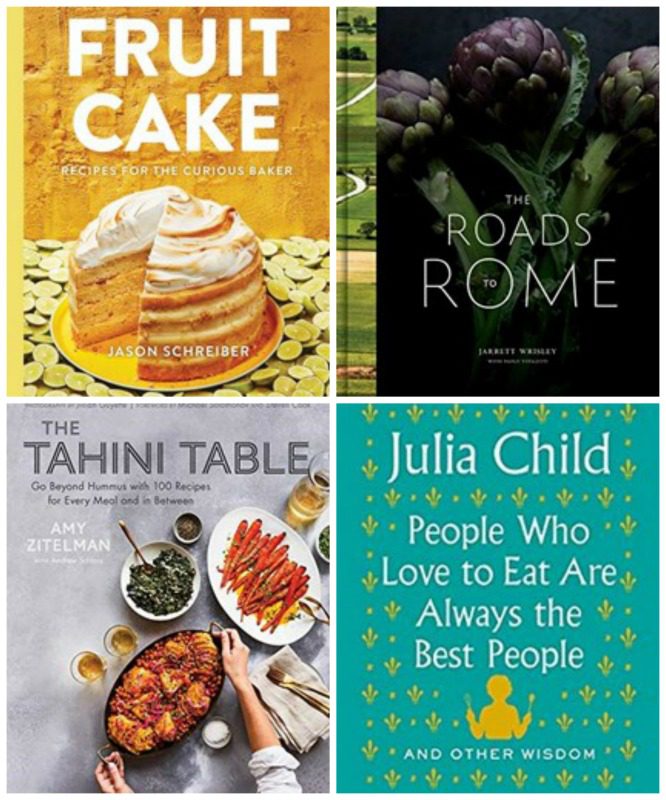 People Who Love to Eat Are Always the Best People: And Other Wisdom by Julia Child is a charming, giftable collection of the beloved, best-selling author's inimitable quotes — her words of wisdom on love, life, and, of course, food.
The Roads to Rome by Jarrett Wrisley and Paolo Vitaletti is an ode to the butchers, fishermen, and other artisans who feed the eternal city, and how their history and culture come to the plate. When Wrisley opened an Italian restaurant in Bangkok with his business partner and chef, Paolo Vitaletti, he wanted to run the most authentic Roman trattoria he could. But travels in Italy taught him that Roman cuisine doesn't come from Rome, but from the roads to Rome the trade routes that brought foods from all over Italy to the capital. What resulted is a stunner of a book with recipes, photographs and the love of all things Roman.

Fruit Cake: Recipes for the Curious Baker by Jason Schreiber combines aesthetic flair and flavor in 75 recipes that celebrate fruit and cake in all their festive and delicious glory. Fruit Cake is a tasty tour through dozens of cakes and other pastries that use a variety of fruits, combining them with diverse fillings, as well as liquor, nuts, and more. Along with the recipes there are stories, anecdotes, and asides that are just as charming and intriguing as the lush, full-color photos that accompany them. This is another stellar baking title of 2020.
The Tahini Table: Go Beyond Hummus with 100 Recipes for Every Meal and in Between by Amy Zitelman and Andrew Schloss: Amy is the CEO and co-founder of woman-owned Soom Food – the leading purveyor of tahini and tahini products in the American market. In this book, tahini is introduced to home cooks as a new pantry staple that can be used in recipes from dips to desserts. The Tahini doughnuts, Roasted carrot tahini, and Chocolate halvah French toast sandwiches are just a small example of the deliciousness inside this beautifully photographed cookbook.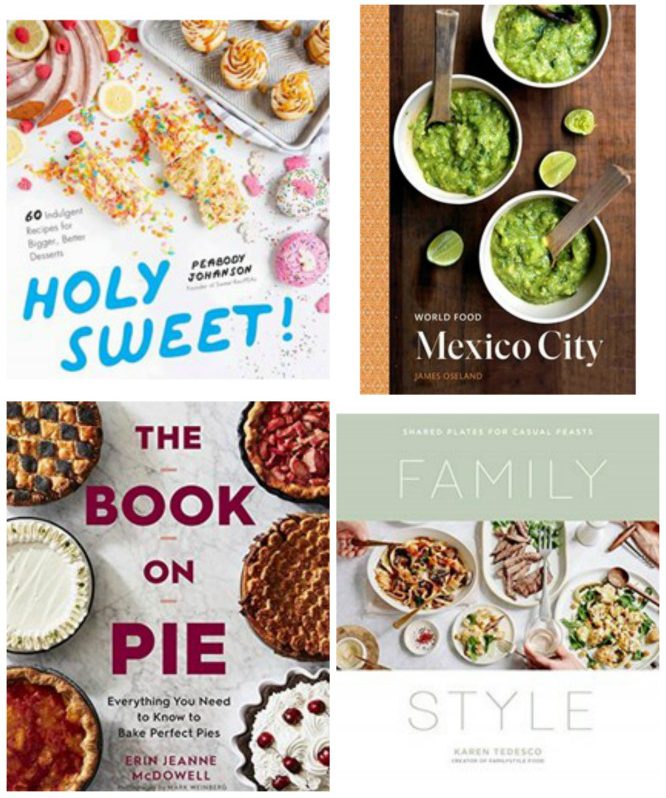 Holy Sweet!: 60 Indulgent Recipes for Bigger, Better Desserts by Peabody Johanson is an innovative, maddeningly creative collection of recipes from this talented baker/blogger. As I stated recently, it is a party of deliciousness and fun between two covers. This book belongs on everyone's bookshelf because Peabody truly is an evil genius and here you will find recipes, unlike any others. Look for a promotion soon with an Emile Henry loaf pan.

The Book on Pie: Everything You Need to Know to Bake Perfect Pies by Erin Jeanne McDowell, author of The Fearless Baker: Erin tarts with the basics, including techniques, conversions, make-ahead, and styling tricks, before diving into 100 of her unique and intriguing recipes. This is a stunning book filled with photographs and all the expertise that Erin has stored in her brilliant baker's mind. Erin wants us to embrace pie as Kate McDermott does with intensity and without fear. I have a promotion planned soon that pairs this book with a gorgeous JK Adams pastry board which has become one of my new favorite things in the kitchen.
World Food: Mexico City: Heritage Recipes for Classic Cooking by James Oseland: Through lush photography and transcendent storytelling, award-winning food journalist and editor James Oseland takes readers on a journey through a day in the world's greatest street-food city as he explores Mexico's capital via home cooks, chefs, and bakers. This title is part of his World Food series. The next title covers Paris and is slated for September 2021.

Family Style: Shared Plates for Casual Feasts by Karen Tedesco helps us to gather our friends and family – socially distanced of course) around the table for a hearty helping of simple, delicious fixings. Each unfussy recipe comes together from whole food ingredients to make a rustic meal that's meant to be shared.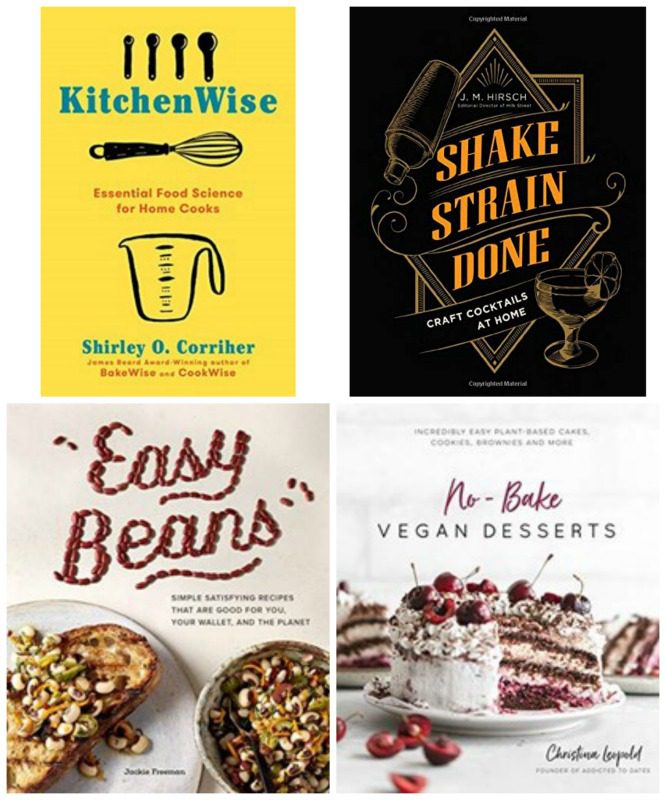 Easy Beans: Simple, Satisfying Recipes That Are Good for You, Your Wallet, and the Planet by Jackie Freeman: The year of the bean continues. Easy Beans uses popular and widely available beans, pulses, and lentils, and includes forty simple, delicious recipes for dips and spreads, salads and soups, as well as for mains. Whether you're stocked up on dried or canned beans, there's plenty of inspiration here.

Shake Strain Done: Craft Cocktails at Home by J.M. Hirsch: 2020 is also the year of the cocktail. Demystify the art of mixology with 175 recipes revealing the simple rules that make any cocktail delicious – showing how to make them at home with no fuss and a limited bar.
KitchenWise: Essential Food Science for Home Cooks by Shirley O. Corriher: The James Beard Award-winning, bestselling author of CookWise and BakeWise delivers priceless cooking techniques and know-how based on her expansive understanding of food science with 40 time-tested recipes.
No-Bake Vegan Desserts: Incredibly Easy Plant-Based Cakes, Cookies, Brownies and More by Christina Leopold: In this incredible collection of delectable plant-based sweets, Christina Leopold, founder and recipe developer behind the blog Addicted to Dates, walks you through her easy-to-follow no-bake method for preparing all of your favorite vegan treats.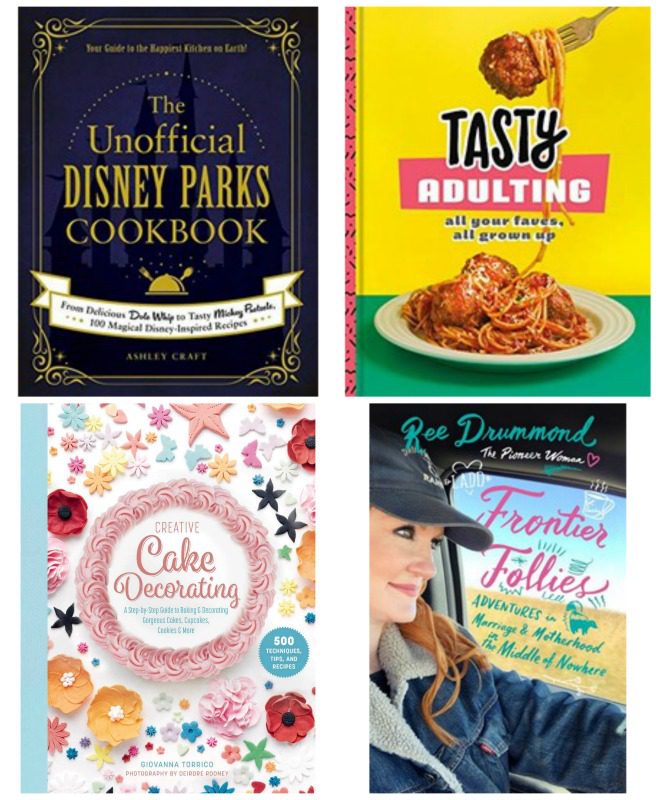 The Unofficial Disney Parks Cookbook: From Delicious Dole Whip to Tasty Mickey Pretzels, 100 Magical Disney-Inspired Recipes by Ashley Craft brings the magic of Disneyland and Walt Disney World snacks and treats right to your home. Recreate favorites like the classic Dole Whip and Mickey Pretzels to new favorites like blue milk from Star Wars land and Jack Jack's Cookie Num Nums from Pixar Pier. These 100 recipes inspired by iconic yummies are perfect whether you are a forever Disney fan or just love a good snack.
Tasty Adulting: All Your Faves, All Grown Up by Tasty is made specifically for the young (and young at heart) cooks who are just getting their footing as grown-ups. First, this book walks you through the foundations of cooking and builds up your kitchen confidence and know-how. Then, 75 fun, quick, and totally doable recipes meet you exactly where you are, allowing you to make mistakes, encouraging you to try new techniques, and gearing you up to reign supreme at the dinner table.

Frontier Follies: Adventures in Marriage and Motherhood in the Middle of Nowhere by Ree Drummond is a warm, hilarious collection of stories and reflections on family life from the #1 New York Times bestselling author, photographer, businesswoman, and star of the Food Network show The Pioneer Woman.
Creative Cake Decorating: A Step-by-Step Guide to Baking and Decorating Gorgeous Cakes, Cupcakes, Cookies, and More by Giovanna Torrico provides simple instructions for gorgeous cakes, cupcakes, and cookies; decorate them with fillings, frostings, piping, sugarpaste, and more! If this book is as good as Creative Cookie Decorating – it is a must have.
The Modern Bohemian Table: Gathering with Friends and Entertaining in Style by Amanda Bernardi is a gorgeous book filled with styling and entertaining tips along with recipes for party-friendly food. It would make a great gift for the hostess.
Other titles of interest:
Canada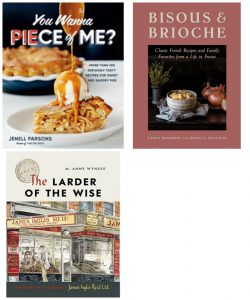 You Wanna Piece of Me?: More than 100 Seriously Tasty Recipes for All Kinds of Pie by Jenell Parsons: In this title, there is a pie recipe for absolutely everyone. Vegetarian, vegan, fish, chicken, beef, lamb, fruit, cream, nut, and more! As well as recipes like Pie Pop-Tarts and Pie Poutine to use up all your extra dough scraps. Also included is everything you need to know to make the prettiest pies ever: a comprehensive guide to tools and ingredients, troubleshooting techniques for pastry, tips and tricks for crafting creative edges (braids! lattices! rosettes!), the lowdown on egg washes, crumbles, sauces to drizzle and sugars to sprinkle, and so much more, all told by Jenell, owner of The Pie Hole shops.
Bisous and Brioche: Classic Recipes and Family Favorites from Our Life in France by Rebecca Wellman and Laura Bradbury is a stunning book that brings the French countryside into our kitchens. Sunday night crêpes, Artichoke and asparagus tart, and French onion rice pilaf are just a sampling of the dishes you will find here. Grab this book and cozy up to the fire and escape to France through its pages.

The Larder of the Wise: The Story of Vancouver's James Inglis Reid Ltd. by M. Anne Wyness traces the history of the iconic store whose traditional Scottish fare and well-remembered hallmarks of "We hae meat that ye can eat" and "Value always" earned the following of devoted customers from inside and outside of the city for almost eighty years. Founded in 1908 and situated for most of its history at 559 Granville Street, Reid's was a fixture in Vancouver's downtown shopping district. Richly illustrated and engagingly told, this story of a unique family business is also a story of Vancouver itself. Through economic booms and declines, two world wars, shifts in consumer habits, the rise of the suburbs and the changing fortunes of the downtown Granville Street area, Reid's enjoyed prosperity and endured challenges in step with a changing city.
United Kingdom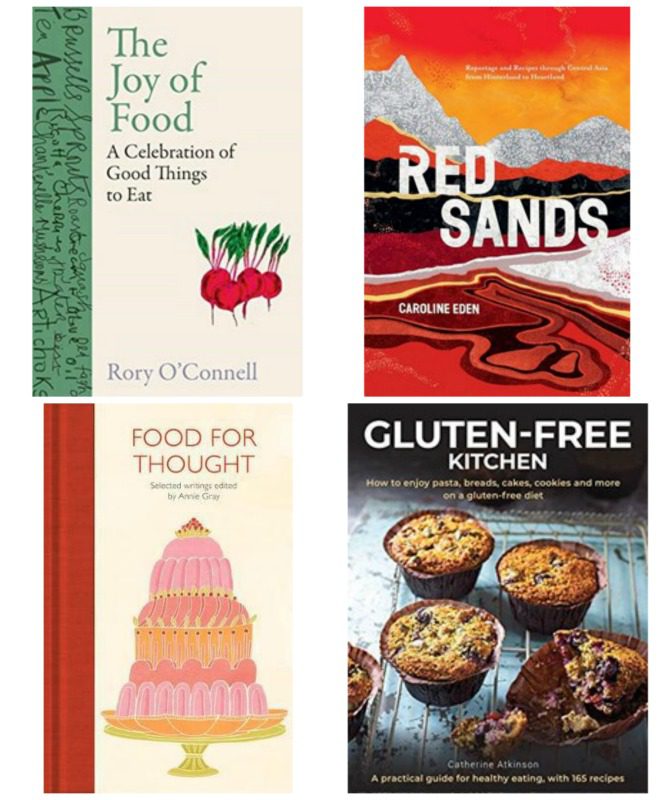 Red Sands: Reportage and Recipes through Central Asia, from Hinterland to Heartland by Caroline Eden is the follow-up to the award-winning Black Sea. Red Sands is a journey through the places, peoples and food of the 'Stan' countries: Kazakhstan, Kyrgyzstan, Tajikistan, Uzbekistan, and Turkmenistan. Caroline explores this little-explored region through a series of essays and recipes, with descriptions and photographs that transport the reader to another world through the lens of food. With unprecedented access to communities and locations as yet undiscovered by westerners, Caroline uncovers unique stories about forgotten people and places.

The Joy of Food: A Celebration of Good Things to Eat by Rory O'Connell is not only a collection of good things to eat, showcasing the best of Irish seasonal produce from Rustic chicken, Swiss chard and tarragon tart to Blackberry and sweet geranium posset, the book is also a celebration of everything Rory is passionate about: first-rate ingredients, simple and respectful cooking techniques and the absolute pleasure that comes from enjoying and sharing the result. Accompanying the recipes are Rory's charming original illustrations and personal essays in praise of everything from hazelnuts to the humble hen.
Food for Thought: Selected Writings by Annie Gray: From ancient times to today's celebrity chefs, people have always been inspired to write about food. In this delectable collection, Food for Thought, food historian Annie Gray has chosen an array of material to entertain and inspire. The variety is impressive – from lavish feasts in classical times to street food of pea soup and eels in 19th century London, and from how to find food on a desert island to meat-free meals by Agnes Jekyll. Brimming with satire on Victorian etiquette, there is so much here to enjoy.
Gluten-Free Kitchen: How to Enjoy Pasta, Breads, Cakes, Cookies and More on a Gluten-free Diet; a Practical Guide for Healthy Eating with 165 Recipes by Catherine Atkinson: The aim of this accessible cookbook is to demystify gluten-free cooking and show you that it's surprisingly easy to create foods that you thought you'd never be able to eat again. The introductory section contains clear medical and nutritional advice on all aspects of gluten-free diets and eating. You'll find information on the different types of gluten-free flours, what bakes they are suitable for, and how to blend them. Then there are tried-and-tested recipes for all kinds of breads, cakes, cookies, pasta, pies, puddings, pastries and sauces that will revolutionize your gluten-free diet and help you enjoy foods you may have thought were off the menu for good. You'll find traditional recipes that have been reworked to make them gluten free, as well as plenty of delicious new ideas and inherently gluten-free dishes that everyone should have in their repertoire. Many are dairy-free, vegan and vegetarian, too. All have step-by-step instructions to ensure success, along with a gorgeous photograph of the finished dish.

Vegan Recipes From Japan by Malte Härtig is more than a cookbook of Japanese cuisine. Malte Härtig is an expert in Japanese Kaiseki cuisine. Today the term is used for a special style of a light multi-course menu consisting of 7-10 different courses in a Japanese restaurant. It is a particularly light meal that is strictly vegetarian in accordance with its origin from the Zen philosophy. Particular care is taken in the selection of ingredients and prepared in such a way that their own taste is emphasized. The recipes are accordingly simple, but excellent in combination and taste.
Australia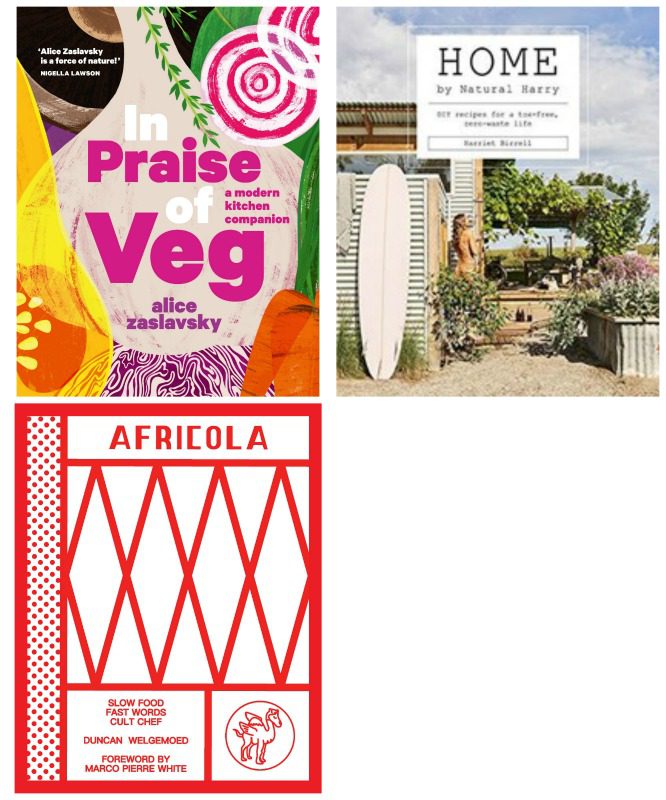 In Praise of Veg: A Modern Kitchen Companion by Alice Zaslavsky: In this comprehensive and fully illustrated kitchen companion, food writer and presenter Alice Zaslavsky profiles 50 favourite vegetable varieties, offering 150+ recipes reflective of both tradition and modernity, just as all good cooking should be. Uniquely organised by colour and filled with countless tips on flavour combinations, rule-of-thumb buying/storing/cooking methods, shortcuts, and veg wisdom from over 50 of the world's top chefs, In Praise of Veg will help beginners and avid cooks alike turn a bag of yawns or a produce-box surprise into a knock-out meal.
Home by Natural Harry: DIY Recipes for a Tox-Free, Zero-Waste Life by Harriet Birrell is a compendium of DIY recipes, tips, tricks and hacks for a calm, resourceful and tox-free existence. It is a modern reference for anyone who wants to ditch their joyless supermarket habit, reduce plastic waste and save money/the world. Home by Natural Harry considers every room of the house (stain remover in the laundry, shower cleaner in the bathroom, dishwashing liquid in the kitchen) and presents alternatives to store-bought cleaning products, as well as a comprehensive chapter on body care (from toothpaste to shampoo to foaming hand wash). Readers will also be treated to a handful of recipes for Harriet's favourite money-saving kitchen staples including oaty seed loaf, coconut yoghurt and pickled veg.
Africola: Slow Food Fast Words Cult Chef by Duncan Welgemoed: Duncan's approach to food is fearless, take-no-prisoners, bold, and exciting, inspired by his South African heritage. His food is cooked on a fire, in embers or ashes, in ovens, or cast iron pots – from whole smoked pig South African-Australian style to homemade biltong, hot smoked mackerel and horseradish, whole roasted cauliflower with tahini sauce, and the world's greatest roast potato recipe for complete idiots. Duncan's words aren't pretty, and he's refreshingly honest about the highs and lows of his industry and the people within it, delivering home truths for cooks and chefs alike. These recipes include an amazing array of meats, as well as seafood and a slew of intensely flavourful, veg-forward dishes.

New Zealand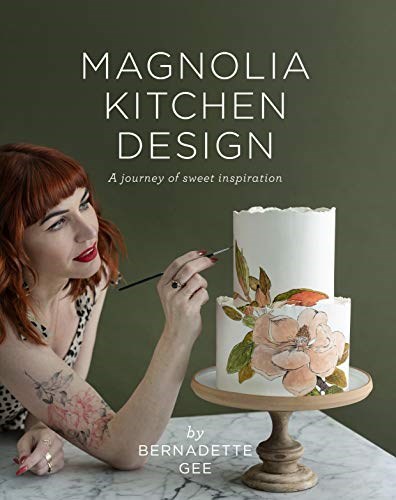 Magnolia Kitchen Design: A Journey of Sweet Inspiration by Bernadette Gee includes several cake design projects, each one being described in detail with a written brief from the customer, initial design sketches, a mood board of design ideas, step-by-step work in progress as the cake is constructed, the final cake, and then the final cake in situ at the wedding, party or event. There are also step-by-step guides for design techniques such as stenciling, lacework, using fresh florals, stacking a three-tier cake for travel, and hand painting. With great new recipes for cakes, icings, and fillings, this book is the complete package to inspire bakers at every level. It's another beautiful creation from Bets and will be loved by her fans, old and new. Includes dual measures.