Great British Bake Off – Recap – Week 8 – Desserts Week – a.k.a. Desserts the judges have resurrected from the dead
November 15, 2020 by Jenny
Reminder: New shows for those watching on Netflix. On December 4th, Netflix will air season 3 of the holiday shows. Hooray! Christmas in the tent. Season 3 contestants, if I'm correct, will showcase Briony Williams (Series 9), Tom Hetherington (Series 8), Yan Tsou (Series 8), and Terry Hartill (Series 9).
---
Here are our bakers:
Dave, 30, Armoured Guard
Hermine, 39, Accountant
Laura, 31, Digital Manager
Linda, 61, Retirement Living Team Manager (eliminated Week 5)
Loriea, 27, Diagnostic Radiographer (eliminated Week 1)
Lottie, 31, Pantomime Producer (eliminated Week 7)
Makbul, 51, Accountant (eliminated Week 2)
Marc (a.k.a. Hamish, his dog's name), 51, Bronze Resin Sculptor
Mark, 32, Project Manager (eliminated Week 6)
Peter, 20, Accounting and Finance Student
Rowan, 55, Music Teacher (eliminated Week 3)
Sura, 31, Pharmacy Dispenser (eliminated Week 4)
---
Last week, I was distracted (perhaps from the heat in the tent) and didn't share my recap on social media. You can find Week 7's recap here.
Signature: 12 identical mini cheesecakes in 2 1/2 hours.
Paul mentions in a cutaway that everyone who is left in the tent has at one time or another been crowned star baker which is apparently a first at this point in the bake off.
It is in the signature that we learn Peter has an aversion to cheese and the viewing public went mad. Social media was set ablaze with fans who were questioning their love for Peter. Rumor has it that the governor of Wisconsin has banned Peter from entry into his state 😉 . (Later we learn that Peter doesn't mind suet. What? Could he be any more confusing?)
Apparently, there was a special on passionfruit this week as half of the bakers used passionfruit in their mini cheesecakes. Judging went fairly well, save Hermine's soggy crust due to baking them in glass jars.
Recipes:
Technical: Prue's Sussex Pond Puddings in 2 1/2 hours.
Again, my girl Hermine made me laugh. "Why? Why? Does anyone eat this in 2020?" (Hermine, Peter does.) Apparently, this is Prue's favorite pudding and each baker made a mess of the dessert. At some point, Prue mentioned she was 80 years old. If eating Sussex Pond puddings makes you look that great at 80, sign me up.
Judging had Dave in last place and Laura coming in first. Prue mentioned to Laura that it was nothing to be proud of – she was least bad in a group of horrible puddings.
Recipes:
Showstopper: A jelly art layered cake with at least one baked element – a sponge – in 4 1/2 hours.
Frankly, they could have given me 4 1/2 days and sent in the experts from the JELL-O® company to assist and I would have possibly been able to present a plate of jello with suspended fruit cocktail – MAYBE. There is no way I could have made anything remotely as beautiful as the wiggly desserts that were presented. Even Marc's cake which was judged as horrible (looks and taste) looked pretty good to me.
When they showed a shot of the tools on the bakers' stations – I thought they were implements to torture Prue for choosing the Sussex Pond Pudding in the technical. But they were syringes to inject gelatin designs. That is just way too much trouble for a dessert.
Laura's koi pond was gorgeous but Hermine's (pictured below from the GBBO site) was jaw-dropping and tasted divine.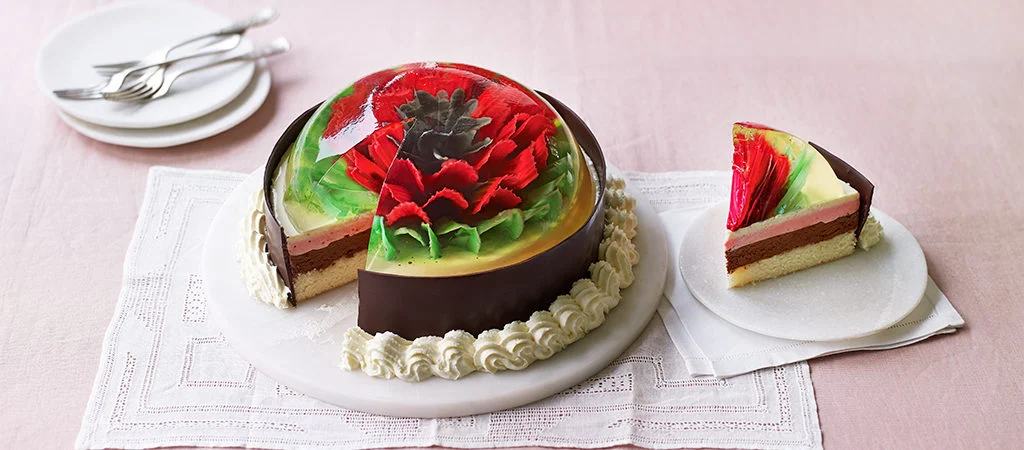 Recipes:
Hermine was chosen as star baker and Marc was sadly cut loose. Hermine is the full package – she can make me laugh and can bake up a storm. I am putting my money on Hermine for this year's winner.
Side note: Interestingly enough, Paul's chocolate babka recipe was added on recently on the GBBO site but wasn't there during the chocolate week recap. For those of you who may have been looking for that recipe – it is linked above.