Quick Bites – Jessie Sheehan
November 1, 2020 by Jenny
Jessie Sheehan is the author of The Vintage Baker: More Than 50 Recipes from Pecan Butterscotch Curls to Sour Cream Jumbles (one of the Washington Post's best cookbooks of 2018 and beloved by Oprah and Nigella) and co-author of Icebox Cakes: Recipes for the Coolest Cakes in Town, She is also a food writer, recipe developer, and baker. She has developed recipes for many cookbooks, besides her own, and has contributed recipes, written and/or created video content for Better Homes & Garden, Rachael Ray Every Day, the Washington Post, Food Network Kitchen, Fine Cooking, Yankee Magazine (October 2020) Epicurious, Food52, The Hallmark Channel's Home & Family Show, The Feed Feed, Kitchn, TASTE, Chowhound, Yummly, Spruce Eats, and Little Sous, among others. Jessie blogs at Jessie Sheehan Bakes and can be found on Instagram,
Q: What first triggered your interest in baking? Do you remember your first baking memory?
Honestly, because I did not really start baking (or cooking) until much later in life, my interest in it really just grew from my deep love of sweets. My parents were not bakers and so my early memories of treats are all of the packaged variety: Pepperidge Farm Raspberry Turnovers, Double Stuf Oreos, Drake's Devil Dogs, etc. My love of all these things was (and is!) so strong that I still remember, for instance, the melty vanilla ice cream dripping over the hot raspberry filling of my turnover and the flaky bronzed crust shattering with every bite as well as my deep love of the thick creamy, and yes, waxy, filling of my Double Stuf Oreos and my beloved cakey Devil Dogs with their almost not-quite-enough whipped cream centers.
My first baking memory again came so late in life, that what I really recall about anything homemade would have been the baked goods that my paternal grandmother made – her lemon velvet sheet cake and tiny Tollhouse chocolate chip cookies and her challah. As a recipe developer I have used her recipes to create my own and her lemon velvet cake (which she made from a box, bless her heart) that I have riffed on and made my own, is one of my fave lemon cakes to date and her challah recipe, too, I have tweaked to make my own. In short, I guess I would say I was driven to learn to bake in order to satisfy my voracious, decades-old sweet tooth – and thank goodness I did.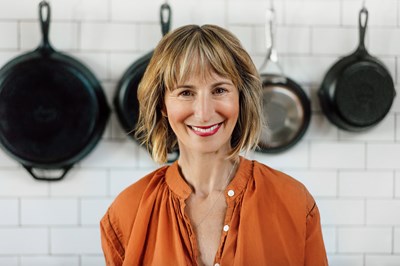 Q: If you had to describe your baking style, what would it be?
My style is that of the "easy-peasy" baker – I like streamlined baking – using as few utensils as possible (I'm big into one-bowl(ish) baking as it were) and calling for pantry-friendly staples (no running to specialty stores or shopping online in order to track down hard to find items) and I like my recipes to have as few steps as possible – and nothing complicated – simple, simple, simple is the name of the game.
Q: Are you a cookbook collector? If so, tell us about your collection. What you look for in a cookbook.
I am a cookbook collector, but I am not fanatical – and the vast majority of my collection is books of the baking and sweets-making variety – as for genre, I tend to gravitate towards books that have recipes for the things I like to bake – simple old school sweets and treats, perhaps with a more modern twist or tweak. I love to hold all (or almost all) of the baking books that get published and that interest me (I shy away from the more complicated baking books) in my hot little hands, but at this point, I have so many books (several hundred) and not enough space for them, so now I am a little more choosy with the books I purchase. I am gifted a fair amount of books from publishers or fellow author-friends and that is lovely since sometimes I buy a cookbook and only look at it once. I don't always return to them unless there is something special about them – the photography, or the recipes, or a technique that interests me or the writing. These are the things I look for in a cookbook and that make me return to it.
In general, I do not usually bake from my baking books, I have them for inspiration and to support the authors. As for a favorite author, that is a hard one. I love Dorie Greenspan, Martha's baking focused cookbooks, Baking Illustrated (by Cooks Illustrated's team), Mark Bittman's How to Bake Everything, Nigella's baking recipes, and Smitten Kitchen's baking recipes.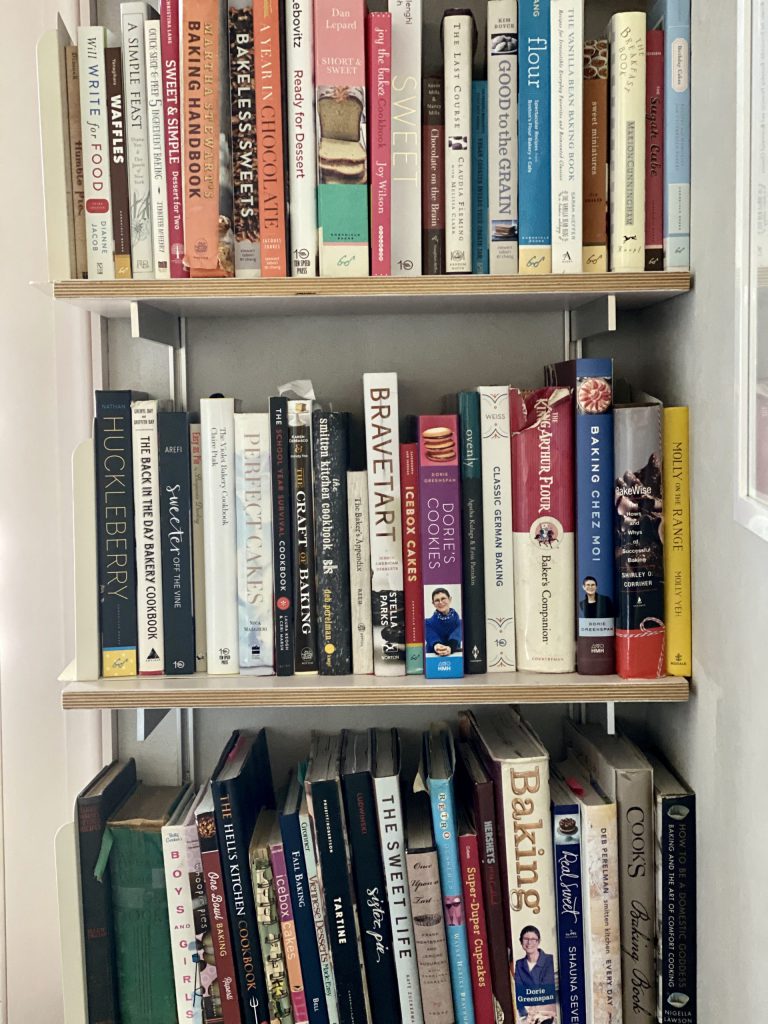 Q: What is the best part of your job? Do you sometimes feel like working with food all day keeps you from wanting to get creative in the kitchen?
The best part of my job is the cookbook writing – or rather, cookbook writing is always the goal in all of the other work I am doing. I love the research that goes into a cookbook and the recipe development – I don't always love the testing (unless I get it right the first time), but I love the writing of the headnotes and the intro. I also love the freelance writing and recipe development that I do on the regular and I love all of the video work I get to do. I actually love demo-ing recipes but yes, when I spend a day making and eating sweets while I am in the testing phase with a recipe, it definitely makes it hard for me to get excited about eating dinner that night (and definitely makes it impossible to want to actually cook anything thank goodness for take-out, in other words).
Q: What is your go-to for a quick dinner?
Besides ordering takeout from my favorite Thai restaurant in my neighborhood or the amazing BBQ, or the nearby sushi or Korean, I turn to my Instant Pot when I need to make something quickly. Spaghetti Bolognese, spare-ribs, mac-n-cheese, or butter chicken are all perennial faves.
Q: What projects are you working on?
On the back burner is always a book proposal for my third book and though I am not exactly sure what form the book will take, I know it will be full of easy peasy accessible baking recipes. I am also working on a bi-monthly IGTV series with Colavita Olive Oil for which I make a variety of sweets calling for olive oil. I also develop recipes monthly for the Spruce Eats and contribute to the Kitchn (indexed at EYB), Food52 (indexed at EYB), and Food Network Digital. And I am about to start work on my fifth piece with recipes for the Washington Post.
---
Special thanks to Jessie for giving us a look into her life. If you are looking for a baking book that would make a great holiday gift be sure to check out The Vintage Baker.