Great British Bake Off – Recap – Week 5 – Pastry
October 26, 2020 by Jenny
Google spends a great deal of time trying to figure out what I like to search for and suggests articles for me to read. Right now I see countless headlines as follows – "GBBO was never meant to save us" "GBBO has pulled the chain in the old water closet" (I made that one up myself) and the like. I suppose these articles all have a bit of truth to them. GBBO is different, the whole world is different. We are all looking for something to help us heal. That is putting an awful lot of responsibility on a baking show.
Here are our bakers:
Dave, 30, Armoured Guard
Hermine, 39, Accountant
Laura, 31, Digital Manager
Linda, 61, Retirement Living Team Manager
Loriea, 27, Diagnostic Radiographer (eliminated Week 1)
Lottie, 31, Pantomime Producer
Makbul, 51, Accountant (eliminated Week 2)
Marc (a.k.a. Hammish, his dog's name), 51, Bronze Resin Sculptor
Mark, 32, Project Manager
Peter, 20, Accounting and Finance Student
Rowan, 55, Music Teacher (eliminated Week 3)
Sura, 31, Pharmacy Dispenser
Last week was pastry week. And next week is Japanese week (that should be a doozy).
Signature bake: 8 pasties, 15 cm. long, any flavor with crimping (very important the crimping) in 2 hours
The bakers set off some making rough puff and some shortcrust pastry. Linda went a whole different direction and made a spicy Indian samosa shaped pasty that had no crimping! The horror!
Peter made a fish-shaped, fish-filled pasty while Lottie made a toad in the holeless pasty. The bakers received nice comments overall.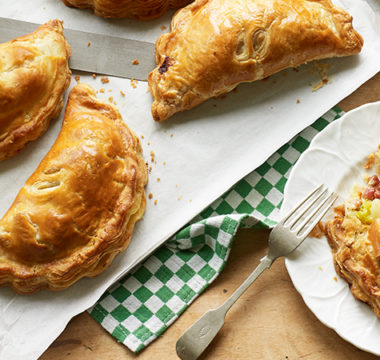 Recipes:
Technical challenge: Set by Prue. 3 raspberry and 3 salted caramel éclairs in 2 hours and 15 minutes
Linda struggled with her choux and the third time she attempted it – still wasn't the charm. They looked like dried out churros and Paul commented that they were "dippers" as she never got a chance to fill them. I think it would have taken an act of God to fill Linda's creations. I was in awe of all the liquidy crème pâtissière oozing out of most everyone's pastry bags. I kept yelling at the television "we have another bleeder". Those baking benches were a sugary crime scene.
The results: Linda came in last with Peter coming in first place. His éclairs were very pretty.
Recipes:
Prue's raspberry and salted caramel éclairs
Showstopper: A caged sweet tart with a lattice pastry cage. The cage should be self-supporting and decorative. Time allowed: 3 hours and 45 minutes.
Hermine is my favorite. "Bonkers! A caged tart. The tart is supposed to be showcased not caged." #setthetartsfree (I am going to make that hashtag trend.)
I was truly impressed with the majority of the results save for Linda and Mark. The cages were quite beautiful. At least Hermine's was before Paul got his "thunder fingers" on her box-shaped cage and obliterated it. A very Of Mice and Men moment. "Paul, don't squeeze the pastry cage!"
Linda's cage fell apart as did Mark's bottle-shaped cage. Peter's very French showstopper was gorgeous and Lottie's pyramid while a bit messy looked nice. Laura's Kent garden offering was simply gorgeous and she nailed her key lime tart.
Recipes:
Peter's blackbery and lemon tart
The results:
Laura was named star baker and Linda was sent home – both deservingly. My resolve to try to enjoy the baking, ignore the failed attempts at humor and pray they don't have to make a Mount Fuji showstopper next week out of sushi.