Saveur sold to venture equity group
October 6, 2020 by Darcie
Years ago, Saveur Magazine was at least partly responsible for saving my job. I had a cantankerous boss who defined the terms micromanager and passive aggressive, and he went through assistants at lightning speed. At first I thought I was destined to join the others in the unemployment line because in my first week of work I made a mistake that could have caused huge problems for one of our clients (thankfully it did not). Climbing back to good graces after that fiasco was a challenge, but hard work combined with a Christmas gift subscription to Saveur helped me turn the corner. My boss and I bonded over a shared love of food, and it eased the working relationship. Fast forward eleven years: I no longer work for him but we are now good friends – and he still subscribes to the magazine.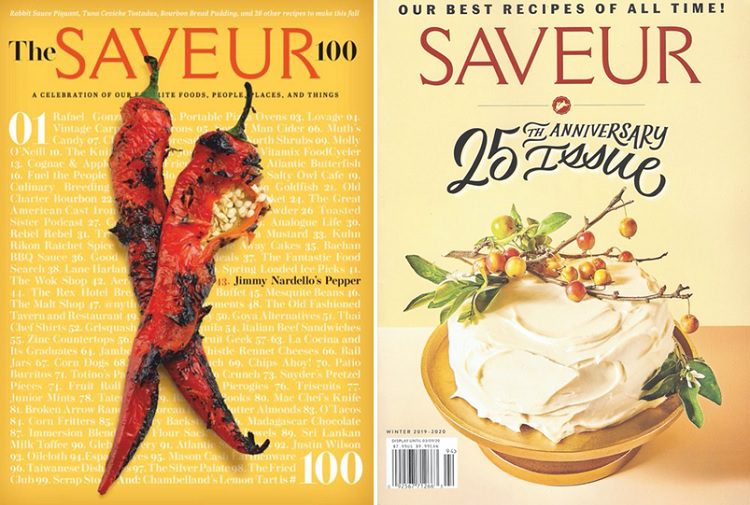 How much longer Saveur will remain in print is in question, however, after its parent company Bonnier Corp. announced that it was selling seven of its brands, including Saveur, to a venture equity group. North Equity LLC, which owns several car, home and military-focused digital media outlets, is the buyer. Food writer Helen Rosner (who worked at Saveur from 2010 to 2014) tweeted that North Equity specializes in digital-only content, and she wonders how long until Saveur ends up losing its print format.
Saveur recently published its 25th anniversary issue, and it remains one of the most popular magazines in the EYB Library. It's one of my favorites as well, not only because it saved my career but also because I have cooked some of my all-time favorite meals from within its pages. Fingers crossed that the move works out well for Saveur, and that they are able to publish more milestone issues in the years to come.