Heirloom Kitchen Worldwide Giveaway – Quick Bites
October 1, 2020 by Jenny
Enter our worldwide giveaway to win an autographed copy of Heirloom Kitchen: Heritage Recipes and Family Stories from the Tables of Immigrant Women by Anna Francese Gass.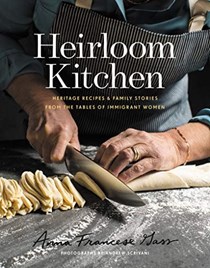 Last year, I did a review and promotion for one of my favorite books Heirloom Kitchen: Heritage Recipes and Family Stories from the Tables of Immigrant Women. Please click over to that review for more details on this wonderful book. In September of 2019, we featured this title in our EYB Cookbook Club where you can see a gorgeous photo of a member's Bea's cheese and dill Danish. I made Anke's beef stew (Anke's goulash), another member made Cherie's bulgur and parsley salad (Cherie's tabbouleh) and there were other dishes shared in the Cookbook Club.
Today, we are sharing a Quick Bites interview with Anna. This book would be an ideal holiday gift this season and in that vein Anna is offering one copy of her book autographed in our giveaway below.
---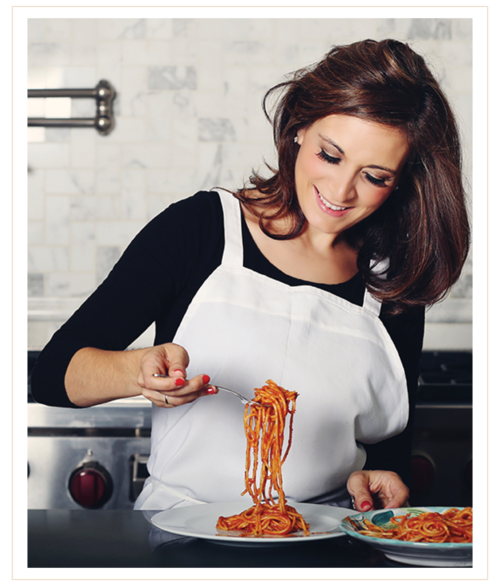 Anna Francese Gass grew up in a small town on the Rhode Island shore, before moving to New York City to study at New York University. After a stint in the corporate world, she decided she was much happier in the kitchen instead of an office cubicle. She quit her fast-paced sales job and enrolled in Culinary Arts at the French Culinary Institute (now ICC) to follow her dream to cook professionally. Soon thereafter, she found her niche in the test kitchens of Martha Stewart Living, Whole Foods, and Mad Hungry.
Currently, she is a regular contributing editor and recipe tester for Fine Cooking Magazine, Food52, Chowhound, and contributing writer for MSN.com. She is currently celebrating the release of her first cookbook, Heirloom Kitchen – Heritage Recipes and Family Stories From The Tables of Immigrant Women.
She has created a successful blog and Instagram.
---
Q: What first triggered your interest in cooking? What was your first cooking memory?
Cooking with my mother and observing her in the kitchen was truly what piqued my interest in food and especially food through culture. We ate dishes from my mother's childhood, the dishes she learned in Italy before immigrating to the US. We have always tethered our family who are far away through food and customs.
Maybe not my first, but I remember making a lasagna with my mother and sister when we were very young. We were so proud of it, my dad snapped a picture of us, posing with the finished dish. It makes me laugh to think how happy we were to take a candid with a lasagna.
Q: If you had to describe your cooking style, what would it be?
Family dishes with a history are my favorite dishes to prepare. Certain dishes carry tradition and also a story. I love making food that means something to my family or to the person who taught me the dish.
Food binds us and I love the magic in that.
Q: Are you a cookbook collector? If so, tell us about your collection. The number of books, favorite genre, favorite author? What you look for in a cookbook?
I have too many cookbooks to count. I love buying cookbooks and reading them like you would a novel. The author is truly pouring their heart into the pages of the book through food and I enjoy reading about dishes and how they came to be. I love books that highlight a specific cuisine because I feel l learn the most from books that concentrate on one style of cooking and ingredient profile. But really, I love them all!
Q: What is the best part of your job? Do you sometimes feel like working with food all day keeps you from wanting to get creative in the kitchen?
I enjoy going into the kitchen with a random set of ingredients and see what I can come up with, on the fly. Working with food all day actually makes me more creative in the kitchen. I bore easily and am always ways to make something new – especially when I'm trying to transform leftovers into something my kids will eat!
Q: What is your go-to for a quick dinner?
I love olive oil fried chicken cutlets, pounded thin, marinated, and breaded with Progresso breadcrumb. My kids love it and it brings me right back to my childhood table.
Q: What projects are you working on?
Right now, due to the Heirloom Kitchen tour being cut short, I'm just working online to continue to promote the book and get the word out. I am also still doing freelance food writing for various magazines and online sites.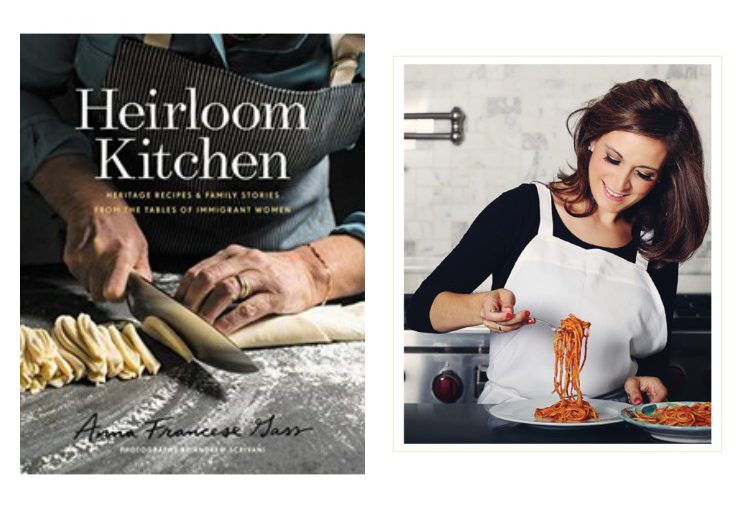 Special thanks to the author who is offering an autographed copy of her book in our worldwide giveaway. Entry options include answering the following question in the comments section of this blog post.
Which recipe in the index would you try first?
Please note that you must be logged into the Rafflecopter contest before posting or your entry won't be counted. For more information on this process, please see our step-by-step help post and this forum post. Once you log in and enter your member name you will be directed to the next entry option – the blog comment. After that, there are additional options that you can complete for more entries. Be sure to check your spam filters to receive our email notifications. Prizes can take up to 6 weeks to arrive from the publishers. If you are not already a Member, you can join at no cost. The contest ends at midnight on  January 11th, 2021.
a Rafflecopter giveaway