Great British Bake Off – Recap – Week 1 – Cakes
September 25, 2020 by Jenny
It's back! The Great British Bake Off, 2020, the year of the quarantine has returned to bring us much-needed comfort as only the white tent and bakers can. This year Matt Lucas has replaced Sandi Toksvig as Noel Fielding's sidekick. Matt has a calm demeanor and I like that. He doesn't make me as nervous as Noel does. Not that I don't love Noel but he makes me jittery.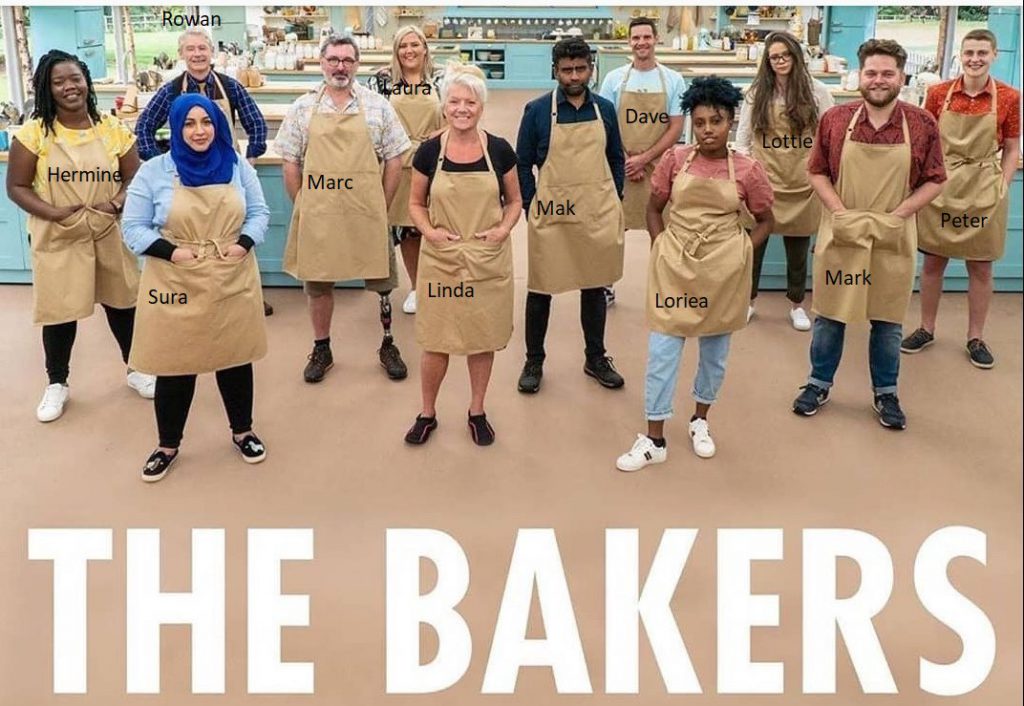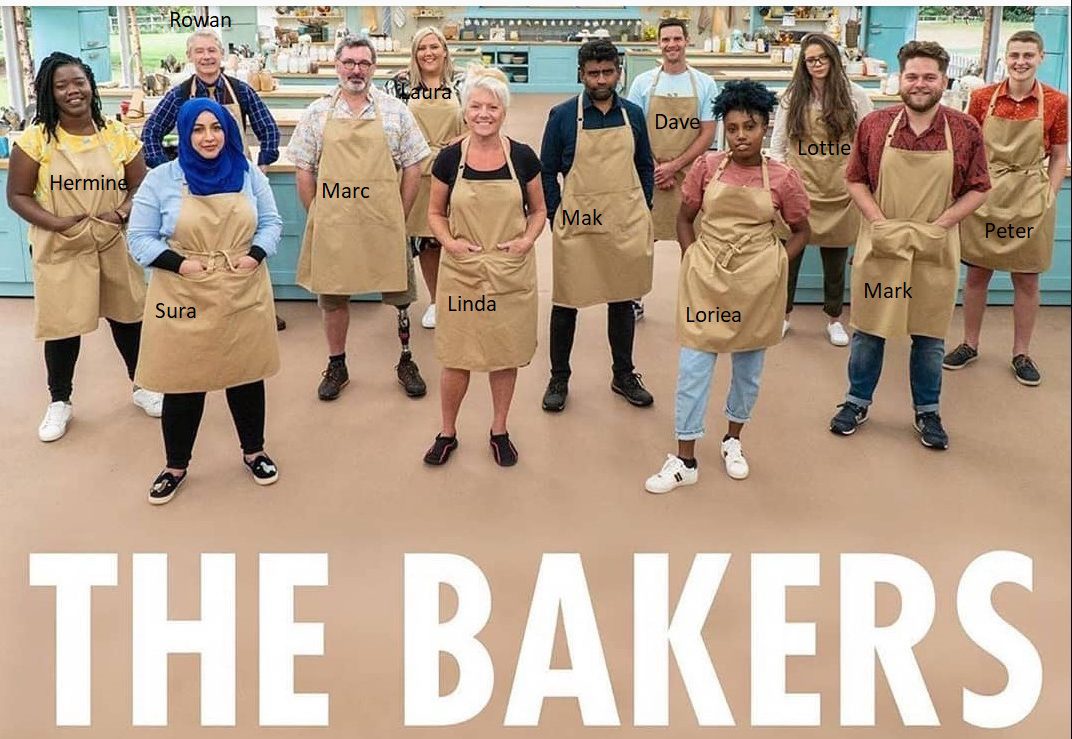 Here are our bakers:
Dave, 30, Armoured Guard
Hermine, 39, Accountant
Laura, 31, Digital Manager
Linda, 61, Retirement Living Team Manager
Loriea, 27, Diagnostic Radiographer
Lottie, 31, Pantomime Producer
Makbul, 51, Accountant
Marc (a.k.a. Hammish, his dog's name), 51, Bronze Resin Sculptor
Mark, 32, Project Manager
Peter, 20, Accounting and Finance Student
Rowan, 55, Music Teacher
Sura, 31, Pharmacy Dispenser
Due to quarantine, this year's GBBO is a bit different – and they have created their own "wee bake-off town".
Signature Bake: Two hours to create a Battenberg with two complementary flavors made with marzipan created by the bakers (see How to outfit your pantry like a GBBO baker for those great pans)
As soon as "Bake!" is shouted the flour flies. We learn that several of the bakers do not like marzipan and/or have never tasted it which is one of those facts that I am always gobsmacked by.
Sura experiences overflow issues with her cake and then admits early on that she doesn't ever want to eat cake again.
Peter has taken a page out of John Whaite's time on the Bake Off. He listens to the cake to tell if it is done. As Peter is only 20, he must have watched John's series when he was a tween.
Overall, the judges were not too brutal on the signature bakes. Some were given praise and some could have been neater. Rowan's grand temple design was thrown under the bus faster than Noel putting a teacup on Matt's head for a cheap laugh. Rowan went for the deconstructed temple look and at one point he resorted to the microwave to try to finish the baking process as his cakes were raw in the middle. And while Loriea is a sweetheart, her blue bubble gum and cream soda Battenberg made me queasy.
Dave's Chocolate Espresso Martini Battenberg recipe.
Mak's East Indian Battenberg recipe.
Technical Challenge: 6 miniature pineapple upsidedown cakes soaked in caramel sauce
The tension of the tent results in errors such as Marc (Hammish) forgetting to butter his moulds and Linda's cakes falling apart and her valiant effort to morph them back into something that resembled a cake. While walking up to the gingham altar, tragedy struck. Sura thought she was shooing away a fly but in reality, she shooed away Dave's cakes and several met an untimely end on the floor. Thankfully, a few clung to the slate plate and the judges were informed as to what happened.
The worst: Linda and the best Sura who didn't look happy at all considering the accident. (Dave ranked 9th on the "template" cake that was judged.)
Showstopper: A 3D cake bust of a hero of the particular baker made mainly of cake in 4 hours
I truly don't know how the bakers do what they do in the time they are given. They performed head and shoulders over anything I could do. (I'll be here all night, tip your waitstaff.)
Rowan over-promised and under-delivered but his cake did look like Marie Antoinette. He originally planned to crown Marie with hair made with a tower of choux buns but his buns lacked lift and he went with rice paper. However, his bust truly looked like the "let them eat cake" French queen.
Laura attempted to make a tribute to Freddie Mercury but all I could see when she brought up her cake was Alfonso Bedoya who immortalized the line "Badges! We don't need no stinkin' badges" in The Treasure of the Sierra Madre.

Sura's bust of Attenborough took a dive (cake karma) and she had to prop up the bust calling the log of piping bags a "travel pillow".
The judges were kind and most of the cakes tasted good. I swore I saw some of those busts in a really warm wax museum long ago. See all the busts in this article.
In the end, young Peter (the cake listener) was crowned the star baker and sweet Loriea was sent home or back to quarantine alone.