The British Baking Cookbook Giveaway and USA Pans
August 26, 2020 by Jenny
Enter our US giveaway to win one of three copies of The British Baking Book: The History of British Baking, Savory and Sweet with one grand prize winner receiving a set of USA Pans for all your baking needs!
This title was published in April of this year in the UK under the title Oats in the North, Wheat from the South: The History of British Baking, Savoury and Sweet and I am so smitten with this book. On September 8th, the US version will be released by Weldon Owen.
The photographer and graphic designer who was born and raised in Antwerp began writing about Britain's culture and food history on her blog Miss Food Wise, and in 2015 Regula completed her debut book, Pride and Pudding in which she investigates the history of British pudding and celebrates the recipes that have been passed down through generations.
In The British Baking Book, the author explains how imports of spices, sugar, treacle, fortified wines, and citrus fruits added flavour, colour and warmth to a baking culture much adored and replicated all over the world. The book takes the reader on a guided tour of British cake lore, exploring the British affection for tea and toast, as well as the one small Yorkshire town's 200-year-old obsession with baking the world's largest meat pie.
The imagery (taken by the author) is stunning and coupled with the history and recipes, it is a must-have for any baker and especially those obsessed with all things British. Anything by Regula is a keeper. She has another title The Official Downton Abbey Christmas Cookbook (Downton Abbey Cookery) coming in October – and I adore these books too!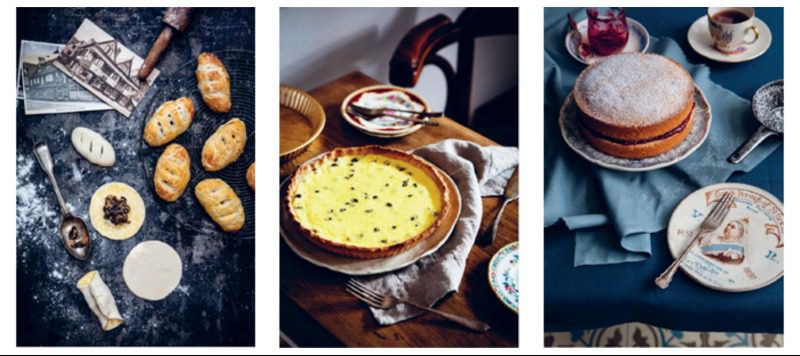 Our

takes you inside this beautiful book and features the following

To celebrate the publication of this cookbook in the US, our friends at USA Pan are giving away a set of their quality bakeware. My favorite bakeware without a doubt is USA Pan. They are sturdy workhorses in my kitchen and have yet to warp or rust. The company recommends not baking at a temperature over 450 degrees as this may cause the silicone coating. The bonus is that USA Pan has a limited lifetime warranty.
I've baked a loaf of bread (including quick bread) in other pans and the results cannot compare. For the best request, I believe one needs top quality products. The ridges in the USA Pan products allow for airflow during baking as well as helping with the release of your baked goods.
The set includes a large cookie sheet, a half sheet pan, 12 cup muffin pan, 1 pound loaf pan, an 8 inch square cake pan, and a rectangular cake pan. While 90 percent of my bakeware is USA Pans, the company sent me a set and I am thrilled to have duplicates because I am a baker! Recently, I began baking donuts more often and had used another brand of pans that I had in my cabinets. Never again, I learned my lesson. The donuts stuck and I gave the pans away and ordered two USA doughnut pans.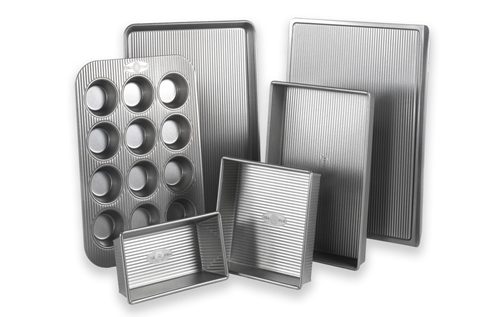 Special thanks to Weldon Owens for offering 3 copies of The British Baking Book in our giveaway open to US members. USA Pan is offering one set of their stellar pans as shown in the photographs above to one grand prize winner in the US. Entry options include answering the following questions in the comments section of this blog post.
Which recipe in the index would you try first?
Visit USA Pan and check out their products and leave a second comment naming the product you would love to try.
Please note that you must be logged into the Rafflecopter contest before posting or your entry won't be counted. For more information on this process, please see our step-by-step help post and this forum post. Once you log in and enter your member name you will be directed to the next entry option – the blog comment. After that, there are additional options that you can complete for more entries. Be sure to check your spam filters to receive our email notifications. Prizes can take up to 6 weeks to arrive from the publishers. If you are not already a Member, you can join at no cost. The contest ends at midnight on January 26th, 2021.
a Rafflecopter giveaway