All about eggplants
August 4, 2020 by Darcie
Some foods get an undeserved bad reputation because it is all too common to encounter them in badly prepared dishes. Eggplant (aka aubergine) is one such food, and its very mention can conjure images of a soggy, slimy, tasteless vegetable. Perhaps eggplant haters could be converted to lovers if they experienced it expertly made, and to that end, Becky Krystal is here to help. She offers tips from the experts on how to buy, store, and cook with eggplant.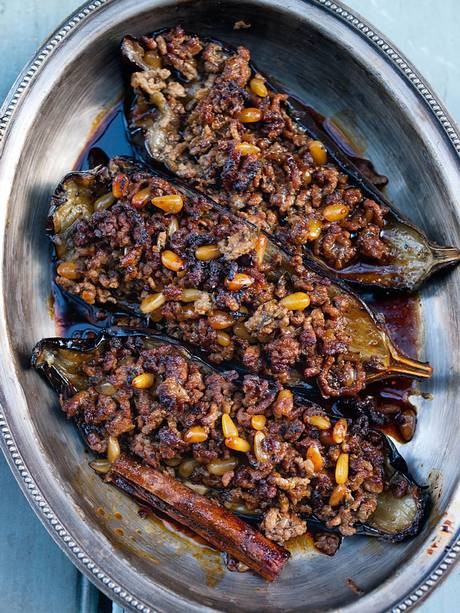 The journey to great eggplant dishes starts with selecting the right ones. According to vegetable guru Deborah Madison, no matter its variety or color (which can be anything from white to the more common 'eggplant' purple), the vegetable should be smooth, firm, and glossy. It should feel heavy in your hand, and if it is too light, that can indicate that the flesh is spongy and that it is full of seeds.
As far as storage is concerned, Sharon Tyler Herbst and Ron Herbst, authors of The New Food Lover's Companion suggest keeping the vegetable in a cool, dry location for a couple of days before moving it into the refrigerator for longer storage. Since eggplant is ethylene sensitive, it should not be stored near ethylene producers such as tomatoes or melons.
The cooking part is where things get tricky. Depending on what dish you are making, you can roast, grill, braise or fry the vegetable. Although you may have read that salting is mandatory, it really depends on what the end result is going to be. If you are frying the eggplant, salting helps drive out some of the moisture which can lead to the dreaded soggy eggplant that makes people dislike it. According to food scientist Harold McGee, while salting can help keep eggplant from soaking up too much oil when frying, it doesn't do much to remove bitterness. He adds that "bitterness is not common in modern eggplants."
Once you have your firm, glossy eggplant in hand, turn to the EYB Library where you will find over 4,500 online recipes for the vegetable, including the Stuffed aubergine with lamb & pine nuts from Jerusalem by Yotam Ottolenghi and Sami Tamimi pictured above.