How to clean up a floury mess
August 1, 2020 by Darcie
The coronavirus pandemic might have made bakers out of us all, but once the bread is in the oven, the hard part of baking begins: clean up. As Margaret Eby of Food and Wine explains, combining flour and water is necessary to make bread, but the other byproduct of combining the two is glue. She provides several tips on how to clean up dough after baking.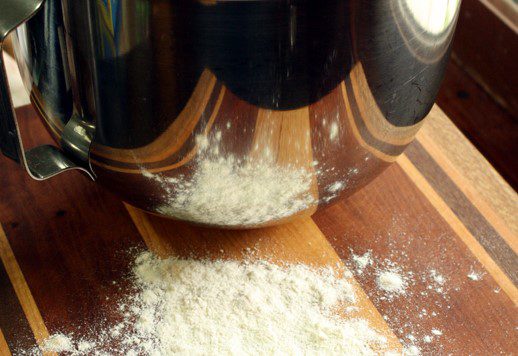 The first key is cleaning up a floury mess is to use cold water. Hot or warm water will activate the gluten (and hence the "glue"), so it's best to rinse or soak items with cold water instead. Don't soak wooden utensils or rolling pins, though, or you could damage them.
Eby recommends a tool that would be on my "desert island" kitchen tool list, a bench scraper. Not only does it gather and divide dough quickly and cleanly, it also makes short work of getting crusty dough or batter residue off of your countertops. I also use mine to transfer diced vegetables to the stockpot and (as a pair) for lifting delicate cakes. It's a low cost tool that you'll soon find indispensable.
Another recommended tool is a tough bristle brush made for scrubbing. I also use a soft brush with a handheld dustpan to brush loose crumbs and stray flour off of the counter. Since it doesn't use any water, it prevents the problem of getting your sponge or dishcloth gummed up with bits of dough, the bane of every baker. If you wanted to be posh, I suppose you could spring $170 USD for a silver-plated table crumb sweeper, but I find the combo brush/dustpan from the dollar store to be high class enough for my kitchen. (As a bonus, I have $169 left to spend on chocolate.) There are some less expensive crumb sweepers made for food service that would also fit the bill and might be easier to store than a brush/dustpan.