Spice support: shiso
June 22, 2020 by Darcie
Shiso, also called perilla or Korean perilla (Perilla frutescens var. crispa), is a member of the mint family, and is a popular herb in Japanese, Korean, and southeast Asian cuisines. Its appeal extends well beyond this, however, and the leafy herb can be found adding its unique flavor to everything from rice to pesto to sorbet to cocktails.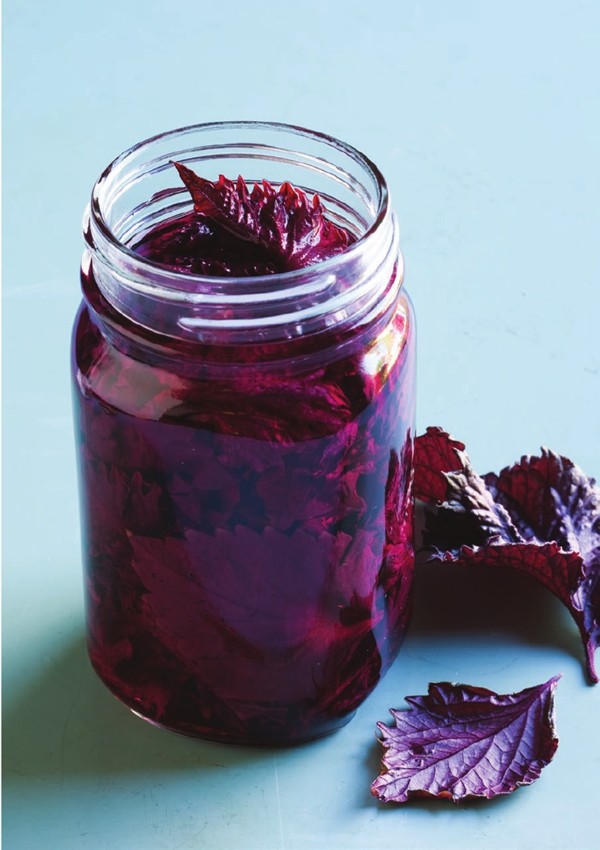 Like mint, shiso has different varieties, with the green-leafed type providing a more assertive flavor than the purple-leafed variety. The flavor of this herb is complex, with tasters describing notes of mint, basil, cinnamon, licorice, cilantro, or even the "smell of a mountain meadow after a rainstorm." Both varieties are slightly astringent.
You can use shiso in the same manner as you would use many of the herbs it resembles. It is commonly found as a garnish to sushi, placed in Vietnamese summer rolls, or chopped and added to cold noodle salads. Shiso can be used in cooked dishes like fried rice or ramen, but to best preserve its bright flavors it should be added toward the end of cooking.
Photo of Pickled shiso leaves and shiso vinegar from Asian Pickles by Karen Solomon