This week: Crumbles, crisps, cobblers, Brown Betty and buckles, recipes, Ottolenghi virtual event 4/26, cookbook previews and giveaways
April 24, 2020 by Jenny
This week's Spring Baking Championship (Food Network) episode covered crumbles, crisps, cobblers, Brown Bettys, and buckles oh my! I may think I'm savvy enough to know the difference between these desserts but I'd be wrong. Thinking our members might be in the same denial about what makes a crisp a crisp or a buckle a buckle, I did some research. Spring is upon us in many areas of the world and with spring and summer comes a plethora of fresh fruits which makes this an ideal time to get our fruity desserts sorted out.
Crisp: A crisp is fruit dessert with a topping made of a combination of oats, flour, butter, and sugar. The topping completely covers the fruit mixture and is baked. (Note: sometimes the topping can contain nuts). It is also sometimes called a crumble. (Well, if I was confused before….)
Crumble: Crumbles are very similar to crisps, but the name originated in England. Both contain fresh fruit and are covered with a streusel topping that gets baked. Crumble toppings, however, usually do not contain oats, whereas crisp toppings do. Okay, got that – crumbles – no oats.
Cobbler: Cobblers are a fruit dessert baked with biscuit-style topping. It's called a cobbler because its top crust is not smooth like a pie crust but rather bumpy. It's usually dropped or spooned over the fruit, then baked. This one is easy to remember.
Buckle: A buckle consists of fruit and cake baked together, with a streusel topping. As it bakes the fruit and streusel topping makes the cake "buckle." To me, a buckle sounds a bit like a clafouti minus the streusel topping.
Brown Betty: A Brown Betty (as in "Apple Brown Betty") is similar to a crisp, but has no oats in its buttery crumb topping. And rather than having the topping solely on top of the fruit, it's layered throughout, then baked.
The link provided in each description above directs you to recipes for that particular dessert in our EYB library. I'm still not certain if I could pass a test on the differences of these fruit desserts but I do know no matter what they are called – they are delicious! For other fruity dessert inspiration, check out my all things pie post.
A few of my favorite baking books that feature fruit desserts (including a few upcoming titles I'm looking forward to).
---
This Week on our Blog
Since our last roundup, Darcie has written articles entitled: Online grocery shopping can be…interesting, Can't find it? DIY it, Cooking burnout: have you hit the wall?, A kitchen of grandmothers, Wacky cake makes a comeback, and The best food shows to stream right now. Darcie's weekly food news antipasto is shared every Sunday #foodnews brings up these information-packed posts).
I've been working on our monthly cookbook review which will be published soon. This month's EYB Cookbook Club summary is live. I've also been updating the 2020 cookbook preview post with new additions and changes. Make sure you have checked for any updates regarding virtual events as I will continue to add those I find. Note: Ottolenghi's event this Sunday! 
Penguin Random House announced that Family Meal: Recipes from Our Community will be released on May 5th and can be preordered for $5.99 to benefit restaurant workers. Another special ebook slated for the same day release is Cooking from Your Pantry: Delicious Meals in 30 Minutes or Less, with Ingredients from Jars, Cans, Bags, and Boxes by Nancy Silverton and can be preordered for $2.99. This title shares recipes from her A Twist of the Wrist cookbook. With Mother's Day fast approaching for most of our members, please see the second part of my beautiful things that bring me joy. (Part I).
---
RECENTLY INDEXED COOKBOOKS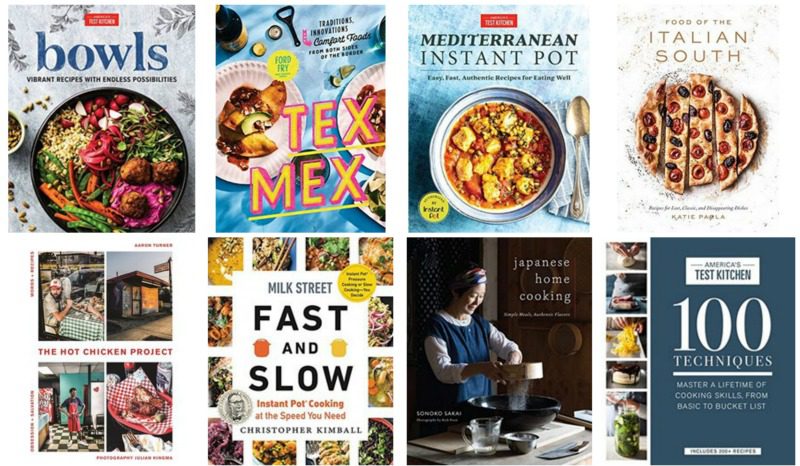 ---
---
Member Photo of the Week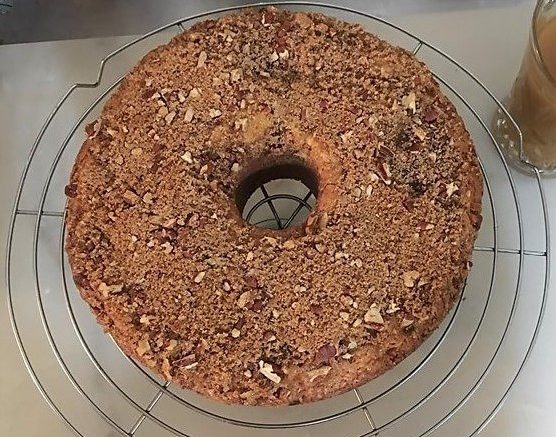 Butterscotch coffee cake [butterscotch sauce] from Bake from Scratch Magazine, Jan/Feb 2020 submitted by member rchesser
Have you uploaded any of your own photos yet? Learn more! Please remember to update your profile with your Instagram name if you would like to be tagged in any photos that we share!
---
Featured Online Recipe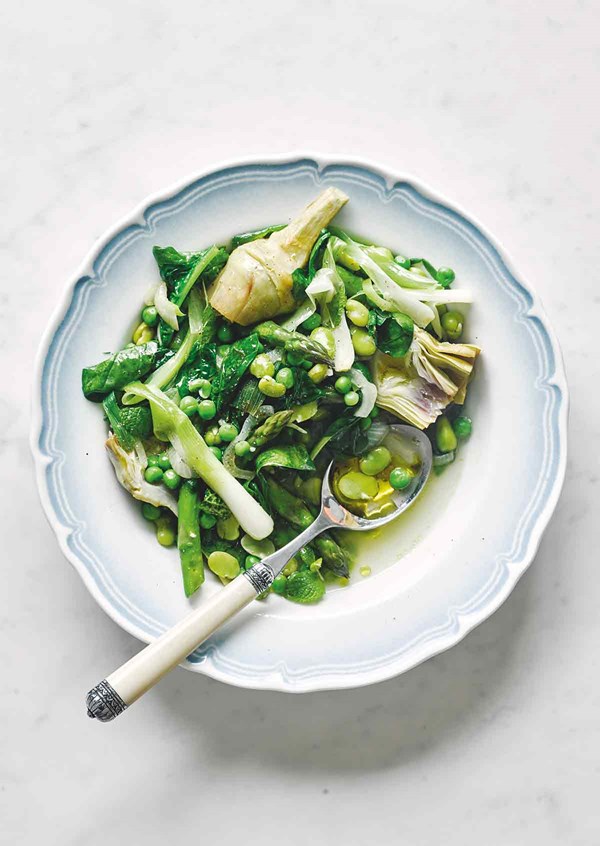 Spring vegetable stew from Leite's Culinaria by Heather Thomas
---
EYBDigital Previews
Recently we uploaded our 642nd EYBDigital Preview where a selection of full sample pages is available for the following cookbooks.
Learn more about EYBDigital Previews.
Note: To learn why you cannot add all EYBDigital Preview recipes to your Bookshelf, please read this Help page.

---
Cookbook Giveaways
Please note due to the pandemic, promotions are extended until publishers are back in their offices. The cookbook giveaway roundup shares all current giveaways.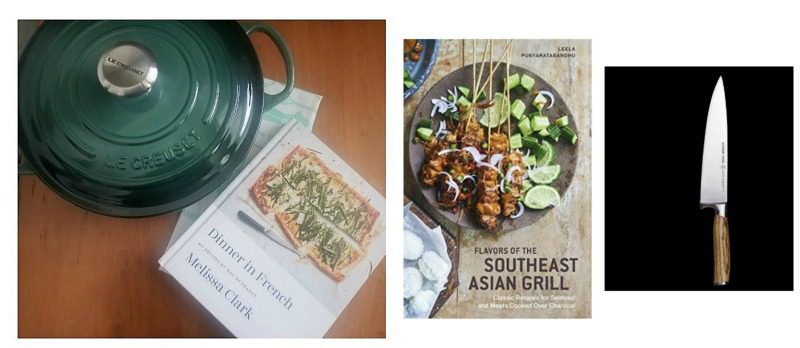 Enter our US giveaway to win one copy of Melissa Clark's Dinner in French: My Recipes by Way of France (provided by Eat Your Books) and one 5.5 quart Dutch oven in Le Creuset's newest color artichaut provided by the French cookware manufacturer. Expires May 28th, 2020
Enter our US giveaway to win one of three copies of Flavors of the Southeast Asian Grill: Classic Recipes for Seafood and Meats Cooked Over Charcoal by Leela Punyaratabandhu with one grand prize winner receiving a stunning Schmidt Bros. Cutlery chef's knife. Expires May 31st, 2020
Seen anything interesting?
Let us know
& we'll share it!