See You on Sunday Cookbook Giveaway with Smithey Cast Iron
February 26, 2020 by Jenny
Enter our giveaway to win one of three copies of See You on Sunday: A Cookbook for Family and Friends by Sam Sifton with one grand prize winner receiving a Smithey cast iron pot. The author's events are shared on our calendar.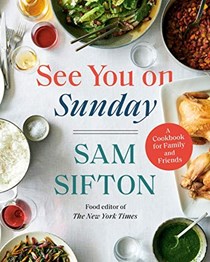 Sam Sifton is the food editor of The New York Times, the founding editor of NYT Cooking and a columnist for The New York Times Magazine. He has also authored the cookbook Thanksgiving: How to Cook It Well. His latest book See You on Sunday brings us back to the table with hundreds of simple recipes (with an occasional dish requiring a bit of labor) created for family and friends.
Sifton's "See you on Sunday" started years ago in his loft in Brooklyn and continued to grow as his square footage did. The location may have changed but the heart of the dinners hasn't: bringing people, old friends and new, together to share a meal. The book begins with instructions on how to set up your kitchen and pantry, how to set a table and more helpful information.
The book is organized by types of dishes: protein, grains, vegetables, and desserts as well as sections on theme dinners: taco dinners and pizza parties. There is lovely imagery throughout the title which serves as an additional spark of inspiration to cook these tested recipes.
Sifton begins the recipes with: "Chicken is where we start our journey. There is no better, more versatile, more delicious protein with which to begin an exploration of the joys of cooking for friends and family." (Last week's roundup featured roast chicken.) For myself, there is no simpler, comforting meal than a roast chicken. In the past, I would often find myself apologizing to my guests when I set a bird before them, thinking that I should have done something more elaborate. Each apology was always met with an incredulous, "Are you kidding? This is my favorite meal." I learned that fancy doesn't matter. Good food and love are the only things needed to bring joy to the table.
To me See You on Sunday is the American dinner equivalent of Mastering the Art of French Cooking. It is the resource we need for classic meals, any night of the week.
Special thanks to the publisher for sharing the following recipe from See You on Sunday with our members. Photo credit: David Malosh
---
Oven-roasted lamb
Add this recipe to your Bookshelf (click the blue +Bookshelf button).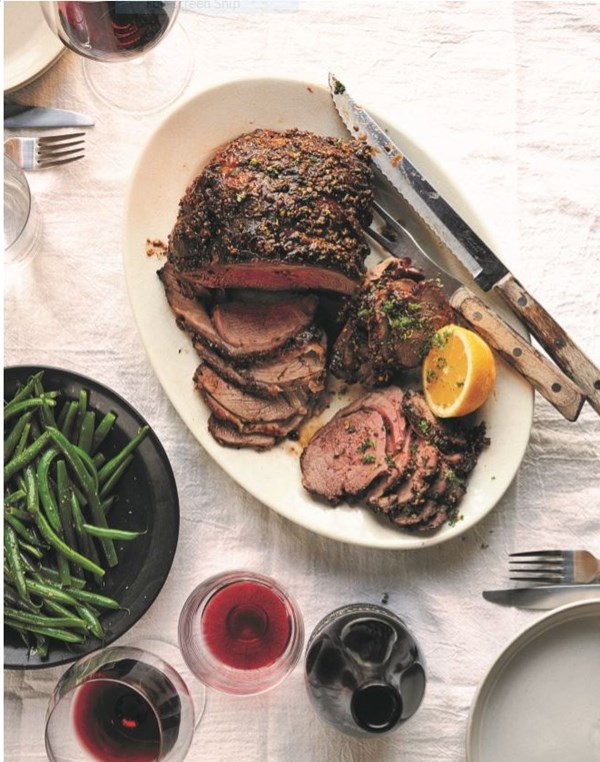 For the lamb
1 boneless leg of lamb, rolled and tied, 3 to 4 pounds
4 teaspoons kosher salt
2 teaspoons freshly ground black pepper
6 cloves garlic, peeled and finely diced
Leaves of 6 thyme sprigs
Leaves of 3 rosemary sprigs
1 tablespoon unsalted butter
1 lemon
1 cup dry white wine
2 bay leaves
For the glaze
¹/₂ cup sherry vinegar
¹/₂ cup honey
2 teaspoons fennel seeds, cracked
2 teaspoons coriander seeds, cracked
2 teaspoons freshly ground black pepper
2 teaspoons red pepper flakes
2 tablespoons unsalted butter, cold
For the sprinkle
2 tablespoons coriander seeds, toasted and cracked, or 1 tablespoon ground coriander
2 teaspoons red pepper flakes
2 teaspoons kosher salt, or to taste
Zest of 1 lemon
1 tablespoon fresh flat-leaf parsley, finely chopped
1. Prepare the lamb. Heat the oven to 425°F. Place the lamb in a large roasting pan. Use a small sharp knife to make 8 to 10 incisions, each about 1 inch deep, through the top of the meat. Mash together the salt, black pepper, garlic, thyme, and rosemary until it is a kind of paste and rub it into the incisions. Rub the butter over the top of the meat. Squeeze the lemon over the top of the meat and pour the wine into the pan. Add the bay leaves.
2. Place the pan in the oven and roast for 15 minutes, then reduce the heat to 350°F. Continue roasting until the meat is tender and cooked through to an internal temperature of 135°F for medium-rare, about 1 hour. Remove the pan from the oven and set aside.
3. Meanwhile, make the glaze. Combine the vinegar and honey in a small saucepan over medium heat. Add the fennel seeds, coriander seeds, black pepper, and red pepper flakes and bring to a slight simmer. Lower the heat and allow the mixture to reduce by half. Remove from the heat and whisk in the cold butter.
4. Heat the broiler. Make the sprinkle. Combine the coriander, red pepper flakes, salt, lemon zest, and parsley in a small bowl and set aside. Using a pastry brush, coat the lamb lightly with the glaze and place it in the oven, turning occasionally, until the meat begins to turn golden and crisp, 5 to 7 minutes. Remove the meat to a platter and top with the reserved sprinkle. Let rest for 10 minutes or so before slicing.
---
As most of you know, I am a cookware aficionado and I've had my eye on Smithey's cast iron for quite a while. Isaac Morton, Smithey's founder, admired the smooth surfaces and timeless logos of vintage ironware. He honed his expertise in restoring vintage cookware pieces, which he would gift to friends and family. After years of tinkering and learning everything he could about the craft, he decided that the market needed the look and quality of vintage cookware but made with modern technology.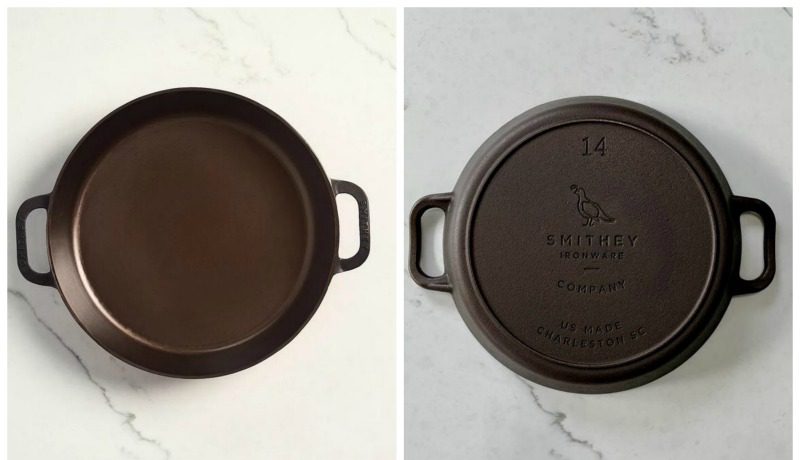 Smithey Ironware is made in the US with a glassy-smooth surface that is naturally non-stick and simple to clean but also very beautiful. The above photo is of the 14-inch double-handled pan which is perfect for everything from fried chicken to a hearty casserole. The pan is an exceptional piece of cookware but also looks stunning as a serving piece.
I plan to add the ten-inch chef's skillet to my collection or maybe the carbon steel farmhouse skillet. Smithey Ironware sent the above-pictured pan for me to try out. So far, I've made chicken cutlets and seared steaks in this beauty. The large surface area is perfect for frying. I am able to add more to the pan without fear of overcrowding. This weekend I am making Sam Sifton's Pan-roasted chicken thighs and will come back to add a photo of the dish in this gorgeous cookware.
Great news, Smithey Ironware is generously offering one of their 14-inch double-handled skillets to a grand prize winner in our giveaway below.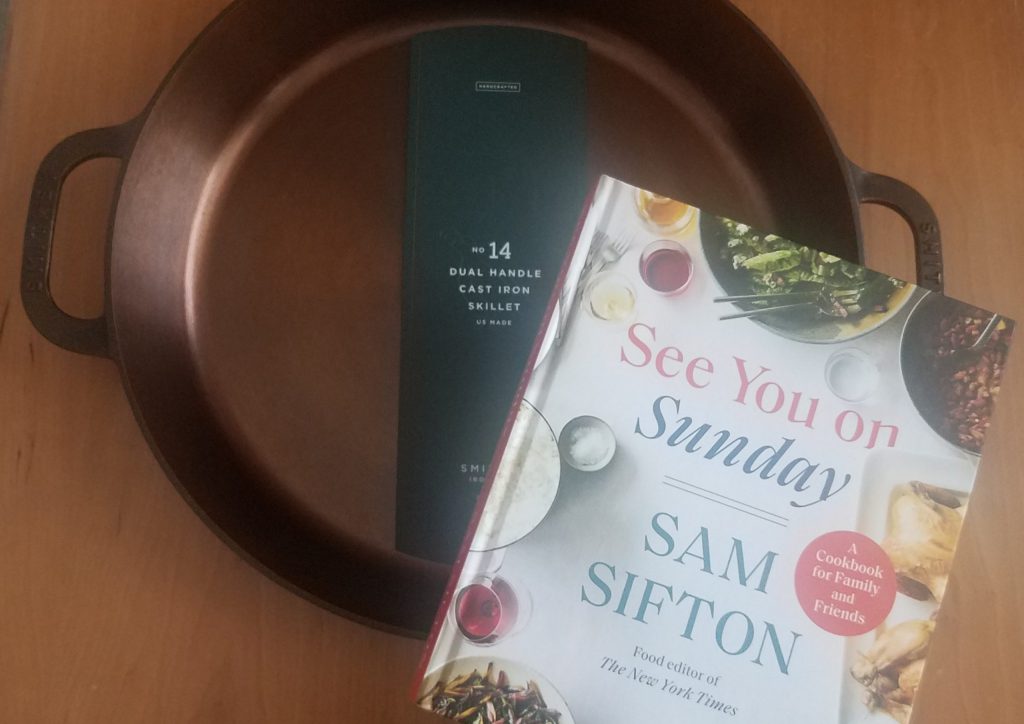 Thanks to the publisher for providing three copies of the above-referenced title in our giveaway open to EYB Members in the US and to Smithey Ironware for providing the 14-inch double-handled pot shown above to one grand prize winner. Entry options include answering the following questions in the comments section of this blog post.
Which recipe in the index would you try first?
Visit Smithey Ironware and checkout their cookware, leave a second comment stating which piece has caught your eye.
Please note that you must be logged into the Rafflecopter contest before posting or your entry won't be counted. For more information on this process, please see our step-by-step help post and this forum post. Once you log in and enter your member name you will be directed to the next entry option – the blog comment. After that, there are additional options that you can complete for more entries. Be sure to check your spam filters to receive our email notifications. Prizes can take up to 6 weeks to arrive from the publishers. If you are not already a Member, you can join at no cost. The contest ends at midnight on August 13th, 2020.
a Rafflecopter giveaway