Gennaro's Pasta Perfecto!: The Essential Collection of Fresh and Dried Pasta Dishes
January 27, 2020 by Jenny
Enter our US/UK giveaway to win a copy of Gennaro's Pasta Perfecto!: The Essential Collection of Fresh and Dried Pasta Dishes by Gennaro Contaldo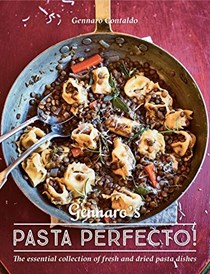 Gennaro Contaldo is an Italian chef and restaurateur, known for his association with his British protégé, Jamie Oliver, and his partnership with fellow Italian chef Antonio Carluccio and their BBC Two television series Two Greedy Italians. The cookbooks Two Greedy Italians and Two Greedy Italians Eat Italy tie into this program.
Pasta Perfecto! shares over 90 recipes for fresh and dried pasta creations. Contaldo starts with lessons on how to cook perfect pasta, matching pasta shapes to sauces (providing a guide to popular combinations), and then provides tempting recipes utilizing dried pasta. After this, he teaches us the art of creating fresh pasta dough including tips for making pasta and suggestions for the equipment we need to do so. After providing us with these tips, he offers several dough recipes followed by a nice selection of fresh pasta dishes.
In my opinion, you can never have enough pasta cookbooks and Gennaro's is excellent. Pasta is a crowd-pleaser, economical and stress-free go-to for dinner whether you are using dry pasta on a busy weeknight or honing your fresh pasta craft on weekends.
Special thanks to Interlink Publishing for sharing the following recipe with our members as well as providing two copies of this beautiful book for US members in our giveaway below. Pavilion, the UK publisher, is offering two copies for our UK members.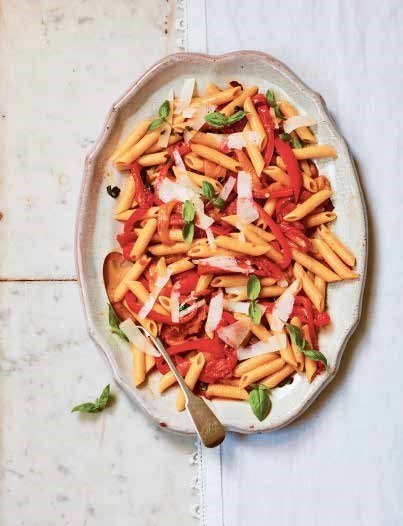 Penne with Trapanaese-style peppers (Penne con peperoni alla Trapanese)
Add this recipe to your Bookshelf (click the blue +Bookshelf button).
If you enjoy peppers, you will love this dish, which uses both yellow and red bell peppers cooked in two ways, as they do in the Trapani region of Sicily. It's nice to get the contrasting flavors of the roasted yellow peppers and sautéed red peppers.
Serves 4
3 yellow bell peppers
4 oval-shaped tomatoes, such as San Marzano ¼ cup (60 ml) extra-virgin olive oil
4 garlic cloves, finely chopped
1 red chili pepper, finely chopped
1 red bell pepper, thinly sliced
12 oz (350 g) penne pasta
a handful of parsley, finely chopped
1½ oz (40 g) pecorino, shaved
a handful of basil leaves, to serve
sea salt
Preheat the oven to 400°F (200°C).
Put the yellow bell peppers into a roasting pan and dry-roast in the hot oven for about 35 minutes, until the skin is golden-brown and the peppers have softened.
Meanwhile, bring some water to a boil. Submerge the tomatoes in the boiling water for 2 minutes, then drain. Remove the skins and seeds, and finely chop the flesh. Set aside.
When the yellow peppers are ready, carefully remove the skins and seeds, and roughly chop the flesh. Set aside.
Heat the olive oil in a large frying pan over medium heat, add the garlic and chili, and sweat for 1 minute. Add the red bell peppers and continue to cook for about 10 minutes, until the peppers have softened. Stir in the roasted yellow peppers and tomatoes, add some salt, and fry, stirring, over high heat for 1 minute. Reduce the heat to medium, cover with a lid, and cook for about 10 minutes, while you cook the pasta.
Bring a large saucepan of salted water to a boil and cook the pasta until al dente (check the instructions on your package for cooking time).
Drain the pasta, reserving a little of the cooking water. Add the pasta to the peppers, along with a little of the cooking water, and mix well to combine while still on the heat. Stir in the parsley, then remove from the heat and serve with shavings of pecorino cheese and basil leaves.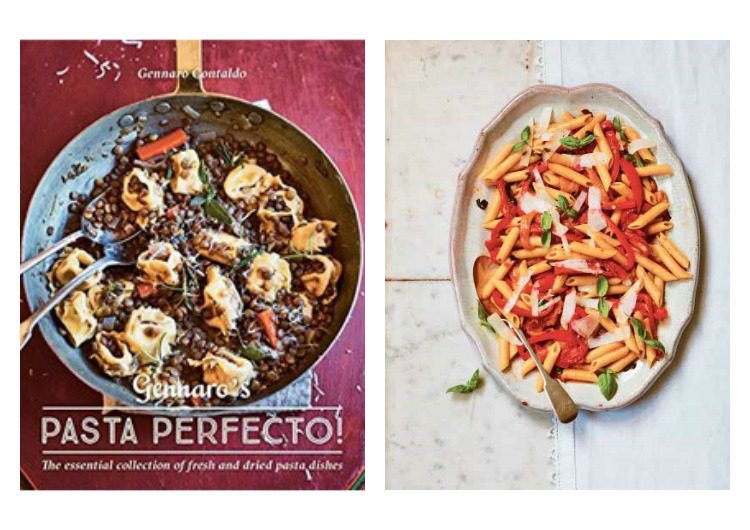 Thanks to Interlink for providing two copies of the above-referenced title in our giveaway open to EYB Members in the US and to Pavilion for providing two copies in the UK. One of the entry options is to answer the following question in the comments section of this blog post.
Which recipe in the index would you try first?
Please note that you must be logged into the Rafflecopter contest before posting or your entry won't be counted. For more information on this process, please see our step-by-step help post and this forum post. Once you log in and enter your member name you will be directed to the next entry option – the blog comment. After that, there are additional options that you can complete for more entries. Be sure to check your spam filters to receive our email notifications. Prizes can take up to 6 weeks to arrive from the publishers. If you are not already a Member, you can join at no cost. The contest ends at midnight on September 4th, 2020.
a Rafflecopter giveaway