Icing on the Cake – Tessa Huff – Cookbook Giveaway
May 16, 2019 by Jenny
Title:
Icing on the Cake: Baking and Decorating Simple, Stunning Desserts at Home
Author:
Tessa Huff
About the author:
Tessa is a trained pastry chef, recipe developer, and food stylist and photographer. Her blog
Style Sweet CA
is a source of inspiration for bakers. Her debut cookbook
Layered
is one of my all time favorite cake books.
Book tour
:
Events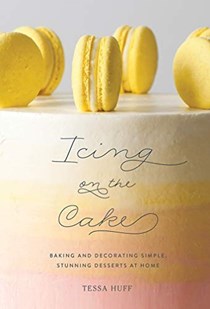 Online recipes linked from Food Network Canada:
What's to love:
Gorgeous photography
Step-by-step process photos including tutorials on decorating, making meringue and more
Unique and fresh recipes that bring flavor along with a beautiful presentation to the table making it attractive to the experienced baker
Detailed instructions making it ideal for the novice
Ingredient weights in both volume and weight
Much more than cake is included – tarts, pies, marshmallows, macarons, eclairs and more
Will be one of my best books of 2019
The publisher is offering three copies of this book to EYB Members in the US and Canada. One of the entry options is to answer the following question in the comments section of this blog post.
Which recipe in the index would you try first?
Please note that you must be logged into the Rafflecopter contest before posting or your entry won't be counted. For more information on this process, please see our step-by-step help post and this forum post. Once you log in and enter your member name you will be directed to the next entry option – the blog comment. After that, there are additional options that you can complete for more entries. Be sure to check your spam filters to receive our email notifications. Prizes can take up to 6 weeks to arrive from the publishers. If you are not already a Member, you can join at no cost. The contest ends at midnight on July 16th, 2019.