Vietnamese Food Any Day By Andrea Nguyen
February 5, 2019 by Jenny
Happy publication date to Andrea Nguyen on her latest title, Vietnamese Food Any Day: Simple Recipes for True, Fresh Flavors from Ten Speed Press. We have shared the author's events on our calendar so be sure to check if she is in your area.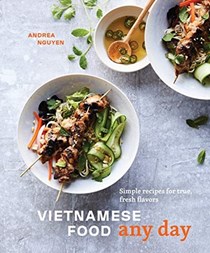 Andrea Nguyen is an award-winning writer and Vietnam native who is the voice behind the popular Viet World Kitchen website and the author of a library of titles devoted to her cuisine. Her books are member favorites as well as my go-to for Vietnamese dishes.
In her latest, Andrea draws upon her decades of experience, to guide us in using everyday ingredients to create true Vietnamese flavors at home. With Nguyen's expertise, there's no need to take a trip to a specialty grocer, just use her tips and tricks for getting Vietnamese flavors from those ingredients found at national supermarkets.
Andrea makes sure we have the basics down from how to make the perfect rice to pressure-cooker stocks. Each chapter that follows contains recipes that any level cook can conquer. This Sunday I made her Chile garlic chicken wings to wild praise and next on the agenda is her Shaking beef. I've been looking for the recipe for this dish and the version in this book looks like a winner (recently shared on the cover of February's Food & Wine).
Andrea's books are gold mines with recipes that work and narrative that leads us to success. If you don't have Into the Vietnamese Kitchen, The Pho Cookbook, The Banh Mi Handbook or Asian Dumplings, buy them now to add to your collection along with Vietnamese Food Any Day!
Our
takes you inside this title and features the following
Special thanks to Ten Speed Press for sharing the materials for our EYBD Preview above as well as offering three copies of this title in our giveaway below.
The publisher is offering three copies of this book to EYB Members in the US. One of the entry options is to answer the following question in the comments section of this blog post.
Which recipe in the index would you try first?
Please note that you must be logged into the Rafflecopter contest before posting or your entry won't be counted. For more information on this process, please see our step-by-step help post and this forum post. Once you log in and enter your member name you will be directed to the next entry option – the blog comment. After that, there are additional options that you can complete for more entries.

Be sure to check your spam filters to receive our email notifications. Prizes can take up to 6 weeks to arrive from the publishers. If you are not already a Member, you can join at no cost. The contest ends at midnight on March 28th, 2019.