Double Awesome Chinese Food – EYBD Promotion
February 5, 2019 by Jenny
Now with EYBDigital, if you buy a print book within the promotional period, for the first time you will have access to the full EYBD cookbook wherever you can access EYB – on vacation, at work, in the grocery store, etc. In addition to the digital book, all the features of EYB will be included in the access, at no cost to the book purchaser. For more information see our EYBD Page.
• Recipe search
• Bookmarks
• Recipe ratings and reviews
• Photo upload (personal photos of dishes cooked)
• Shopping lists
We are pleased to share a promotion for our next EYBD Book, Double Awesome Chinese Food: Irresistible and Totally Achievable Recipes from Our Chinese-American Kitchen by Andrew, Irene and Margaret Li. The authors' events are shared on our calendar.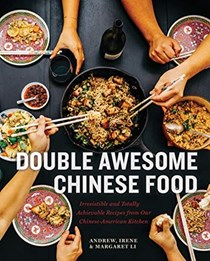 The Li siblings founded a restaurant (Mei Mei) and food truck catering business in Boston and pride themselves on serving up creative Chinese-American cuisine made from locally sourced and sustainable ingredients, serving humanely raised meat, produce from small farms, and some of the most creatively delicious street food out there.

Now you don't have to live near Boston to experience Mei Mei's flavors. The Li's debut cookbook, Double Awesome Chinese Food is full of irresistible recipes that marry traditional Asian ingredients with comforting American classics and seasonal ingredients. The dishes here are fun and fresh with the full color photos and detailed instructions. Ingredients are listed in weight and volume and those ingredients are easily found in major supermarkets.

Kung pao chicken dip, Clams with black and white beans over noodles, and Cranberry upside-down cake with bourbon butternut custard are a few examples of the recipes here. Yes, there are dessert recipes! Our
takes you inside this title and features the following
If you order this title before our promotional period ends May 30, 2019, register here (be sure you have a photo of your receipt or screenshot from your online order ready to upload). Once your purchase has been verified, this button
will appear on the book on your Bookshelf next to the title and will take you to the digital access for this gorgeous book.
Below are screenshots showing how these features will appear.
Special thanks to the publisher, for working with us to bring this exclusive incentive to our members as well as for providing three copies of in our giveaway below.
The publisher is offering five copies of this book to EYB Members in the US and Canada. One of the entry options is to answer the following question in the comments section of this blog post.
Which recipe in the index would you try first?
Please note that you must be logged into the Rafflecopter contest before posting or your entry won't be counted. For more information on this process, please see our step-by-step help post. Be sure to check your spam filters to receive our email notifications. Prizes can take up to 6 weeks to arrive from the publishers. If you are not already a Member, you can join at no cost. The contest ends at midnight on April 2nd, 2019.