The Last Course – Giveaway & Interview
November 23, 2019 by Jenny
In 2001, Claudia Fleming's The Last Course: The Desserts of Gramercy Tavern was published by Random House. It wasn't long before the brilliance of this cookbook was spread far and wide.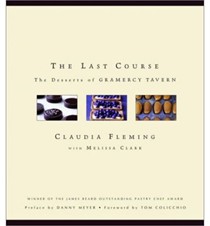 For at least a decade, book sleuths have searched library sales, thrift stores, and used bookstores in the hopes of coming across a copy for a bargain. The price to purchase a copy on Amazon or eBay could range from $100 to $300.
At last, Random House has finally reprinted The Last Course. While the cover has changed the book is an exact replica of the original.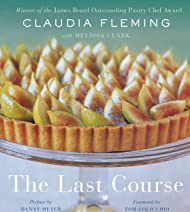 I first became aware of Claudia while working in New York for a law firm. John Firestone, a lawyer I worked with, and his family came to our new home on Long Island and gifted me with a copy of this book. Claudia's mother lived in the same building as his family and was like a grandmother to his children. I put the book on the shelf happy to have it but not knowing of its value and wonder until a few years later when my life became all about cookbooks. Even though I collected them and loved to cook and bake, my work in the field exploded in 2013.
Two years ago, I had the pleasure of meeting Claudia at the James Beard Awards Dinner where I was able to taste her famous chocolate caramel tart. Throughout the dinner that evening, I had tasted marvelous bites but the highlight was most definitely Claudia's tart. Even though she was so busy, she took a few moments for me and cemented my fangirl feelings for the famous pastry chef.
Earlier this month, Julia Moskin published a piece for The New York Times that shares Claudia's journey, reflects the author's love of her work, her time with her chef husband, Gerry Hayden, who died in 2015 and what the future holds.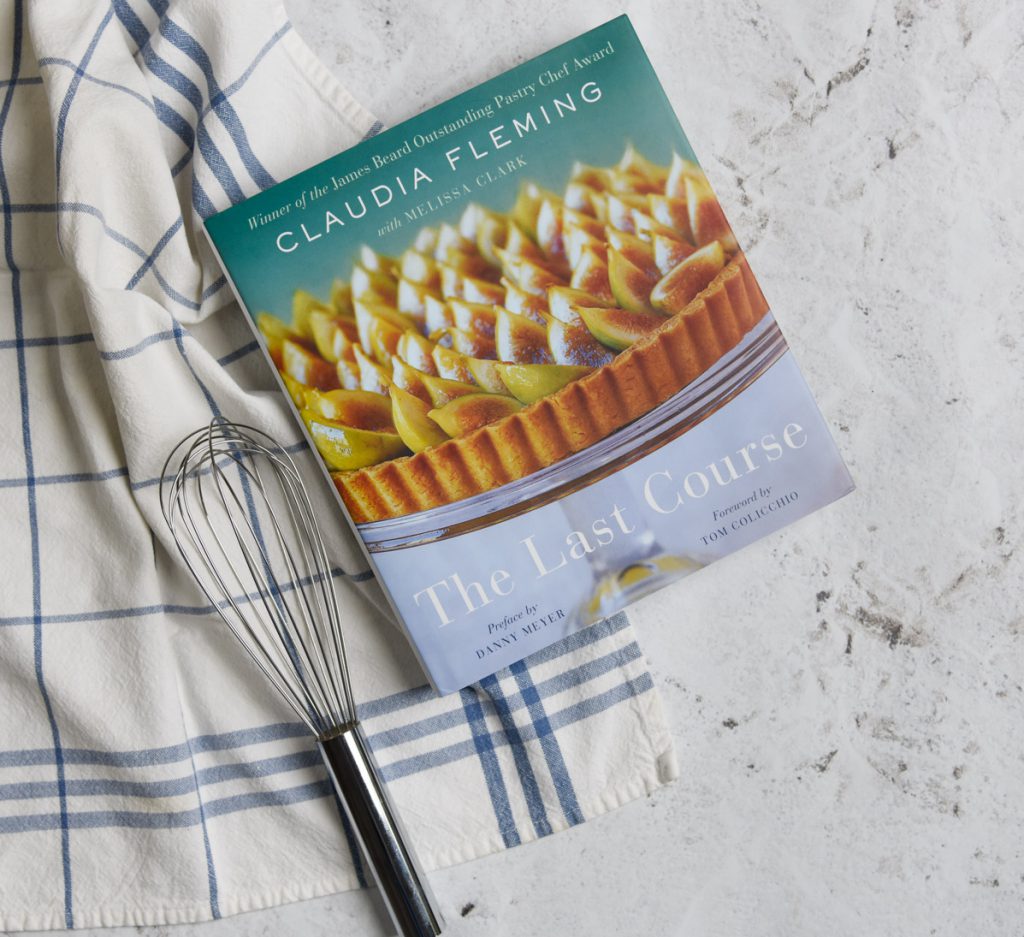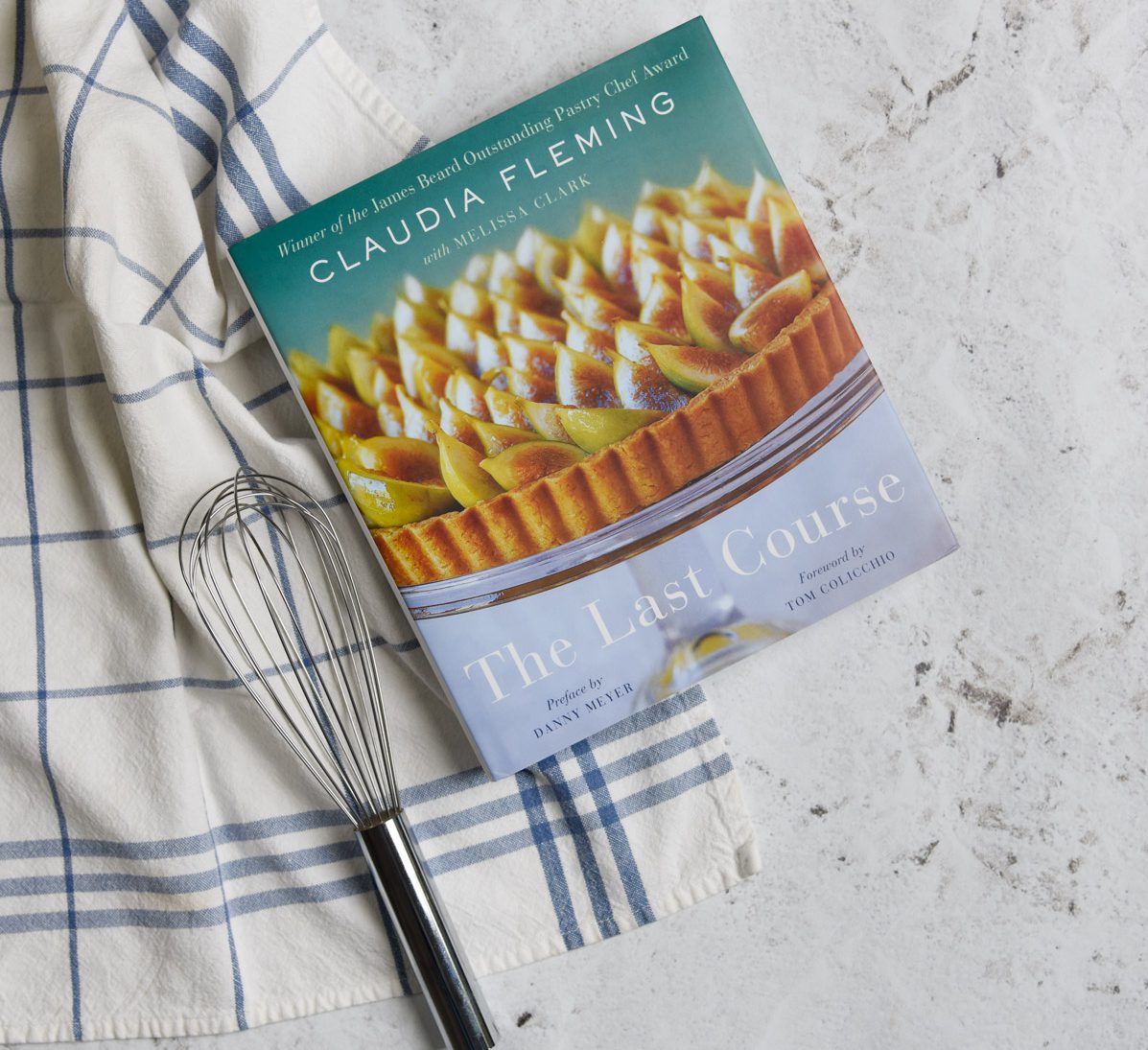 Claudia's schedule is hectic as one can imagine but she took some time to answer a few questions for our members. I made them quick as to not intrude too much upon her time.
EYB: I don't think anyone was as excited as cookbook lovers were when we learned that The Last Course was going to be reissued. Why now? And why did the publisher let the original go out of print?
Claudia: I don't know why the book went out of print but, I was told the demand was great, so it was reprinted!
EYB: Are you a cookbook lover? If so what is your favorite title? How many cookbooks do you own?
Claudia: Yes, indeed! The current generation of cooks seems to find inspiration from social media. I still enjoy poring over books. I own hundreds of cookbooks. It's mine and Gerry's collection combined. I've moved four times in the last four years many of my belongings are in storage which includes the cookbook collection.
EYB: As a lover of cookbooks, I find them inspirational and take me away from the world's problems – how do you feel about how the cookbook industry today? How it seems to thrive while other industries fail?
Claudia: Food is comfort, reading about food and looking at beautiful photos of food is calming. A great cookbook makes people feel they can achieve what is on the page. Dorie Greenspan is a genius at this! Even if you don't make the recipes, you feel you can, it inspires confidence, who doesn't want that!!
EYB: What chef or author do you find inspirational today?

Claudia: After 30 years, both Nancy Silverton and Tom Colicchio continue to inspire me!
EYB: Any chance there'll be a North Fork Inn cookbook in the future?

Claudia: No, I don't see that as possible without Gerry!
EYB: Do you have a sequel to The Last Course in the works?
Claudia: Never say never!
EYB: What is your most requested recipe?
Claudia: The chocolate caramel tart.
EYB: What is your favorite city for its food alone?
Claudia: Paris!

EYB: What is your favorite thing to cook? Your favorite thing to bake?
Claudia: Linguine and clam sauce. To bake, fruit crostata.
Special thanks to Random House for allowing us to share the Chocolate caramel tart with our readers and for providing the image from the book. The Last Course is our baking option for December in the EYB Cookbook Club – make the tart – it is incredible!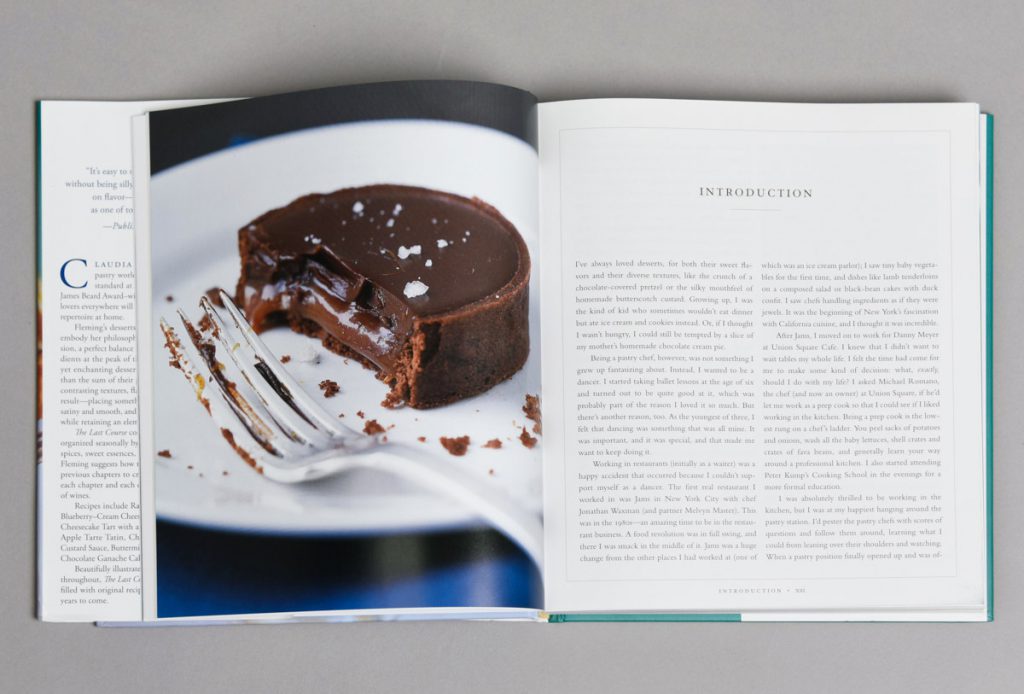 Chocolate caramel tarts
Add this recipe to your Bookshelf (click the blue +Bookshelf button).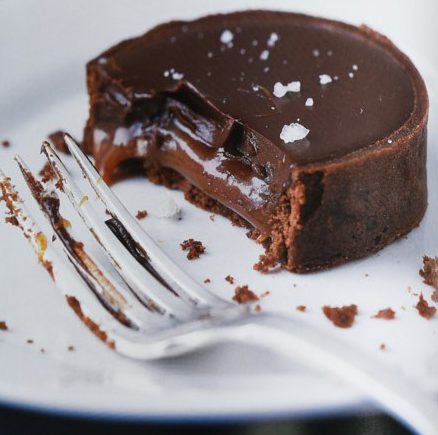 Chocolate Tart Dough
1/2 cup (1 stick) unsalted butter, at room temp
1/2 cup plus 1 tbsp confectioners' sugar
1/4 cup unsweetened cocoa powder
1 large egg yolk
3/4 tsp vanilla extract
1-1/4 cups all-purpose flour
Caramel Filling
1/2 cup water
2 cups sugar
1/4 cup light corn syrup
1/2 cup unsalted butter (1 stick)
1/2 cup heavy cream
2 tbsp crème fraiche (sour cream or additional heavy cream may be substituted)
Chocolate Ganache
1/2 cup heavy cream
3-1/2 oz bittersweet chocolate, chopped (you may use semisweet if you prefer)
Pinch sea salt, such as fleur de sel
Topping
Coarse sea salt, such as fleur de sel, optional
Instructions
To make the tart dough: In the bowl of an electric mixer fitted with the paddle attachment, cream the butter and confectioners' sugar about 1 minute. Add the cocoa and beat until incorporated. Add the egg yolk and vanilla and beat until smooth. Sift in the flour and beat on low speed until just combined. Scrape the dough onto a sheet of plastic wrap and form it into a disk. Wrap and chill until firm, about 1 hour, or up to 3 days.
Preheat oven to 325°F. On a lightly floured surface, roll the tart dough to 3/16-inch thick. Using a 2-1/2 inch round cutter, cut out 24 rounds of dough and press them into mini-muffin tins or 2 dozen 2-inch tart pans, trimming away any excess dough; prick the dough all over with a fork. Chill the tart shells for 20 minutes.
Line the tart shells with foil or parchment and fill (to the top) with dried beans, rice, or pie weights. Bake for 15 minutes. Remove foil and weights and bake for 5 to 10 minutes longer or until the pastry looks dry, set, and is lightly browned. Transfer to a wire rack to cool. Remove cooled shells from tart pans and transfer to a serving plate.
To prepare the filling: Place the water in a large saucepan. Add the sugar and corn syrup. Cook the mixture over medium-high heat, swirling the pan occasionally until you have a dark amber caramel, about 10 minutes.
Carefully whisk in the butter, cream, and crème fraiche stirring until smooth. The caramel will hiss and bubble up so stand back. The caramel can be made up to 5 days ahead and refrigerated. Divide the caramel among the tart shells while still warm or reheat the caramel in the microwave or over low heat until it is pourable. Let tarts rest until the caramel is set, at least 20 minutes.
To make the ganache: In a saucepan, bring the cream to a boil. Place the chocolate in a bowl. Pour the hot cream over the chocolate; add a pinch of sea salt, and let sit for 2 minutes, then whisk until smooth. Pour some of the ganache into each of the tarts while it is still warm. Let the chocolate set at room temperature for at least 2 hours before serving. Chill if you are transporting these tarts any distance. Sprinkle top with additional coarse sea salt if desired.
VARIATION: For a large tart, line a 10-inch tart pan with the pastry dough, then prick, weight, and bake as directed, adding five to ten minutes to the baking time. When the tart shell is cool, spoon in the warm caramel filling. Allow the caramel to set before pouring the warm ganache onto the tart.
Thanks to the publisher for providing three copies of the above-referenced title in our giveaway open to EYB Members in the US. One of the entry options is to answer the following question in the comments section of this blog post.
Which recipe in the index would you try first?
Please note that you must be logged into the Rafflecopter contest before posting or your entry won't be counted. For more information on this process, please see our step-by-step help post and this forum post. Once you log in and enter your member name you will be directed to the next entry option – the blog comment. After that, there are additional options that you can complete for more entries. Be sure to check your spam filters to receive our email notifications. Prizes can take up to 6 weeks to arrive from the publishers. If you are not already a Member, you can join at no cost. The contest ends at midnight on January 31st, 2020.
a Rafflecopter giveaway