Food news antipasto
November 17, 2019 by Darcie
For generations, cooks have relied on the pumpkin pie recipe printed on Libby's pumpkin label for their holiday pies. The recipe dates back to the 1950s, and has remained unchanged until this year. Libby isn't saying what prompted this departure, but the new recipe uses another ingredient produced by Nestlé, the brand's parent company: sweetened condensed milk is in the new version, along with the traditional evaporated milk. Lest we get too cynical, sweetened condensed milk is a natural fit; it is used in the highly rated Super-pumpkiny pumpkin pie from Flour by Joanne Chang pictured below. The amount of cloves was also increased in Libby's "new-fashioned" recipe.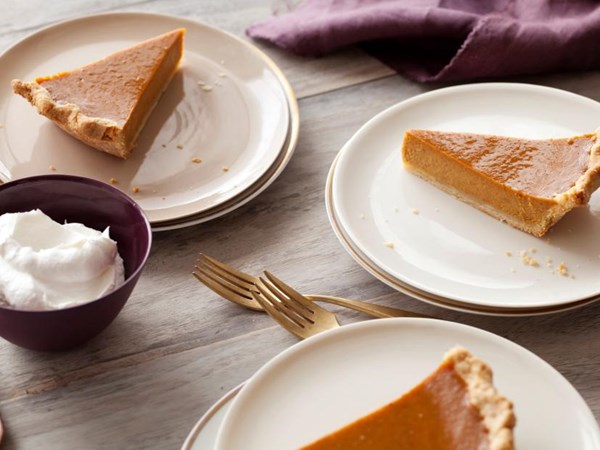 Netflix is putting together yet another competition-style cooking show. This one features an all-star case of hosts/judges including Heston Blumenthal and Carla Hall. Called 'Crazy Delicious', the show will pit "fearless" but not professional cooks making elaborate dishes that will be judged with a focus on presentation. The vibe is along the same lines as the popular 'Nailed It' program also produced by Netflix. Expect to see six episodes sometime in 2020.
Another great GBBO interview came out this week, this time with sensational baker Steph Blackwell. She discusses what it was like to be in the tent, why the last two weeks of the competition were so difficult for her, and her favorite brand of eyeliner. Can you believe that she almost didn't turn in her application for the show?!
Even if you try to avoid it, politics can seep into your daily life. Some people adopt a theory of "if you can't beat it, cook it!" and this practice isn't a new phenomenon. Back in the mid-1970s, a handful of dishes were renamed to reflect political happenings, as Gastro Obscura explains. Shortly after Richard Nixon resigned, both a Jello 'salad' and a pistachio cake were renamed Watergate salad and Watergate cake. "With a 'cover-up' of green icing or pudding hiding a bunch of nuts, each treat offered a bright, sweet counterpoint to one of the most shocking periods of modern political history," according to the article.
One of our Members recently wrote to us and said "I have certainly been cooking and baking more to relieve the stress of what is going on and EYB has been a wonderful place to get lost in when I need a break from all the depressing news of the day." Whether you want to embrace the news and put it into your cooking or escape from it, we are thankful that many of you choose EYB as a source for inspiration.