Joanna Gaines' second cookbook available for preorder
November 7, 2019 by Darcie
To say that Magnolia Table, the debut cookbook from HGTV star Joanna Gaines, was a smash is an understatement. The book was #2 on the list of bestselling books following its release – not just on the list of cookery books, but of all books (it was second only to Michelle Obama's memoir). In June, Joanna teased fans with an announcement that a follow up was in the works. Now the second cookbook, Magnolia Table, Volume 2: A Collection of Recipes for Gathering, is available for pre-order.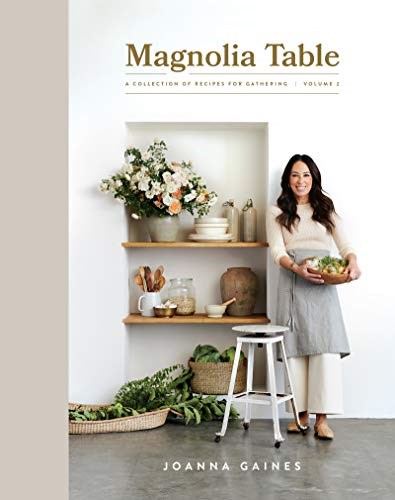 According to the Magnolia website, the book contains 145 recipes for everything from breakfast to dinner to breads plus soups and sides. The recipes contain both Gaines family favorites and dishes that are served at the couple's Waco, Texas restaurants, Magnolia Table and Silos Baking Co., as well as their new coffee shop, Magnolia Press.
The teaser includes a partial list of recipes:
Mushroom-Gruyére Quiche
Pumpkin Cream Cheese Bread
Grilled Bruschetta Chicken
Zucchini-Squash Strata
Chicken-Pecan-Asparagus Casserole
Stuffed Pork Loin
Lemon-Lavender Tart
Magnolia Press Chocolate Cake
Magnolia Table, Volume 2 is set to hit bookstores in April 2020.