A Flash in the Pan by John Whaite Cookbook Giveaway
September 10, 2019 by Jenny
Enter to win a copy of John Whaite's A Flash in the Pan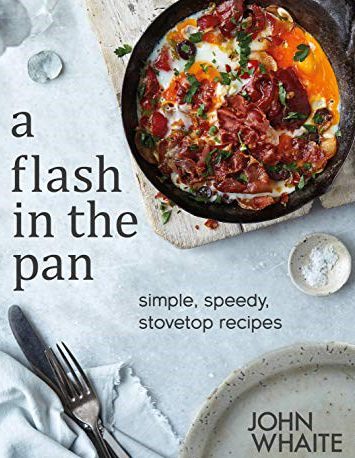 John Whaite, season 3 winner of The Great British Bake Off in 2012, apparently doesn't squander a moment. In my interview with him last year, he was in training to be a barrister, had just finished Comfort, and was working on his next book all while planning his wedding. He has been a television presenter, writes for the Telegraph and now has opened the John Whaite's Kitchen Cookery School in Lancashire. He wrote about the stress of life after GBBO recently for the Telegraph. After ups and downs, John has found his balance.
In John's fifth cookbook, A Flash in the Pan, he shares simple recipes that can be made on the stovetop in under 45 minutes. Speedy pan dishes needn't be without style as evidenced by recipes such as Eritrean pancakes with lentil stew, Chicken pad krapow, or Saltimbocca Stroganoff with pan-fried potatoes. John covers breakfast through dessert here and does so with his usual brilliance and attention to flavor.
Special thanks to Kyle books for providing the following recipe for our members to try now and for offering two copies of this beautiful book in our giveaway below (US). EYB will provide one copy worldwide.
Apricot, Whisky and Honey Cheesecake
Add this recipe to your Bookshelf (click the blue +Bookshelf button)
I tend to shy away from deconstructed desserts. Being a classically trained pastry chef, I like structure and foundation and find it hard to veer away from that discipline. Whimsical platefuls can be intimidating: reserved only for the trendiest of restaurants, reviewed critically by an entire hipster team. In contrast to this, most food writers will have simplicity at the core of their professional integrity – if our recipes are too technical, they won't be used. But putting these probably too-profound reflections aside, this is simply a blob of a cream cheese mixture topped with some toasted oats and poached apricots. How can that be anything other than desirable?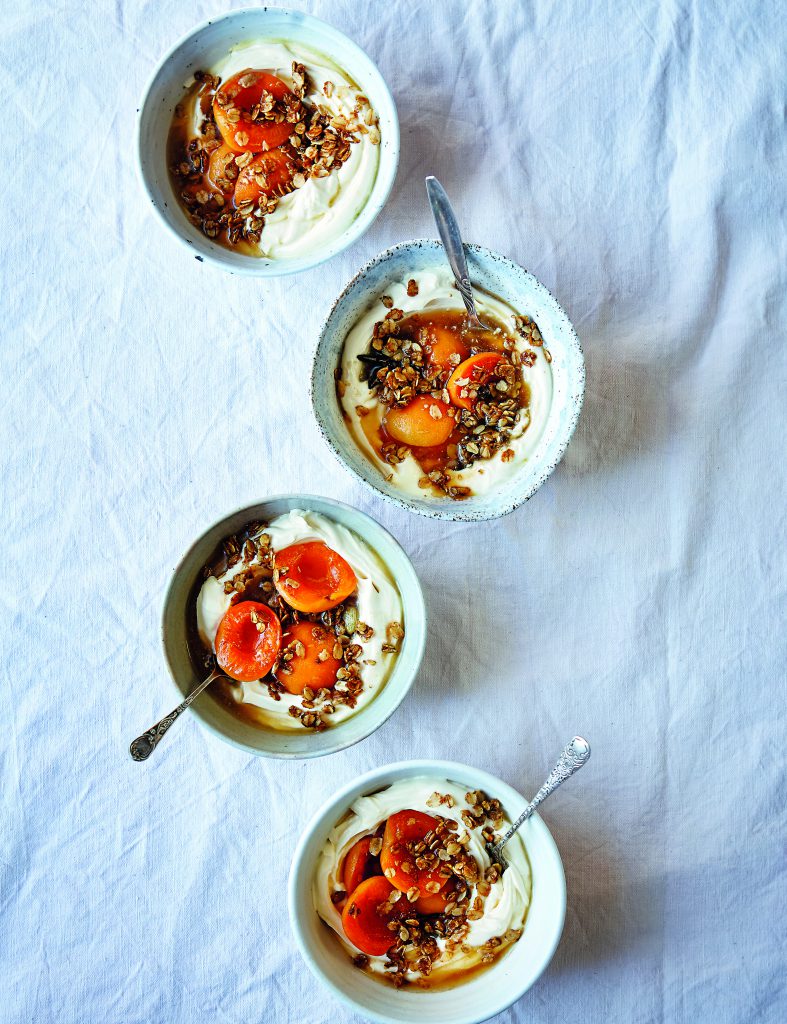 Serves 4
For the apricots
6–8 small apricots, halved and stoned
300ml (10fl oz) water
150g (5oz) honey (chestnut honey is perfect)
75ml (21/2fl oz) single malt whisky
3 cloves
3 cardamom pods
1 star anise
For the cheesecake
125ml (41/4fl oz) double cream
½ tsp vanilla extract
2 tbsp honey
150g (5oz) full-fat Greek yogurt
280g (10oz) full-fat cream cheese
For the base
75g (23/4oz) jumbo porridge oats
25g (1oz) butter
40g (11/2oz) dark brown muscovado sugar
Start with the apricots. Place them in a medium saucepan along with the water, honey, whisky, cloves, cardamom pods and star anise. Bring to a simmer and cook gently for 20 minutes.
Meanwhile, put the cream into a mixing bowl with the vanilla and honey and whisk to very soft peaks. Throw in the yogurt and cream cheese and whisk until smooth.
Put a large deep-sided frying or sauté pan over a high heat. When the pan is hot, add the oats and toast, tossing occasionally, for a minute. Add the butter and sugar and fry, stirring, until the oats are caramelised – a couple of minutes. Remove from the heat and allow to cool.
To serve, scoop generously heaping mounds of the cream cheese mixture into four bowls. Add the poached apricot halves and sprinkle over the oats. Drizzle over a little of the warm poaching syrup and serve.
Thanks to the publisher for providing the recipe above and for offering two copies of this title to EYB Members in the US. EYB is offering one copy worldwide. One of the entry options is to answer the following question in the comments section of this blog post.
Which recipe in the index would you try first?
Please note that you must be logged into the Rafflecopter contest before posting or your entry won't be counted. For more information on this process, please see our step-by-step help post and this forum post. Once you log in and enter your member name you will be directed to the next entry option – the blog comment. After that, there are additional options that you can complete for more entries. Be sure to check your spam filters to receive our email notifications. Prizes can take up to 6 weeks to arrive from the publishers. If you are not already a Member, you can join at no cost. The contest ends at midnight on November 11th, 2019.
a Rafflecopter giveaway