Ruffoni Cookware Giveaway
August 30, 2019 by Jenny
Here we are at the end of August wrapping up our month-long 10th birthday celebration with another beautiful giveaway.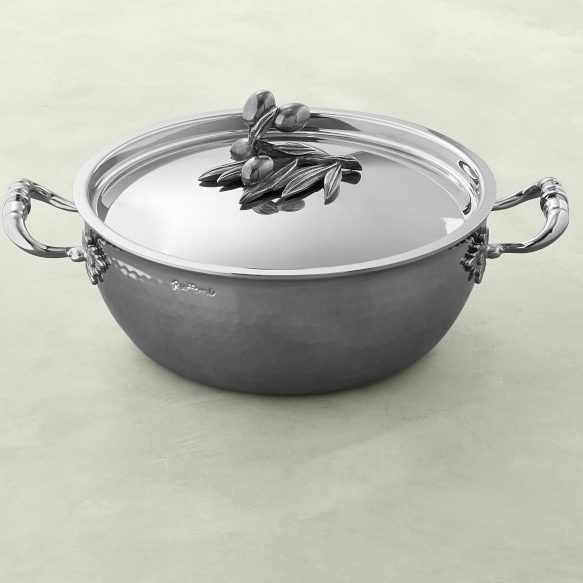 The Ruffoni Opus Prima Stainless-Steel Chef Pan pictured above is one of the Italian cookware company's latest pieces, adorned with an olive finial. It is stunning and I have a serious finial addiction. I've been known to purchase a piece of cookware just for the finial – I can't help it, I love beautiful things. My latest obsession is with the love bird finial. As my 17th wedding anniversary is tomorrow and my husband is away, I feel it is the perfect gift. He doesn't realize how generous he is, yet.
The Ruffoni Opus Prima Stainless-Steel Chef Pan is the perfect size for a family meal. I will be cooking a great deal from this pan in the following weeks as I cook from Heirloom Kitchen in our EYB Cookbook Club and will be sharing photos on social media. Imagine bringing this vessel to the table filled with a creamy risotto or bubbling baked pasta – extra special!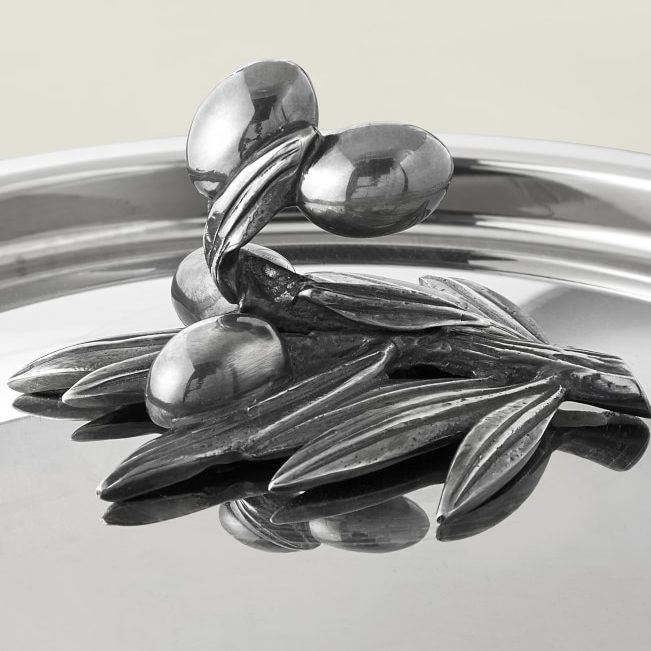 I've had a love affair with Ruffoni for quite some time. In April of 2018, in a promotion post, I shared a bit of history about Ruffoni who is always so generous in their support of EYB and providing our members with a chance to win pieces. The Ruffoni line goes from the stovetop or oven to the tabletop effortlessly. I've had my guests tell me that they felt loved not only because of the food I had prepared but for how I brought it to the table.
Ruffoni's gorgeous cookware is available through Williams-Sonoma and the olive finial is exclusive to Williams-Sonoma. Olive trees are an integral part of the Italian landscape, from the picturesque images of olive groves to the oil's influence in many Italian recipes from pasta to cake, the olive and branch finial is a beautiful representation of Italy.
Ruffoni is known for the craftsmanship of their cookware and their attention to detail. That attention doesn't stop at the quality of the cookware, but their employees' memory is superb. Two years ago I sent an email to my contact in Italy and asked about a stand for my zabaglione copper pot. I was questioning where I could purchase the stand. This summer when Ruffoni sent me the gorgeous chef pot above, a copper stand was enclosed as a surprise. Never would I expect anyone to remember such a minor detail, let alone a major company, but they did. Totally impressive.

Thanks to Ruffoni for offering one Ruffoni Opus Prima Stainless-Steel Chef Pan to our EYB Members worldwide*. One of the entry options is to answer the following questions in the comments section of this blog post as well as to visit Ruffoni's Facebook and Instagram pages which are sources of inspiration and temptation.
Which piece of Ruffoni cookware would you like to try and which finial is your favorite? (For those who cannot access Williams-Sonoma page, please take a look at Ruffoni's site to respond to these questions.)
Please note that you must be logged into the Rafflecopter contest before posting or your entry won't be counted. For more information on this process, please see our step-by-step help post and this forum post. Once you log in and enter your member name you will be directed to the next entry option – the blog comment. After that, there are additional options that you can complete for more entries. Be sure to check your spam filters to receive our email notifications. Prizes can take up to 6 weeks to arrive from the publishers. If you are not already a Member, you can join at no cost. The contest ends at midnight on October 31st, 2019.
a Rafflecopter giveaway
*Special thanks to Ruffoni for providing me with a pot for review and another for the giveaway. As this is a special 10th birthday promotion and I have the pot in hand, we can ship this cookware worldwide. Look for another Ruffoni promotion in late October to coincide with the publication of Pasta Grannies!