Spice support: za'atar
August 3, 2019 by Darcie
Middle Eastern food has risen in prominence in the past few years, thanks to the excellent and approachable recipes provided by Yotam Ottolenghi, Anissa Helou, Michael Solomonov, John Gregory-Smith, Sabrina Ghayour, and others. These recipes contain ingredients that until recently were unfamiliar to most Western palates, including harissa, baharat, ras el hanout, and za'atar. Today we are going to dive into the last one in that list.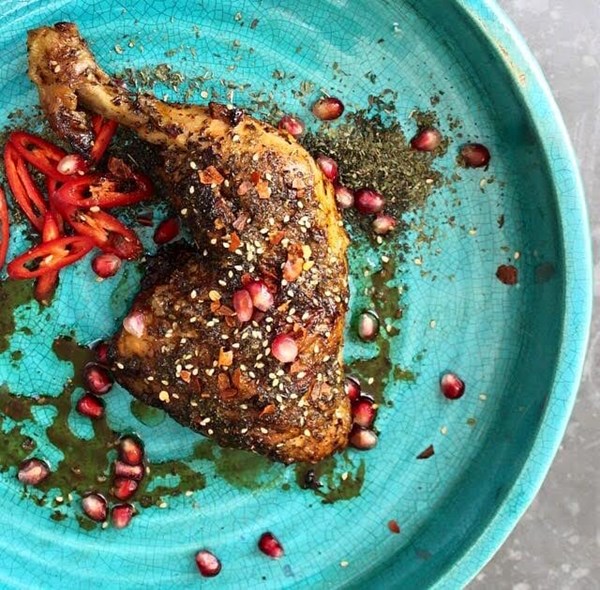 Za'atar is both an herb and a citrusy, woodsy spice blend that goes well with everything from meats to vegetables to breads. According to the Encyclopedia of Spices and Herbs, the herb is a type of wild mountain thyme that has a pungent aroma and intense flavor that resembles a blend of oregano, thyme, and marjoram. The herb is used in most, but not all, versions of the spice blend za'atar.
Matt Rodbard, writing for Taste Cooking, explains that the blend's backbone is wild hyssop leaf (aka wild thyme), which is dried and mixed with sumac, marjoram, toasted sesame seeds, thyme, and salt. In Middle Eastern home cooking, za'atar is often used as a table condiment, especially as a dip for bread.
Although it might be difficult to find wild hyssop leaves, you can make a great za'atar blend at home without it using spices you either already have or that are easily found, including oregano, thyme, sesame seeds, and sumac. The EYB Library is a great place to explore recipes and uses for za'atar. Here are few to get you started: