Cook Once Eat All Week – Cassy Joy Garcia – Promotion
May 30, 2019 by Jenny
Title:
Cook Once, Eat All Week: 26 Weeks of Gluten-Free, Affordable Meal Prep to Preserve Your Time & Sanity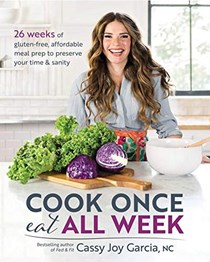 Author:
Cassy Joy Garcia
About the author:
Cassy is the powerhouse behind the
Fed & Fit website
. She is a force of nature that I had the pleasure of spending a few hours over two days to prepare for her
Colorado & Company appearance
and her demo at the Nourish Festival a few weeks ago. After meeting her, loving her latest cookbook, I had to buy her first title
Fed & Fit
to recharge my meal planning.
What's to love
:
26 weeks of gluten-free, affordable meal prep packed with flavor and variety that highlight a protein, starch and vegetable
the menus provide three different meals that feed four adults
The menu from week 9 I made three times for Cassy's appearances here in Colorado. That week highlights chicken, kale and corn (and bacon).
Shopping for the week's menu was a breeze as the ingredients are listed in the order they are found in the grocery store.
Prep day took roughly one hour (cooking the chicken, bacon, preparing the kale, corn, dressings and sauces). The prep made the following meals: Mexican chicken and corn street tacos, Confetti chicken casserole, and Green goddess salad. With bonus dinner options that can utilize some of the prep ingredients with other proteins and also instructions for making the meal paleo and/or grain-free.
The dishes were easy to throw together, absolutely delicious and even made my husband happy – he ate kale!
Filled with illustrations, photographs and inspiration to create varied meals for your family that not only saves time and money but your sanity!
By far the best cook once/prep cookbook, I have come across.
Online recipes to try now:
The publisher is offering two copies of this book to EYB Members in the US. One of the entry options is to answer the following question in the comments section of this blog post.
Which recipe in index would you try first?
Please note that you must be logged into the Rafflecopter contest before posting or your entry won't be counted. For more information on this process, please see our step-by-step help post and this forum post. Once you log in and enter your member name you will be directed to the next entry option – the blog comment. After that, there are additional options that you can complete for more entries. Be sure to check your spam filters to receive our email notifications. Prizes can take up to 6 weeks to arrive from the publishers. If you are not already a Member, you can join at no cost. The contest ends at midnight on August 1st, 2019.
Photographs of Cassy on the set of Colorado & Company and the food I prepared taken by myself.