Summer grilling looks different these days
May 23, 2019 by Darcie
For the majority of Americans, the upcoming Memorial Day weekend marks the official start of summer. Across the nation, it's a tradition to fire up the grill and pile it high with bratwurst, hamburgers, and ribs, accompanied by cold beer. That scenario is rapidly changing, however, says Food & Wine. They report on a recent study that says not only are Americans putting more veggie burgers on the grill, they're also quaffing beer alternatives in record numbers.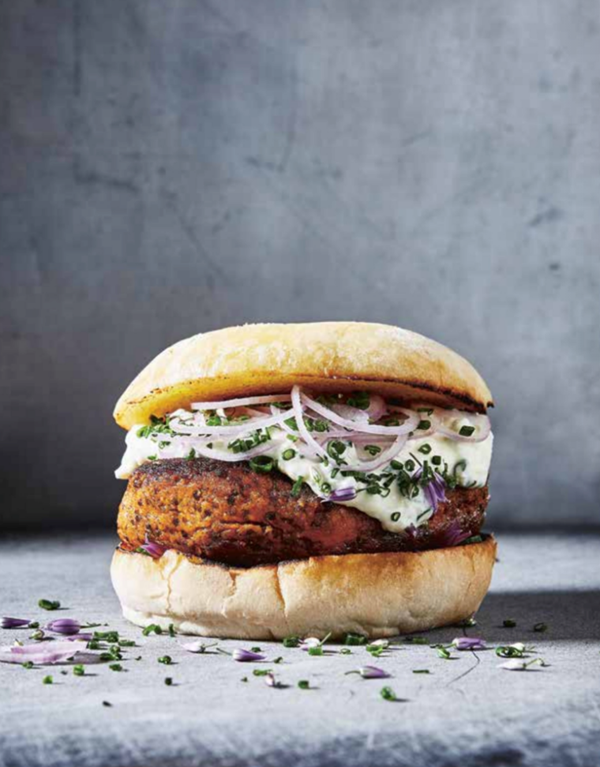 The survey firm Nielsen reported that "a range of emerging options" are beginning to outpace traditional summer grilling fare. Although meat, including burgers and hot dogs, continue to make up the bulk of items purchased for cookouts, sales of plant-based meat alternatives increased 13.5 percent during the survey period.
Regarding the refreshing adult beverages that often accompany grilled foods, Nielsen notes big changes there as well. Beer sales have stalled, but items like malt-based cocktails, kombucha, hard seltzer, and (gasp) canned wine are up 574 percent, 247 percent, 193 percent and 77 percent respectively. In addition, ready-to-drink wine- and spirit-based cocktails have both seen their sales grow by 40+ percent.
Photo of Quinoa and sweet potato burger with horseradish sour cream, shallots and chives from Green Burgers: Creative Vegetarian Recipes for Burgers and Sides by Martin Nordin