Let Me Feed You – Author Interview and Cookbook/Le Creuset Giveaway
April 20, 2019 by Jenny
Feeding people is one of the major reasons I love cooking. Besides expressing creativity and providing nourishment, I cook and bake to show people I care for them. Rosie Daykin's latest cookbook,
Let Me Feed You: Everyday Recipes Offering the Comfort of Home
hits a cord in me. The author's need to take care of others through food is reflected in the recipes, the attentiveness she takes with each dish, the beauty of her table settings and her writing.
I don't recall ever seeing six pages devoted to croissants that wasn't a part of a baking book. This is an example of Rosie's dedication to making sure we succeed whether it is making Homemade croissants or three-ingredient Pineapple honey ribs. Gorgeous photographs, thoughtful details and beautiful food abounds in this book that is ideal for a beginner cook or an experienced "feeder". Rosie says in her croissant post "trust me, you can do it" and anyone can with this title.
The best and basic quiche
recipe from
Let Me Feed You
is available online for you to try now. This weekend I made the Corn pudding and
If Friday Were a Cake
(bad photo at link) and my family and I can't wait to dig into both at dinner time. Below is a photo of the pudding which I made in a beautiful
Sea Salt
3 1/2 quart
Le Creuset braiser
. I am loving this color and size which is perfect for weeknight dinners. The French icon's
new calm hue collection
is ideal for Spring and delivers both beauty and function. I adore all the new colors: Meringue, Fig and Sea Salt. Currently, Le Creuset has a
2 1/4 quart sauce pan (in multiple colors) on sale
as well as a special offer – buy $150.00 worth of products and receive a free planter using the code
SPRING
.
Rosie was gracious enough to share some time with me for our members in our interview below: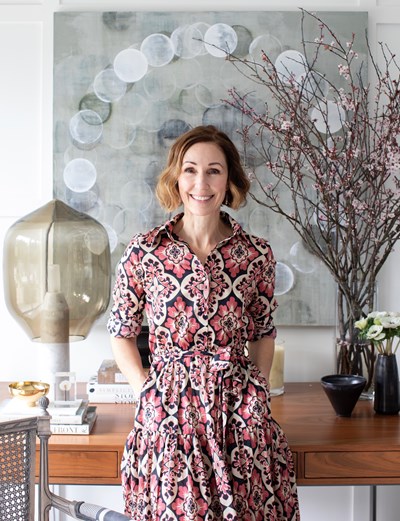 Photo credit: Janis Nicolay EYB: Congratulations on your new book, Let Me Feed You which not only shares many baked dishes but also recipes for salads, soups, sandwiches, dinners and more. I had a quick review of the galley and love it. I can't wait to have the book in my hands. Rosie: Thank you so much! I'm so glad you like the look of it. I'm really happy with the job we did in creating a book that not only reflects the way I cook but also the way I live. EYB: As you know I am a huge fan of your baking titles, Butter Baked Goods and Butter Celebrates (review). Can you tell our members a little about yourself? When did you first fall in love with baking? Rosie: I'd be happy to! Hi, I'm Rosie Daykin, wife to Paul (happily married 30 years this August!), Mum to our lovely girl India Rose (she's 26 so do I have to say woman? Eek!), I'm a baker, author and business owner. I have been a very keen baker since I was a little girl. I was always whipping up cookies and cakes for my siblings to inhale! As I grew so did my love for baking, so much so that in 2007 I opened my own bakery, Butter Baked Goods. We produce what I like to call nostalgic home baking; cookies, pies, bars, cake, marshmallow just like you remember from childhood. All of those goodies can be found, as you mentioned earlier, in my first two cookbooks (Butter Baked Goods and Butter Celebrates). Both books focus on everything Butter (the bakery) produces daily and seasonally. EYB: As mentioned above, Let Me Feed You tackles recipes for all meals. I find most bakers are also cooks (and often most cooks aren't bakers). Do you enjoy cooking and entertaining? What prompted a book that wasn't totally baking focused? Rosie: As I write in my new book, I refer to myself as a natural born feeder. (Hence the title of the book). My love for baking and feeding others really stems from my love for food. Nothing makes me happier than cooking for family and friends and I've been at it for a long time. It's my way of speaking and connecting with the people I love and that seemed a natural thing to want to share with others in my new book. I'm sure if you only knew of me through my baking books you might find it odd but those that know me personally are just as happy when I'm feeding them lasagna or ribs as they are when I bake them a birthday cake. EYB: What tips can you share with our members for entertaining? What makes a gathering special in your home? Rosie: Oh! I have so many but the most important of all would be to keep it simple. Entertaining doesn't have to be complicated and your guests would way rather spend time catching up with you than watching you run around the kitchen trying to complete some labour intensive dish. My approach to cooking is just like my approach to baking – great quality ingredients and limited steps in an effort to create delicious and comforting food. EYB: What recipes do you turn to time and again for weeknight dinners? What recipes do you turn to for entertaining? Rosie: Weeknights always tend to be a squeeze given our busy work schedules so anything that I can prepare in advance or make in large batches to freeze is a huge help. I always have a couple of containers of Gram's Spaghetti sauce in the freezer which I can pull out to defrost before I head to the bakery in the morning. Turkey Chilli is another favourite for the very same reason and my Iron Skillet Halibut sounds a little more special but it comes together in a flash! Dinners with friends and family usually allows for a little more prep time given it's the weekend so I might use that same spaghetti sauce to make my lasagna or if the weather is a little chilly it's always a comfort to serve Beef Stew with Parsley Dumplings. But a general rule of thumb would tell you that you can never ever go wrong with a perfectly roasted chicken and I've got a great recipe for one! EYB: Which recipes would you recommend our members try first from your book? Which recipe is your favorite? Rosie: My favourite, how do I choose? I guess it depends on what I'm craving but pretty much anytime of day a Cinnamon Doughnut Muffin is a good idea and Chicken Pie checks a lot of boxes too. My personal favourite for dinner has to be my One Pot Chicken Parm followed by a big piece of Rhubarb Upside Down Cake – that would be a good night! EYB: Who would you say inspires you? Chefs, friends, cookbook authors? Rosie: Inspiration for me has always been a visual thing and the very reason I find travel so important. Whenever I'm feeling uninspired I know it's time to get out of town lol. Architecture, gardens and art are just a few of the things that I need to fill me up creatively which influences how I feel and approach my cooking and baking. The inspiration I find from other people, friends and cooks is always rooted in their kindness, humour and work ethic. I love and respect anyone who isn't afraid to do all the hard jobs and laugh along the way. I think this is why I try to incorporate so much levity in my writing. A little laughter makes every task easier and helps keep everything in perspective. EYB: As cookbook lovers here at EYB, we need to know: Do you have a cookbook collection? If so, how many? Which are your favorites? (If you have a photo of your collection – our members love peeking at author's shelves?)
Rosie: Do I have a cookbook collection? Oh boy, do I ever. But given the horrific state of my bookshelves there is no way I'm sending you that photograph. But I have included an image of some of my very favourites that I seem to return to again and again. The only one missing is the Fanny Farmer Cookbook, which was the first cookbook I ever used as a child but long gone now. As I mentioned above, because I am a very visual person some books I may never cook from but aesthetically I find them very informative and instructive whereas other books are really about the text and recipes. A book that does both for me is a real winner! EYB: What's next for you? Rosie: Given the general chaos in my day-to-day life it's hard too plan to far in advance. Running the bakery and the marshmallow wholesale business keeps me so busy and when I'm writing a book or doing promotion it only adds to the madness but I love it. I have also just done a collaboration with a wonderful company called The Sleep Shirt in the creation of a Rosie Daykin x The Sleep Shirt capsule collection of sleep wear in a variety of blue stripes because if you're read the book you know I'm all about a blue stripe! This has been a really exciting and different project for me that I hope others will enjoy. If you're curious head toThe Sleep Shirt for a look. Part of the proceeds from the sales will be going to support A Purposeful Rescue, the senior dog rescue society where we found our dog, Pickle. A cause near and dear to my heart! Special thanks to Rosie's publisher, Appetite by Random House for providing three copies of Rosie's book in our giveaway below and to Le Creuset for providing one 3 1/2 quart braiser in Sea Salt to one grand prize winner in the US.
The publisher is offering three copies of this book to EYB Members in the US and Canada. One prize winner in the US will also win a gorgeous braiser from Le Creuset. Two of the entry options are to answer the following questions in the comments section of this blog post.
Which recipe in the index would you try first?
Which color at Le Creuset is your favorite?
Please note that you must be logged into the Rafflecopter contest before posting or your entry won't be counted. For more information on this process, please see our step-by-step help post and this forum post. Once you log in and enter your member name you will be directed to the next entry option – the blog comment. After that, there are additional options that you can complete for more entries. Be sure to check your spam filters to receive our email notifications. Prizes can take up to 6 weeks to arrive from the publishers. If you are not already a Member, you can join at no cost. The contest ends at midnight on June 4th, 2019.