Special St. Patrick's Day Promotion
March 17, 2019 by Jenny
Happy St. Patrick's Day! Whether you celebrate this Irish holiday or not, I hope you are enjoying a wonderful meal today with family and friends. Today, we have a special promotion featuring two of Ireland's culinary stars, Darina Allen and Clodagh McKenna.
I had prepared interviews for both of these authors and between their hectic schedules and travel, we haven't been able to connect. We hope to be able to bring you those interviews in the next few days to accompany this post. Update: my interview with Darina Allen can be found here.
First up, we have Simply Delicious: The Classic Collection: 100 Timeless Tried & Tested Recipes by Darina Allen, who runs the world-renowned cooking school at Ballymaloe in County Cork, Ireland. She founded the school with her brother, Rory O'Connell in 1983 and since then has authored many cookery books. Besides running the school with her brother, her daughter-in-law, Rachel Allen, also teaches there and lives nearby.

Nearly 30 years after the original Simply Delicious book and TV series, the author brings together 100 of her timeless, tried and trusted recipes. With chapters on Soups & Starters, Meat, Poultry, Fish, Vegetarian, Salads and puddings, this classic collection of traditional recipes is accompanied by beautiful new photography.
Special thanks to Kyle Books for sharing Darina's Irish stew recipe with our members.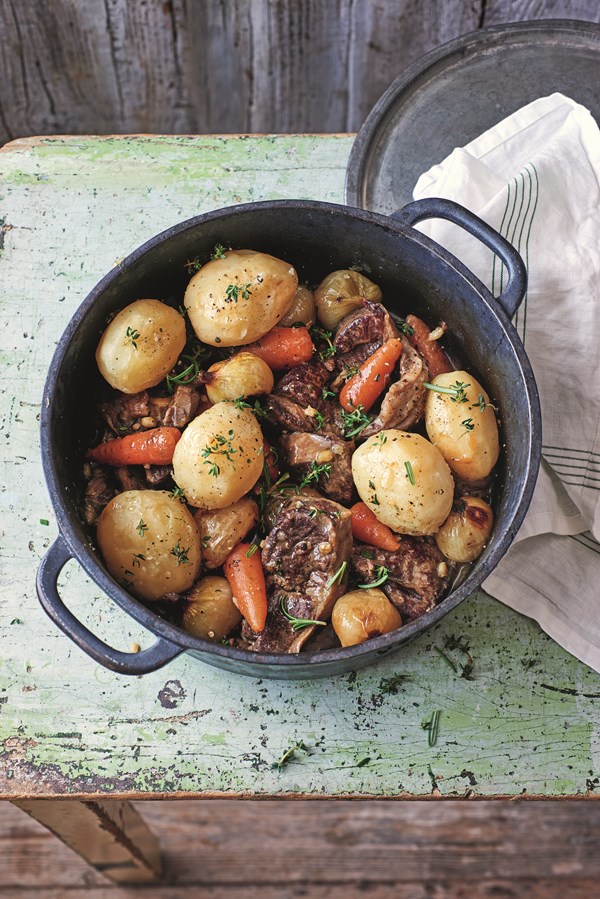 Ballymaloe Irish Stew
Add this recipe to your Bookshelf (click the blue +Bookshelf button).
Another classic one-pot dish. The recipe varies from region to region-in Cork, carrots are a quintessential addition, not so in parts of Ulster. Pearl barley is another favorite option, originally added to bulk up the stew. You'll need to add extra stock (1¼ to 2½ cups) if you include it, as it guzzles liquid, but it becomes deliciously plump and flavorful.
Serves 4 to 6
3 pounds center-cut lamb leg steaks, no less than 1 inch thick
8 medium or 12 pearl onions, peeled
12 baby carrots, peeled and cut into large chunks
1 to 2 tablespoons dry pearl barley (optional)
3½ to 4¼ cups homemade lamb stock (page 81) or water
8 to 12 large potatoes, or more if desired, peeled
1 thyme sprig
1 tablespoon Roux (see below-optional)
1 tablespoon freshly chopped parsley
1 tablespoon freshly chopped chives
sea salt and freshly ground black pepper
For the roux
½ cup (1 stick) salted butter
³/4 cup plus 2 tablespoons all-purpose flour, or 1/3 cup cornstarch and 1/3 cup rice flour for a gluten-free roux
Preheat the oven to 350°F, if you plan to finish cooking the stew in the oven.
Cut the lamb steaks in half and trim off some of the excess fat. Set aside. In a heavy skillet, render the lamb fat over gentle heat (discard the rendered-down pieces).
Toss the meat in the hot fat in the pan until it is slightly brown, then transfer to a Dutch oven. Quickly toss the onions and carrots in the fat, and the pearl barley if using. Build up the meat, carrots, and onions (plus pearl barley if using) in layers in the pot, carefully seasoning each layer with freshly ground pepper and salt. Deglaze the skillet with the lamb stock or water, bring to a boil, and pour into the pot. Lay the potatoes on top of the stew (they will steam while the stew cooks). Season the potatoes, add the thyme, and bring to a boil on the stovetop. Cover with a wax paper lid and the pot lid. Transfer to the oven or let simmer on the stovetop until the lamb is tender, about 1½ hours.
Make the roux: In a saucepan, melt the butter and cook the all-purpose flour or cornstarch and rice flour in it for 2 minutes over low heat, stirring occasionally. Roux can be stored and used as required or it can be prepared on the spot. It will keep for at least 2 weeks in the refrigerator.
When the stew is cooked, pour off the cooking liquid, degrease, and reheat in another saucepan. Thicken slightly by whisking in the tablespoon of roux. Check the seasoning, then add half the freshly chopped parsley and chives. Pour over the meat and vegetables. Bring the stew back up to a boil and serve from the pot or in a large ceramic dish sprinkled with the remaining chopped herbs. Serve in deep plates with lots of good Irish butter.
******************************
Our next book is Clodagh's Suppers: Suppers to Celebrate the Seasons by Clodagh McKenna who started her culinary career at Ballymaloe and has a restaurant in Dublin, Clodagh's Kitchen. She now spends a great deal of time in London teaching workshops in her studio, writing a column for the Evening Standard and working on her television cookery series.
Clodagh's delivers her expert advice on creating stunning suppers that take advantage of the best seasonal produce. Including the best ways to prepare various dishes, what to serve and her handy tips for finishing your meal in style.
The book covers:
how to create a well-balanced and delicious menu, writing your shopping lists and creating a beautiful table to set the scene;
120 recipes to take you through the year season by season;
ideas for easy nibbles to serve as soon as guests arrive, simple cocktails and even edible gifts to ensure everyone leaves with something to remember the evening by.
Special thanks to Kyle Books for sharing this rustic but elegant chicken dinner recipe with our members.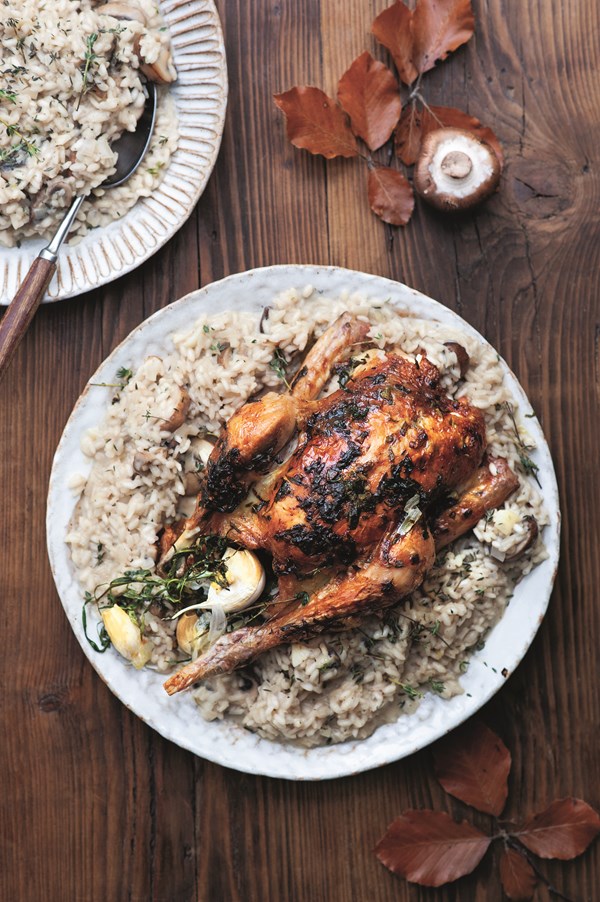 Roast Tarragon Chicken with Mushroom Risotto
Add this recipe to your Bookshelf (click the blue +Bookshelf button).
Serves 4

This is my favorite way to cook and serve roast chicken during the fall. The tarragon adds a delicious sweet flavor, mixed with the spicy Dijon mustard and aromatic garlic. The risotto is creamy, so there is no need for a sauce. It's an ideal supper for a cozy evening at home.
7 tablespoons butter, softened
2 garlic cloves, crushed
3 tablespoons finely chopped tarragon
2 teaspoons
Dijon mustard
sea salt and freshly ground black pepper
1 whole organic or free-range chicken, about 3 pounds

For the mushroom risotto
7 tablespoons butter
2 shallots, very finely chopped
2 garlic cloves, crushed
1½ cups Arborio (risotto) rice
½ cup dry white wine
3 cups hot chicken or vegetable stock
9 ounces button mushrooms, sliced
1 tablespoon finely chopped thyme leaves, plus extra to garnish
¾ cup Parmesan cheese, grated
1 tablespoon mascarpone cheese

Preheat the oven to 400°F.

Start by prepping the chicken: Add the softened butter, garlic, tarragon, and mustard to a bowl, season with salt and pepper, and mix well, using the back of a spoon to blend the ingredients together. Using clean hands, smear the butter mixture all over the chicken as well as underneath the skin.

Place the chicken in a roasting pan and roast for 1½ hours or until cooked through. To check if the chicken is cooked, insert a skewer into the thickest part of the thigh-the juices should run clear.

Meanwhile, to make the risotto, place a large saucepan over medium heat and add half the butter. Once the butter has melted, stir in the shallots and garlic, then cover the pan with a lid, reduce the heat to low, and leave to sweat for about 2 minutes until the shallots are softened but not browned. Add the rice and stir to coat it with the butter, then cook, stirring, for a couple of minutes. Season with salt and pepper.

Pour in the white wine, stir, and cook for about 2 minutes until almost all of it has been absorbed. Add the hot stock a ladleful at a time, cooking while stirring constantly after adding the stock until it has been absorbed before adding more. It should take 15-20 minutes for the rice to be cooked, but check by tasting as you go.

While the risotto is cooking, place a frying pan over high heat, add the remaining butter and the mushrooms, and cook, tossing, for 3 minutes. About 5 minutes before the rice is cooked, stir in the mushrooms and thyme, then stir in the Parmesan and mascarpone just before you serve the risotto. Once the chicken is cooked, transfer it to a large serving platter and spoon the risotto all around it, then garnish with extra thyme.
The publisher is offering two sets of the above referenced titles to EYB Members in the US. One of the entry options is to answer the following question in the comments section of this blog post.
What is your favorite Irish dish?
Please note that you must be logged into the Rafflecopter contest before posting or your entry won't be counted. For more information on this process, please see our step-by-step help post and this forum post. Once you log in and enter your member name you will be directed to the next entry option – the blog comment. After that, there are additional options that you can complete for more entries.

Be sure to check your spam filters to receive our email notifications. Prizes can take up to 6 weeks to arrive from the publishers. If you are not already a Member, you can join at no cost. The contest ends at midnight on May 5th, 2019.