The Jewelled Table by Bethany Kehdy
February 7, 2019 by Jenny
Any book on Middle Eastern cooking draws me in. I fall victim to the vibrant colors of this cuisine, tables overflowing with large platters of fragrant offerings and the community feel of a gathering. Bethany Kehdy's debut title The Jewelled Kitchen (or the US edition Pomegranates & Pine Nuts) is a beautiful cookbook. Now the author is back with The Jewelled Table: Cooking, Eating and Entertaining the Middle Eastern Way which explores the way Middle Easterners cook, eat, and entertain, and the rituals of doing so at home.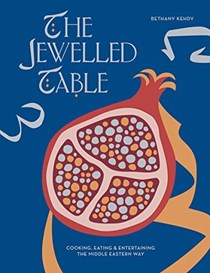 As the title would suggest, this book is a feast for the eyes with stunning illustrations, spectacular photography and a feeling of humble richness. The mezze style of hospitality encourages your guests to linger, to talk and share. Many platters of simple, flavorful dishes give the air of abundance. When you examine how Middle Easterners entertain, you learn what really is important – the feeling of care. The host is nurturing us with food, time and togetherness – "what's mine is ours".
Bethany begins with the basics, follows with refreshments and cocktails, and then food that decorates the table. She continues with small plates, principal dishes and ends with desserts. Drink in the author's narrative, soak in the photographs of the landscape and people. Then be inspired by the dishes that shine with thoughtfulness and care. This is a feel good book and reading through it again today was refreshing.
Our
takes you inside this gorgeous title and features the following
Special thanks to Hardie Grant for providing us with the materials for our EYBD Preview above and offering three copies of The Jewelled Table in our giveaway below. I am grateful that publishers such as Hardie Grant continue to release these titles that inspire me to greatness by bringing the world's cultures, customs and cuisines to my kitchen.
The publisher is offering three copies of this book to EYB Members in the US, UK, AU and NZ. One of the entry options is to answer the following question in the comments section of this blog post.
Which recipe in the index would you try first?
Please note that you must be logged into the Rafflecopter contest before posting or your entry won't be counted. For more information on this process, please see our step-by-step help post and this forum post. Once you log in and enter your member name you will be directed to the next entry option – the blog comment. After that, there are additional options that you can complete for more entries.

Be sure to check your spam filters to receive our email notifications. Prizes can take up to 6 weeks to arrive from the publishers. If you are not already a Member, you can join at no cost. The contest ends at midnight on April 7th, 2019.