January 2019 Eat Your Books Cookbook Club Summary
January 21, 2019 by Jenny
We have an incredible community here at Eat Your Books that has flowed into our Eat Your Books Cookbook Club and Sweet Eat Your Books Cookbook Club, places where we share our successes and fails in cooking and baking from specific cookbook titles.
This month we've been cooking from the following titles:
And, desserts are still being churned out in our second group that is working through Ottolenghi's Sweet.
The photos below are just a few of the beautiful shots our members have been sharing; visit each group for more inspiration. Do not forget to also upload your photos and add your notes to your bookshelf at Eat Your Books. Instructions on uploading your photos and links to other helpful articles can be found here.
A few announcements before we share some highlights from this month's options:
Be sure to check out our 2019 Cookbook Preview Post!
Please make sure you have entered all our giveaways.

Our EYBD Page has been updated with additional titles for 2019!
Now to this month's highlights:
From Home Cooking with Kate I made the Hearty cheddar and potato soup. It was delightful and I used the leftovers in a gravy a few days later. I like to play with my food.
Diane J made the Grilled Vietnamese flank steak with Super crunchy lime-y salad from Now & Again. "I really like the way this cookbook is organized, with suggested menus by seasons (what I made comes under "summer," but hey, I have a grill pan), tips on what can be made in advance, and creative ideas for leftovers (of which there were none in this case)."
Jane made the Confetti meatloaf and Creamy garlic mashed cauliflower from Now & Again "These two recipes were among the few I bookmarked as 'I want to cook this'. The meatloaf was quite time consuming with small diced vegetables (for the confetti) but tasted good. The cauliflower mash was too liquid even though I added half the cream after seeing an EYB note. I'd repeat the meatloaf but serve with a different mash."
Joan O made the Garlicky shrimp with tequila + lime from Now & Again. "I was planning on making the Italian version of this but forgot my lemon and didn't have tequila for the other version. I ended up using white wine for the tequila, parsley for the cilantro (hubby doesn't like) and using the lime and lime zest from the original recipe. I took her suggestion for turning this into a meal by serving it with black beans and rice. I used brown rice and also warmed a couple soft corn taco shells for hubby. We both thought this was a delicious meal. Was hoping to make the kimchi shrimp pancakes with some leftover shrimp as suggested in the again section, but we devoured the shrimp. Oh well maybe next time. I'll double the shrimp so we'll have leftovers."


Vicky H made the"Arugula salad with lemon, pine nuts & pecorino from Now & Again. Loved the delicious simplicity of this salad, especially the dressing."
There are many other wonderful photos
in the group
.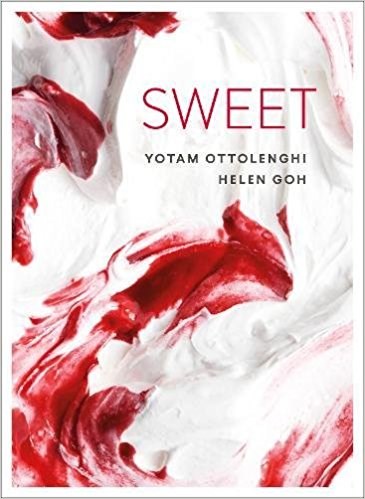 Eat Your Books Sweet Cookbook Club
Sweet – Ottolenghi (see the group for even more photographs).
Mona W. made "Prune cake with Armagnac and walnuts. Replaced Armagnac with rum as that is what I had. This was so much better than I expected. The prunes were so moist and they had absorbed all the rum…yum! I might add more of the walnut crumble next time."

Debra made the "Persian love cakes made especially for my gluten-free guests"


This week, I'll have up a poll for April – June choices. February and March's options are below:
February
March