Heritage Baking by Ellen King
January 3, 2019 by Jenny
Heritage Baking: Recipes for Rustic Breads and Pastries Baked with Artisanal Flour by Ellen King is a go-to resource for bakers of all skill levels who are dedicated to learning new techniques that lead to better loaves with more flavor.
These 45 foolproof recipes for delicious, nutritious, good-for-the-gut breads and pastries star a wide range of artisanal flours that are now readily available to home bakers (thanks Amazon). These flours add layers of flavor and texture, and combined with a natural starter and long fermentation, make these baked goods enjoyable even by those who have difficulty with gluten. In-depth master tutorials to starter, country loaves, and adjusting recipes for different flours are paired with step-by-step photography sequences that help visual learners get these fundamentals just right. Including recipes for one-of-a-kind rolls, scones, muffins, coffee cake, cookies, brownies, and more, this is a new take on baking for the home baker's cookbook canon.
As with all good breads, there is a time investment required for example some bread doughs need to be worked three to six times once every 30 minutes. For those of us who have a packed schedule those breads can be tackled on a lazy weekend. Muffins, cornbread, brioche and many other recipes can be accomplished without setting a timer. Ellen recommends heritage flour and if you cannot find that locally, Amazon has options.
Measurements, of course, are given in weight and volume with a plethora of step-by-step photos and detailed instructions. These delicious and good-for-you baked goods make her Evanston, Illinois bakery, Hewn Bread, a hot spot. This book and binge watching GBBO late at night makes me want to slow down and just bake – good stuff.

The author has events which are shared on our calendar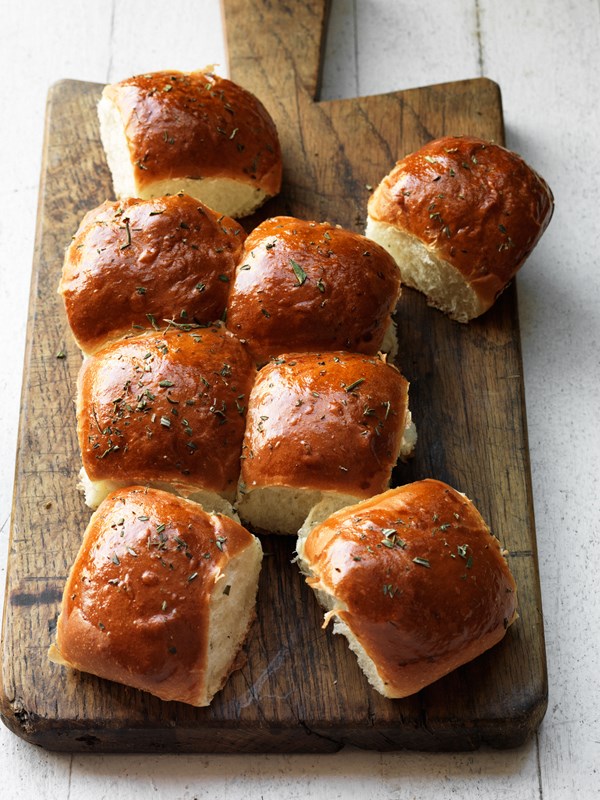 Herbed dinner rolls
Add this recipe to your Bookshelf (click the blue +Bookshelf button).
Makes 12 rolls
For a really easy alternative to a traditional roll, we add some herbs to the dough and brush with rosemary-infused butter. It makes for a more festive addition to the meal, especially around the fall and winter holidays. The smell of baking rosemary is also a comforting, natural fragrance for the home.
Dough
485 g (31/2 cups) sifted heritage flour (HRW/HRS), such as Red Fife or Glenn
55 g (1/4 cup) sugar
6 g (1 tsp) fine sea salt
7 g (11/2 tsp) instant yeast
50 g (1 large) egg
120 g (1/2 cup) water
120 g (1/2 cup) milk
113 g (1/2 cup) unsalted butter, cubed
2 g (1 tsp) chopped fresh rosemary
2 g (1 tsp) chopped fresh thyme
Rosemary butter
1 rosemary sprig
56 g (1/4 cup) unsalted butter
In the bowl of a stand mixer fitted with the dough hook, combine the flour, sugar, salt, and yeast and mix on low speed to combine.
With the mixer running on low speed, add the egg, water, and milk. Slowly add the cubed butter, a few cubes at a time, and continue mixing for 5 minutes, or until all of the butter is incorporated. Fold in the chopped rosemary and thyme.
Remove the dough from the bowl and gently knead with your hands for about 1 minute. Return the dough to the bowl, cover with plastic wrap, and let sit for 45 minutes.
Take the dough out of the bowl and divide into 12 equal balls (about 50 g each). Take each ball and place in the palm of your hand and round them on the counter to create skin tension.
Coat a 10-in [25-cm] cake pan or a 10-in [25-cm] cast-iron skillet with cooking spray. Place the balls in the pan or skillet, spacing them about 1/4 in [6 mm] apart. They should fit snugly into the pan and will bake into each other; you can tear or slice them apart after baking.
Cover loosely with plastic wrap and let sit in a warmer part of your kitchen for 1 hour to proof. Don't let the plastic wrap touch the dough or it will stick when you remove it.
Preheat the oven to 350°F [175°C].
Bake for 24 minutes, rotating the pan halfway through baking, until golden brown.
Meanwhile, to make the rosemary butter, in a small microwavable bowl or in a small saucepan with the rosemary sprig, melt the 50 g [1/4 cup] butter.
Remove the rolls from the oven and brush with the rosemary-infused melted butter while still hot.
Let cool for 10 minutes and serve warm, or cool completely, cover with plastic wrap, and serve the next day. The rolls can be frozen for up to 3 months in a resealable plastic bag or an airtight container.
Rewarm frozen rolls in the oven at 350°F [175°C] for 10 minutes, brush the tops with about 1 tsp butter each while warm, and serve. Once the rolls are reheated, they are best eaten that day.
Reprinted from Heritage Baking by Ellen King with permission by Chronicle Books, 2018
The publisher is offering three copies of this book to EYB Members in the US and Canada. One of the entry options is to answer the following question in the comments section of this blog post.
Which recipe in the index would you try first?
Please note that you must be logged into the Rafflecopter contest before posting or your entry won't be counted. For more information on this process, please see our step-by-step help post and this forum post. Once you log in and enter your member name you will be directed to the next entry option – the blog comment. After that, there are additional options that you can complete for more entries.

Be sure to check your spam filters to receive our email notifications. Prizes can take up to 6 weeks to arrive from the publishers. If you are not already a Member, you can join at no cost. The contest ends at midnight on February 24th, 2019.