Baking Artisan Bread – Emile Henry Baguette Baker
December 22, 2018 by Jenny
My baking game is sad this month. I have baked a few things including bagels, cakes. cookies and bars but I haven't begun the all important holiday baking. Truth be told, I usually start that task after the 16th (my birthday), but this year – I'm even farther behind. Today, I spent an hour gathering up ingredients and preparing my recipe list to start tomorrow. I also hope to work on my brioche for my next Modernist Bread post before the end of the year. Wish me luck.
While you all still have your baking mojo in full force, I have another related giveaway for you. Today's book is Baking Artisan Bread with Natural Starters by Mark Friend, founder of Kansas City's Farm To Market Bread Company.

For over twenty years, Kansas Citians have enjoyed the full-bodied, wholesome flavor of Friend's bread. Now we can create our own artisanal sourdough, levain, rye, and biga at home. In four clearly organized chapters, this small but mighty book guides aspiring bakers from starter to warm, aromatic finish. After you master the four core recipes, there are variations for each to add to your baking repertoire.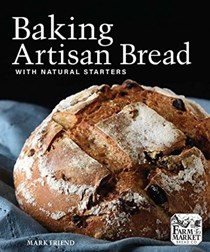 Our
gives you a look inside this book and features the following
Special thanks to the publisher Andrews McMeel for providing the materials needed for our preview and offering copies of this book for our giveaway below.
Now for the bonus giveaway – for one member today we have an Emile Henry baguette baker in red. Let me tell you how I came about this extra cloche. I caved and ordered the baguette baker from King Arthur in linen (I already have a red one). It was on sale and I had a reward certificate so I felt less guilty about it and the linen color is just so pretty. When I received the baker, it was wrapped with two feet of bubble wrap at the top of the box and nothing on the bottom of the box and I'm sure you can guess what I'll be saying next – it was broken. I contacted King Arthur, who sent me a replacement. When I received the replacement which was only wrapped once in bubble wrap in a smaller box, it was red. I didn't want red, I already had the red. I emailed the customer service personnel at King Arthur who happen to be so wonderful and friendly! When they replied, they told me to gift this baker to someone for the holidays and they would send me the correct color!
King Arthur is my go-to for baking supplies. I'd love to someday take a class at their school in Vermont. Their classes and events are shared on our calendar.


Due to King Arthur's and Jane's generosity for okaying Eat Your Books coverage of the shipping cost, we have a special giveaway below!
The publisher is offering a copy of this book and we are providing one Emile Henry baguette baker in red to one EYB Member worldwide. The publisher is also offering two additional copies in the US of the book. One of the entry options is to answer the following question in the comments section of this blog post.
Are you a bread baker? And if yes what is your favorite bread to make?
Please note that you must be logged into the Rafflecopter contest before posting or your entry won't be counted. For more information on this process, please see our step-by-step help post and this forum post. Once you log in and enter your member name you will be directed to the next entry option – the blog comment. After that, there are additional options that you can complete for more entries.

Be sure to check your spam filters to receive our email notifications. Prizes can take up to 6 weeks to arrive from the publishers. This contest is only open to EYB Members (you do not need to be a paid member to enter). If you are not already a Member, you can join at no cost. The contest ends at midnight on February 5th, 2019.