Holiday Entertaining Package
December 17, 2018 by Jenny
Boards are a creative medium for entertaining. A perfectly imperfect array of meats, vegetables, cheese and other morsels sets the mood for any dinner party and provides easy clean up. Guests can help themselves and as a host you are free to take care of other responsibilities knowing there is a wide selection of offerings available.
Today, we have an entertaining package that is sure to please everyone: we are giving away a copy of On Boards, a copy of Savor, and a Shun Sora VBS3300 3-Piece Build a Block Set and JK Adams Maple and Walnut Cheese Server to one lucky grand prize winner. Two additional winners in the US and Canada will have a chance to win a copy of On Boards.
On Boards: Simple and Inspiring Recipes and Ideas to Share at Every Gathering by Lisa Dawn Bolton, celebrated food blogger and food stylist, has curated 50 ideas for instantly accessible boards, all with effortless "impromptu" entertaining in mind. With chapters on Everyday Boards, Special Occasion Boards, Seasonal Boards, and Boards from Around the World, you will find inspiration for every gathering, large or small.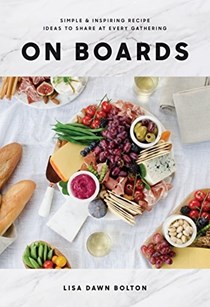 One of our members, Judy, recently shared one of her creations inspired by this title, the Mediterranean mezze, and shared her photo at EYB. Appetite By Random House is sharing this board's directions with our members.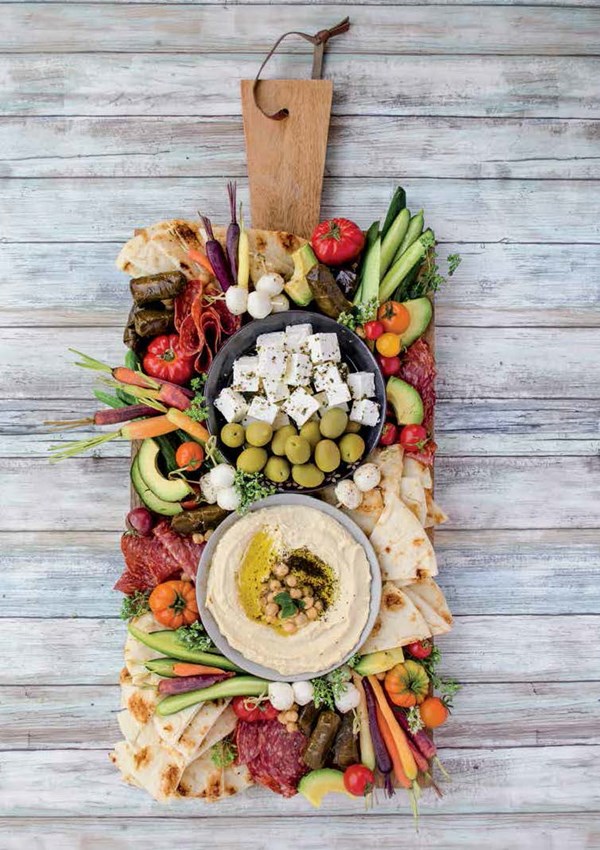 Mediterran Mezze
Add this recipe to your Bookshelf (click the blue +Bookshelf button).
Serves 8
This is a very hearty board. It could easily be made into a meal by simply adding some grilled souvlaki skewers and a side of tzatziki.
The Mediterranean diet – abundant in fruits, vegetables, legumes and olive oil – has been hailed as one of the healthiest in the world. The Greek culture does a tremendous job of bringing together contrasting profiles – creamy, crunchy, briny and sweet – for a never-ending choice of flavor combinations. This board is so rich not only in flavor but also in composition that it serves as a meal all on its own.
Basic Hummus (page 146)
Heirloom rainbow carrots, 16, greens attached
Tomatoes, 12, various sizes
English cucumbers,
2 small Avocado, 1 large
Dry red-wine salami, 24 slices
Herbed feta cubes, 10 oz
Fresh mozzarella, 16 small balls
Pitas, 4
Dolmas, 10 oz
Halkidiki olives, 16
Blooming fresh oregano, for garnish
Preparation
Make the Basic Hummus and serve in a bowl on the board.
Prepare the vegetables: Peel the carrots, keeping about 2˝ of the tops attached. Slice the cucumbers lengthwise into skinny strips. Last minute: Cut the avocado into wedges, leaving the peel on for easier handling.
Slice each pita into 8 triangles, like you'd slice a pie.
Serve the other components in the style that works best for you (see page 23 for tips), then arrange everything on and around your board. Top with optional garnish.
Tip
Short on time? Pick up some store-bought hummus and a can of chickpeas when you're picking up the dolmas, available at most grocers either canned or in the fresh deli department.
*****
You will need a quality knife to make all these cuts for your charcuterie boards. There are a number of great knives on the market but my absolute favorite for feel, weight, sharpness and beauty are Shun knives. To begin your Shun experience, we are offering a Shun Sora VBS3300 3-Piece Build a Block Set, Silver in our giveaway below.
As soon as I received this knife, I started looking for things to dice and slice. I had a bag of tangerines and decided to make marmalade and this beauty of a knife made the most incredibly thin slices. I was in awe.
We have the recipes, we have the knife, now we need a gorgeous board to lay out delicious spread. JK Adams Maple and Walnut Cheese Server is the board. This server is large, sturdy and beautiful and I'm sad that I haven't had an opportunity to use it yet. We've been busy with work and other issues with our child that we haven't been entertaining but I hope to remedy that soon. Until then, I plan on using my board to display my holiday cookies (when I start baking them this weekend).
To top off this entertaining package, Cider Mill Press is offering one copy of their recent releases Savor: Entertaining with Charcuterie, Cheese, Spreads & More by Kimberly Stevens. This title takes your entertaining to the next level, going far beyond the old standards of crackers and cheese. From casual, small get-togethers and intimate cocktail parties to large gatherings and formal celebrations – no matter the occasion or dress code, there is a charcuterie board here that fits the bill perfectly. There are dozens of options within each category – meats, cheeses, breads, condiments, fruit, preserves, and more making a myriad of amazing possibilities for your finished culinary creation.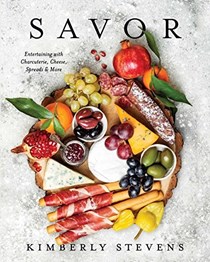 The publisher of On Boards is offering two copies of this book to members in Canada. The entertaining prize package of one copy of On Boards, Savor, JK Adams board and Shun knife is available to one member in the US. One of the entry options is to answer the following question in the comments section of this blog post.
What is your favorite way to entertain using a cheese board?
Please note that you must be logged into the Rafflecopter contest before posting or your entry won't be counted. For more information on this process, please see our step-by-step help post. Be sure to check your spam filters to receive our email notifications. Prizes can take up to 6 weeks to arrive from the publishers. If you are not already a Member, you can join at no cost. The contest ends at midnight on February 12th, 2019.