Pinterest names its food trends for 2019
December 15, 2018 by Darcie
Every website that tracks data (which is most websites these days) is releasing its list of predictions for the coming year. Pinterest is no exception, and they keep tabs on almost everything you can think of, including food. There are some items on Pinterest's 2019 food trend list that echo other site's lists, but a few items might be surprising.
The list begins with a familiar subject – mushrooms. The versatile fungi "are springing up everywhere from coffee drinks to chocolate bars," with searches up 64% over last year. The EYB Library is chock full of mushroom recipes, including the Mushroom and herb polenta by Yotam Ottolenghi shown below. While almond milk and soy milk have dominated the dairy substitute market, there's a new game in town. Oat milk searches are up 186% according to Pinterest.
Echoing the trend we reported on a few days ago, bread baking is on the rise, especially when it comes to fermented loaves like sourdough. Going in the completely opposite direction, the Pegan diet is a hot commodity right now. What's pegan? Good question – the diet is supposed to be part paleo and part vegan (it doesn't have to make sense). For people who love to entertain, here's a heads-up on a new way to serve a crowd – have a "grazing table". Think meat, cheese and veggie board on steroids. You might want to add a homemade jam to the spread, since making preserves from scratch is also predicted to be a huge trend, with searches up a whopping 829%.
In the everything-old-is-new-again area, oxtails are on the rise. People are searching for oxtail recipes, especially ones that can be made in a slow-cooker (probably in an Instant Pot too). As for as unusual ingredients, keep your eyes peeled for more references to chayote ("chocho"), a 'superfood' that complements all kinds of cuisines. Try one of the online recipes for chayote in the EYB Library, including the Pickled chayote salad from Pati Jinich shown below.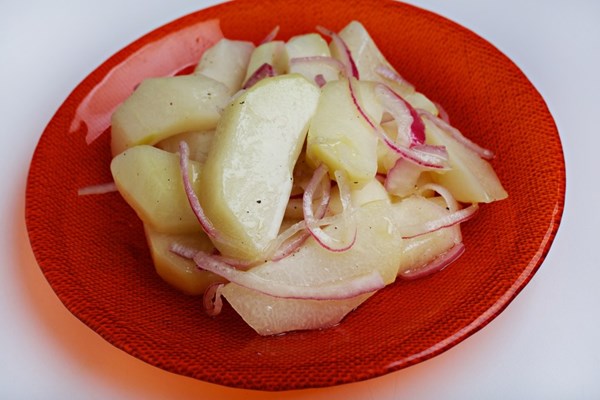 You can see all of the food trends, along with many other categories, over at the Pinterest newsroom.